An iconic rollercoaster in New York has got stuck on its first day running this year, forcing riders who had queued for hours to climb down its wooden frame.
Dedicated fans of the Coney Island Cyclone, opened in 1927, arrived hours before the park opened on Sunday for the chance to get a free ride.
They watched the rollercoaster being ceremonially launched with a smashed bottle of Brooklyn "egg cream" before setting off.
But on the second trip, riders approaching the track's highest point at 85ft became stuck just before its famous 60-degree drop.
Footage from Luna Park showed employees walking up stairs alongside the wooden track and guiding terrified-looking riders back to the ground.
"It was terrifying, because I was up there and everything was spinning," Gabriella Centeno told NBC after being evacuated. "I didn't know what to do."
Some among the 12 people on board had queued since 4am to be among the first on the iconic ride and, despite being shaken, said the experience would not stop them returning.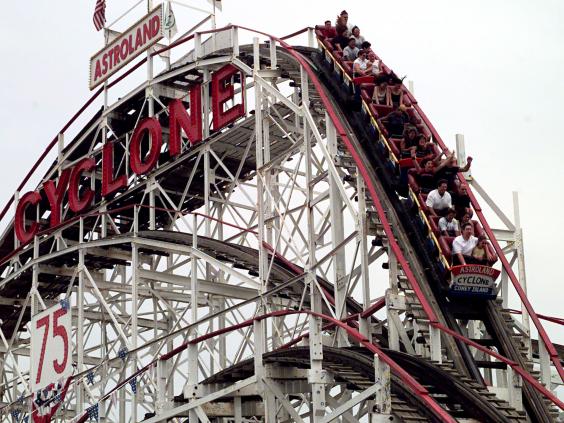 "We could feel that there was something wrong," one woman said. "It started slowing down."
A spokesperson for Luna Park said safety was the "number one priority" for the attraction and the Cyclone would re-open after a full inspection.
"This was an isolated issue and it is quickly being resolved," she added.
"No one was injured. Those on the ride were safely evacuated according to our safety training procedures and will be able to ride again for free."
The park's website dubs the Cyclone the "mother of American rollercoaster culture", with 2,640 feet of track featuring 12 drops from "panoramic" heights at speeds of 60mph.
It was declared an official New York City landmark in 1988.
Luna Park has not announced what caused the problem but CBS reported that it may have been a fault with the belt that lifts the cars to the summit.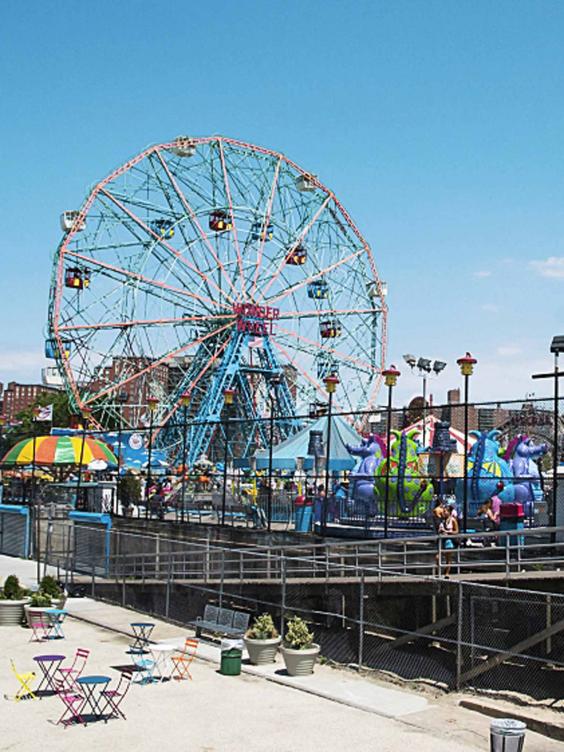 Angie Morris, the attraction's brand manager, told the New York Times the problem "was an isolated mechanical issue" that was being repaired.
While the Cyclone has got stuck in the past, she said, "it hasn't happened in a long time, and certainly not on opening day".
Three people have died riding the rollercoaster in 87 years, including one man who stood and hit his head on a beam in 1985, a maintenance worker who fell after failing to secure a safety bar in 1988 and a man who broke his neck in 2007.
Reuse content