The state of Indiana has just passed a law that is billed as protecting religious freedoms, but which has been seen as a way for businesses and associations to openly discriminate against the LGBT community.
The Religious Freedom Restoration Act, which was passed overwhelmingly by the Republican led-state legislature and signed into law on Thursday, blocks local and state laws designed to protect gay people that "substantially burden" a person's ability to follow his or her religious beliefs. It was signed by the Indiana's Republican governor Mike Pence.
The definition of a "person" includes religious institutions, businesses and associations.  Opponents say it is discriminatory against gay, lesbian, bisexual and transgender people and is broader than other states' religious freedom laws.
Arkansas's senate overwhelmingly approved a similar law a day later.
Governor Pence defended Indiana's new law when he appeared on ABC TV's "This Week", but did not answer directly when asked six times whether it would be legal for a business to refuse to serve gay customers.
10 Harvey Milk Quotes To Inspire You
10 Harvey Milk Quotes To Inspire You
1/10 Harvey Milk

"You've gotta give them hope. If a bullet should enter my brain, let that bullet destroy every closet door."

Corbis

2/10 Harvey Milk

"The fact is that more people have been slaughtered in the name of religion than for any other single reason. That, that my friends, that is true perversion!"

Corbis

3/10 Harvey Milk

"Rights are won only by those who make their voices heard."

AP

4/10 Harvey Milk

"I know you can't live on hope alone; but without hope, life is not worth living. So you, and you and you: you got to give them hope; you got to give them hope."

Corbis

5/10 Harvey Milk

"It's not my victory, it's yours and yours and yours. If a gay can win, it means there is hope that the system can work for all minorities if we fight. We've given them hope."

Corbis

6/10 Harvey Milk

"It takes no compromise to give people their rights...it takes no money to respect the individual. It takes no political deal to give people freedom. It takes no survey to remove repression."

AP

7/10 Harvey Milk

"All men are created equal. No matter how hard they try, they can never erase those words. That is what America is about."

Corbis

8/10 Harvey Milk

"Let me have my tax money go for my protection and not for my prosecution. Let my tax money go for the protection of me. Protect my home, protect my streets, protect my car, protect my life, protect my property...worry about becoming a human being and not about how you can prevent others from enjoying their lives because of your own inability to adjust to life."

Corbis

9/10 Harvey Milk

"Every gay person must come out. As difficult as it is, you must tell your immediate family. You must tell your relatives. You must tell your friends if indeed they are your friends. You must tell the people you work with. You must tell the people in the stores you shop in. Once they realize that we are indeed their children, that we are indeed everywhere, every myth, every lie, every innuendo will be destroyed once and all. And once you do, you will feel so much better."

Corbis

10/10 Harvey Milk

"Hope is never silent."

Corbis
He instead said the law is "about empowering people to confront government overreach".
The law has gained widespread opposition and on Saturday thousands of people marched through the state's biggest city, Indianapolis, waving rainbow flags and signs stating "No hate in our state" and "I'm pretty sure God doesn't hate anyone".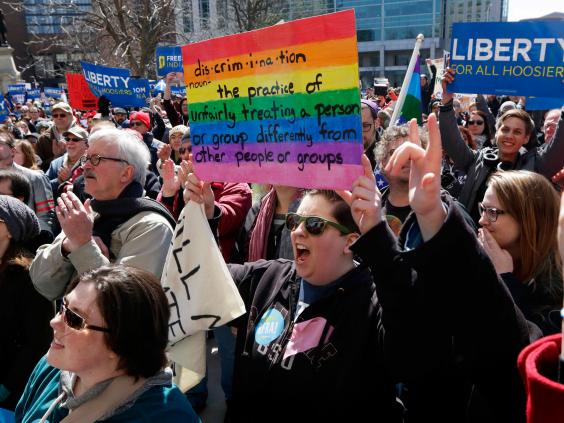 Governor Pence's spokeswoman Kara Brooks claimed that "this bill is not about discrimination, and does not in any way legalise discrimination in Indiana," but the state is already facing severe backlash from businesses over the decision.
Tim Cook, one of the most prominent openly gay American business leaders, joined other executives in blasting the law on Friday, while business-rating website Angie's List halted plans to expand its Indianapolis business over the law.
"Angie's List is open to all and discriminates against none and we are hugely disappointed in what this bill represents," chief executive Bill Oesterle said.
Seattle's openly gay mayor, Ed Murray, declared he will ban city employees from travelling to Indiana on official business: "None of our taxpayer dollars should go toward supporting this discriminatory law," he said.
Additional reporting by agencies
Reuse content