Louisiana governor Bobby Jindal is holding meetings with Christian evangelicals in the politically crucial state of Iowa as he tries to decide whether he has enough support make him the first Indian American president.
Mr Jindal, 43, a Republican who has served two terms as governor, confirmed in September that he was considering a White House run, saying he was "thinking and praying" and suggested he would make a decision within a few months.
As part of his decision-making protest, Mr Jindal, a Christian convert who was raised in Hindu parents who came to the US from India, is this week meeting with pastors in the state of Iowa to determine his support among Christian evangelicals and social conservatives. Later this month, Mr Jindal is to host a prayer rally in Louisiana and he wants to hold a similar event in Iowa.
"These are a group of Christian men and women very interested in spiritual revival, very interested in prayer," Mr Jindal told the Associated Press this week. "I'm happy to go anywhere, anytime to talk about Jesus."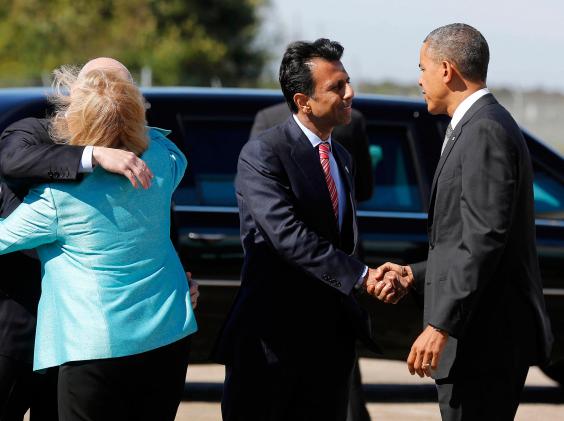 With its first-to-vote status in the presidential primaries, Iowa plays a crucial role for any pretender to the White House. And as Mr Jindal ponders a 2016 run, he has trying to build support among social conservastives there and elsewhere across the country. He has held similar meetings in New Hampshire, which is second to vote, and Oklahoma.
On Tuesday, Mr Jindal was holding meetings in the cities of Cedar Rapids and Des Moines – a private lunch in the first and an off-the-record dinner in the second. The Des Moines Register noted: "Candidates in previous Iowa caucus cycles have used such meetings to introduce themselves to influential conservatives and gauge their prospects for a full-blown campaign."
Mr Jindal, who served in the government of George W Bush, has been seeking to promote himself as a social conservative and define his brand in what is becoming an increasingly crowded field of early potential candidates for the Republican nomination. He opposes abortion and gay marriage, and pushed for the creation of a voucher program in Louisiana that uses tax dollars to pay for children to attend religious schools.
Becky Norton Dunlop, Vice President for external relations as the Heritage Foundation, a conservative think tank in Washington DC, said Mr Jindal had proved it was possible to be a conservative from a minority background and succeed politically. She said the Governor was a "serious candidate even though he had not declared".
"At a state level he has proved he has the ability to communicate to people his desire to change Louisiana," she said. "It waits to see whether he can transcend the public perception that people such as Jeb Bush [have a better chance] than him."
Not everyone is impressed with Mr Jindal's performance as governor. The Daily Kingfish, which describes itself as a news website dedicated to building a progressive governing majority in Louisiana, has criticised him for spending so much time out of the state and neglecting Louisiana as he considers a possible run. It said he had travelled out of the state on at least 69 days last year.
"The charade is up. Bobby Jindal doesn't want to be in Louisiana anymore," said one recent post on the website. "He hasn't had any use for the state except to rack up crazy points with the Iowa caucus goers from his legislative agenda."
Milan Vaishnav of the Carnegie Endowment for International Peace in Washington, said he believed Mr Jindal was trying to position himself as someone who could appeal to core conservatives and Tea Party supporters.
He said Mr Jindal would "certainly not" automatically get the support of Indian American voters, 85 per cent of whom are believed to have voted for Barack Obama in 2012.  He said thought it Mr Jindal was "not unlikely to dent this".
Mr Jindal's possible Republican rivals include former Florida Jeb Bush, who has formed an political action committee and is "actively considering" a run, the beaten 2012 presidential candidate Mitt Romney, New Jersey Governor Chris Christie, former Arkansas Governor Mike Huckabee and Senators Ted Cruz and Rand Paul.
Mr Jindal, whose parents emigrated from the Indian state of Punjab shortly before he was born, has promoted religious freedom in recent months, the Associated Press said. But he also has cast himself as an economic conservative and a pragmatist, calling on Republicans to stop acting like "the stupid party" after it lost the 2012 election.
Reuse content