The attention-seeking fantasy of a self-confessed teenage murderer – or the unmasking of one of the most prolific female serial killers in American history?
That is the question that the Pennsylvania police and the FBI are now seeking to answer, as they attempt to establish the truth about the past of 19-year-old Miranda Barbour.
Prosecutors in Sunbury, Pennsylvania are currently seeking the death penalty against Ms Barbour and her husband Elytte for the murder last November of Troy LaFerrara, a 42-year-old man who answered her advert on the Craigslist website, offering sex for money.
At the time, the Barbours had been married barely three weeks, and had only just moved to Pennsylvania from North Carolina.
In what police describe as an apparent thrill killing, the couple told investigators that she stabbed their victim to death in the front seat of her SUV while her husband, hiding in the back, held a cord around his neck. Mr LaFerrara "said the wrong things, then things got out of control," was Ms Barbour' reported version of events.
That one killing alone would be cold-blooded and remarkable enough. But in the case of Ms Barbour, it might merely be just the tip of an iceberg. If the story that Ms Barbour told Sunbury's local paper The Daily Item in a weekend interview is true, she had already killed two dozen or more people in several states, starting when she was just 13, after she joined a Satanic cult in a small Alaska town.
She gained her first taste of murder, she claimed, when the cult's leader let her accompany him on a hit against someone who owed him money.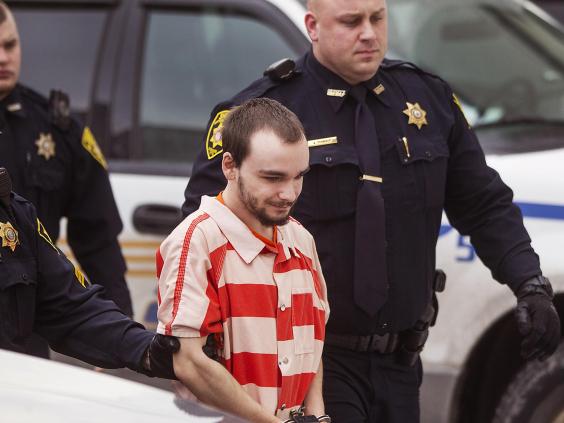 After shooting the man, the cult leader gave her the gun to finish the victim off. "I couldn't do it, so he came behind me… put his hands on top of mine and we pulled the trigger."
After that, murder seems to have held few qualms for her. "From there on, I just continued to kill," she told The Daily Item. The bulk of the victims by her account were in Alaska, but others were in Texas, California and North Carolina.
They were "bad people, who didn't deserve to be here any more," she said. "When I hit 22 I stopped counting any more."
She claimed to remember exactly where each victim was: "I can pinpoint on a map where you can find them."
Ms Barbour further told the paper she wasn't worried about spending decades in jail, since if she were to be released she would simply start killing again. "I feel it is time to get all of this out. I don't care if people believe me. I just want to get it out," she declared.
As Ms Barbour's claims became known, the FBI, which traditionally handles multi-state crimes, became involved.
Few details of the earlier alleged killings have thus far emerged, but investigators say they are taking them seriously: "This could be the real deal," one of them told CNN.
Ms Barbour is petite with long brown hair, and hardly looks even her 19 years. The reporter who conducted  the phone interview from  jail described her as "very meek, mild, soft-spoken and matter-of fact".
What happens next is uncertain. Lawyers for both of the Barbours have sought psychiatric evaluations of their clients, while Pennsylvania police and the FBI are in contact with police in states where the earlier killings may have taken place. Ms Barbour's lawyer has said that he had no prior inkling of the contents of her sensational interview with The Daily Item.
As a rule, women serial killers are rarer than their male counterparts, and usually older. In the US the deadliest ever is generally believed to have been Belle Gunness, a Norwegian-American woman who may have despatched between 25 and 40 people between 1884 and 1908. If Miranda Barbour is telling the truth, she would run Gunness very close.