No one but he knows whether it is preposterous or precisely prescient, but the AM radio dial in America is suddenly abuzz with chatter that Mitt Romney, the one-time governor and two-time presidential candidate, might take one more shot at the White House in 2016, never mind all those times he has said that he won't.
The runes are mixed. Responding to the outbreak of Mitt Fever, the wife of the man who has already tried twice to become President – in 2008 and then in 2012 – Ann Romney, told the Los Angeles Times on Monday that it was a non-starter. The family is "done" with presidential campaigns, she said. "Completely. Not only Mitt and I are done, but the kids are done." Just for emphasis, she added: "Done, done, done."
And yet, this horse could have legs. This may above all be because most Republicans more or less assume that the Democrat candidate to beat two years hence will be Hillary Clinton, who could make her own intentions clear just a few weeks from now.
They are also looking at early polls suggesting that very few potential Republican candidates could beat her, apart, possibly, from Mr Romney.
Rather than staying home – and he has a few to choose from – or taking to a distant island, Mr Romney is relishing roaming the land trying to help the Republican Party achieve its goal of seizing control of the US Senate in the upcoming midterm elections. His most recent outing was at a rally in Iowa on Monday campaigning alongside GOP Senate candidate Joni Ernst. "Run, Mitt, run!" activists chanted at the back.
Regardless of the humiliation of his defeat at the hands of President Barack Obama almost two years ago, Mr Romney remains the titular head of the national party. He is planning a non-stop national fly-around in the days leading up to polling day on 4 November.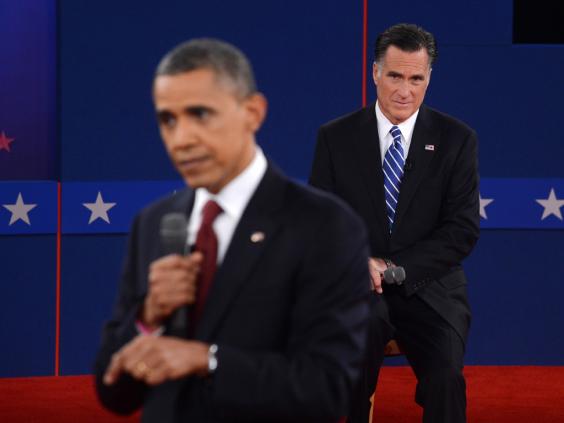 He seems also to be diligently remaining plugged in with many of his advisors from his failed 2012 run and, more importantly, many of his donors.
Some of those donors were expected at a gala event in Boston which on the surface, at least, was about raising funds for a new centre for research into neurological diseases being championed by Ann, who is in remission from multiple sclerosis. It also hasn't gone unnoticed that many of the same people have already received save-the-date notes for Mr Romney's annual policy retreat in Park City, Utah, next June.
And unlike his wife, Mr Romney has appeared reluctant of late to close the door completely on the prospect of a third attempt. (While he was his party's nominee in 2012, he never made it past in the primaries in 2008 when John McCain took the top of the ticket.)
In August, he told a radio interviewer that he would not seek the nomination again, but added: "Circumstances can change, but I'm just not going to let my head go there".
In September, Mr Romney told the New York Times that there was a theoretical "chance" he could change his mind about not running again, offering teasingly: "Let's see what happens."
Few will have missed a poll last weekend looking at voter intentions in Iowa, the first caucus state and early testing ground for candidates in every presidential cycle. The Des Moines Register-Bloomberg survey said that among all the Republicans considered  possible candidates in 2016 only Mr Romney would beat Mrs Clinton in the state, 43 per cent to 42 per cent.
"It's the market pulling him," Kent Lucken, a close friend and political adviser who tagged along with Mr Romney in Iowa, told the Washington Post. "People look at Hillary as the likely Democratic nominee, and the party needs a strong leader who can stand up to her and who's been through the process."
That he is being talked about is testimony to the curious contradiction that while the Republicans seem poised for victory in the midterms, their options in 2016 remain limited.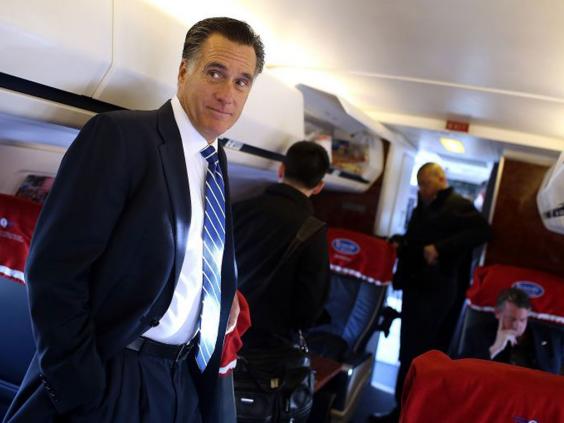 That in part is because of a right flank which might embrace the likes of Senators Ted Cruz and Rand Paul (and 2008 runner Rick Santorum) but spurn more moderate figures, like Jeb Bush and Governor Christ Christie. If one or both of Messrs Bush or Christie do not run or get clobbered early on, the pressure on Mr Romney to run will surely grow.
Some in the party meanwhile argue that Mr Romney has been vindicated for the positions he took in 2012 because of the suddenly low ratings of Mr Obama.
"There is a feeling that the country missed out on an exceptional president," Tim Pawlenty, a former Minnesota Governor who made his own stab at the GOP nomination two years ago. "If he runs, I believe he could win the nomination and the general election. It'd be the right person at the right time, and I would encourage him to do it."
Taking up a third-time's-a-charm theme, Mr Pawlenty noted that Ronald Reagan twice attempted to ascend to the presidency before finally grasping the ring "and was stronger for it".
Speculation was also ignited that Rupert Murdoch was ready to press him to try again after the two men were spotted huddled at a recent Republican fund-raising event in Manhattan.
But the notion of Mr Romney running one more time – a retread of a retread candidacy – made some Democrats rub their hands. "I was already having a good morning and then I see Mitt Romney may run again!" Jim Messina, the former Obama campaign manager (and now advisor to David Cameron) said on his Twitter feed.
Reuse content