The moment one enters the small Miami garden of Ishmael Bermudez there is a sense of calm, of peace.
The noise from the traffic outside and a nearby metro rail nearby drops away, replaced by the sound of birds and of an afternoon breeze moving in the trees. "Come," said Mr Bermudez. "I'll show you the historic site they're trying to destroy to build a sky-scraper."
In recent days, Mr Bermudez, who has Native American ancestry and who also uses the name Golden Eagle, and his partner, Burke Keogh, who is an artist, have made headlines around the world as it was revealed they had turned down offers of up $1.8m to sell the plot because they believe it is a sacred site.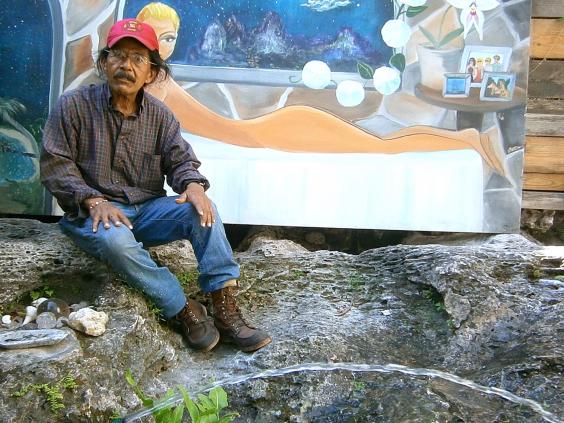 Some people might think their decision was crazy; they believe the rest of the world is insane.
The impassioned Mr Bermudez said he was disappointed by the media's fixation with the matter of money, rather than his motivation for not selling. He said wanted to keep hold of the property because he believed it was a site that was sacred to the Tequesta tribe, and also to draw attention to the world's ongoing pollution of water sources.
The 65-year-old said there were at least seven wells located in the back garden of his wooden home, where he has cleaned away the soil to show what he says is the limestone floor of pre-historic sea. One spring, which he discovered in 1969, provides the couple's drinking and bathing water.
"Yes, you can drink it. We drink it all the time," said Ms Keogh, who said she was of Irish origin. "It keeps the body cool and helps you to dream. That water is never hot, no matter how warm the Miami summer gets."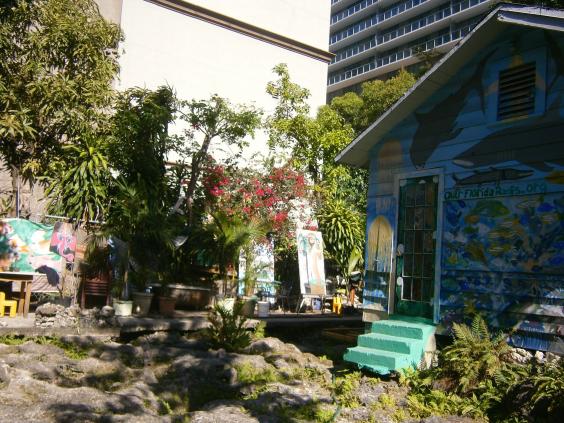 Mr Bermudez went inside to turn on a tap and soon a stream of clean, pure water was jetting from a hose. It tasted fresh and of minerals, and was utterly cooling.
"We have to draw attention to the what is happening to the water," said Mr Bermudez. "We need to save the Everglades, we need to save the water there. China has problems, Los Angeles has problems. Forget India – it's gone."
The property in the city's Brickell area is surrounded by residential tower blocks. Mr Bermudez pointed out two people on a balcony high above who appeared to be looking down onto his property.
"We're told the people up there are obsessed with us and that they wake up in the morning and look down at us with binoculars," laughed Ms Keogh.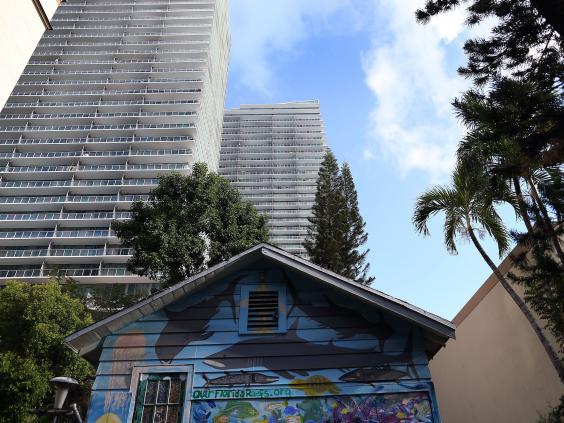 Ms Keogh has hung a number of her paintings from the walls of the garden, creating a open air gallery filled with vibrant colours. Many of the paintings are of powerful portraits of women, including Paris Hilton, lying on her stomach on a couch.
"I did this when I learned about the sex tape thing," said Ms Keogh. "Men want us to be sexual, and then shame us for being sexual. It's very hard to love men after that."
Another painting was one of five women, with zips across their mouths. It was titled All Dressed Up and Nowhere To Go. "I kept their mouths shut to show how [women] don't have a voice," she said. "We are told to sit there and look pretty."
Mr Bermudez, who said he had Navajo ancestry, pointed to several spots on the limestone that he said be believed were used as alters by the Tequesta people, who were one of the first to meet Europeans in the 16th Century and were subsequently driven out.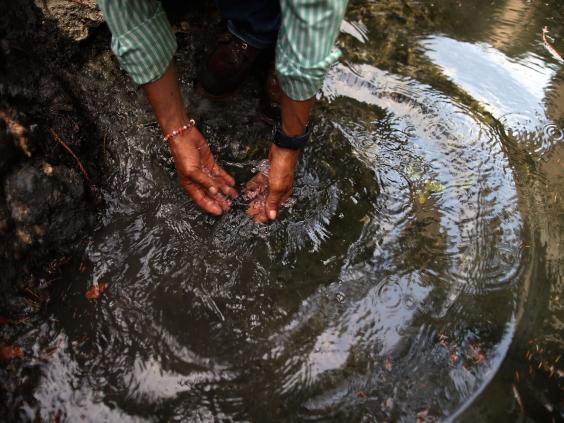 He said he had found numerous fossils, and artefacts that he believed belonged to the tribe. The couple have established a Facebook page to try and persuade someone to fund a proper study of their plot.
Before leaving, The Independent was presented with a small piece of crystal, a gift to bring good luck. Mr Bermudez also lit some pieces of sage – a ritual designed for protection - and the air was quickly perfumed with pungent smoke.
"I can't let you to leave here without the sage," he said. "I don't want any bad spirits to get to you."
Sitting in the couple's garden in the late afternoon sunshine, amid the paintings and the smoke, it was hard not to reflect that many people would consider the couple actions a little eccentric, or plain odd.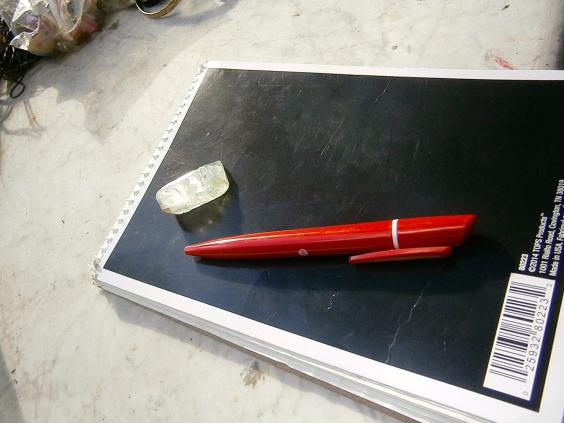 It was also hard not to sense their utter commitment and determination to try and draw attention to the issues they felt passionate about.
"When the developers come here they talk about price-per-square-foot, while we are talking about sacred land," said Ms Keogh.
She added: "We're talking two different languages."
Reuse content