The families of victims of the Colorado mass murderer James Holmes expressed their anger at the "gaping wound" he had caused to their lives after he was spared the death penalty.
A jury decided yesterday that Holmes will serve life in prison with no possibility for parole after killing 12 people and injuring many more when he opened fire at a midnight film screening of The Dark Knight at a cinema in Aurora, Colorado, on 20 July 2012.
His lawyers had said he had been suffering from a mental illness at the time of the attack, but the jury had previously rejected his defence of insanity given the grotesque nature of the massacre.
He was convicted last month of 165 counts of murder, attempted murder and weapons charges. 
The jury had since been considering what sentence to pass.
Families of the victims left the courtroom as Judge Carlos Samour delivered the verdict which spared him execution.  Their sobs could be heard through the closed courtroom doors.
Holmes, 27, showed no reaction.
Sandy Phillips, whose daughter Jessica Ghawi was killed by Holmes, shook her head and held it in her hands.
Ashley Moser, whose six-year-old daughter Veronica Moser-Sullivan died in the attack and who was herself paralysed by Holmes' bullets, also shook her head and slowly leaned it against the wheelchair of another paralysed victim, Caleb Medley.
The late child's grandfather, Robert Sullivan, said: "We always knew this was a possibility," reports Fox News.
"I'm thinking a dark knight rises and infiltrates the jurors."
He added that Holmes "would have preferred a mental institution", according to the Los Angeles Times.
"He preferred life over death. I wondered in the interim if he would have committed suicide, but he doesn't have the guts, the fortitude, to do that. He armoured himself up."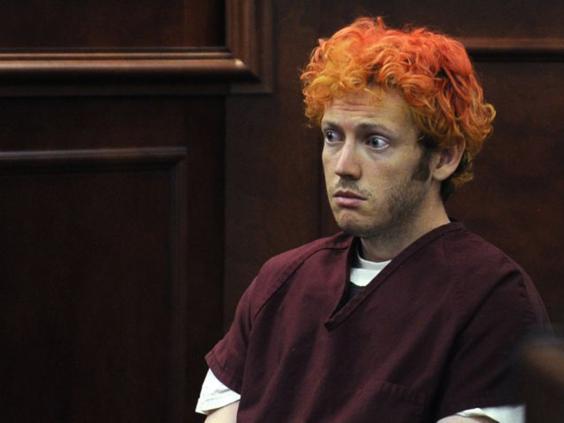 The newspaper reported that Mr Sullivan said he had "tried to resolve Veronica's death, and I can't".
"It was the gaping wound that's not going to go away. This just makes it worse… I imagine some of those jurors felt betrayed, too."
Dave Hoover, whose nephew Alexander "A.J." Boik, 18, was murdered by Holmes, said: "Our loved ones are gone. We will never get to hug them again," reports the newspaper. 
"I will never get to hug A.J. and tell him I love him again."
One juror, who did not want to be named, said there was a single juror who had refused to give Holmes the death penalty and two others who were wavering, it has been reported.
"All the jurors feel so much empathy for the victims. It's a tragedy," they said.
"It's a devastating result no matter what. I am deeply, deeply sorry - that isn't even the word."
As the sentence was read out, Holmes' mother, Arlene Holmes, who had taken to the witness stand along with her husband to ask the jury to spare her son's life, sobbed.
In a statement released through their lawyer, the couple said they were "unable to make any comment at this time other than to say that they are deeply sorry this has happened and they are so sorry that the victims and families have suffered such tremendous loss".
After the hearing, the District Attorney George Brouchler met with the victims' families and expressed his disappointment, reports Fox News.
"Those jurors did a hell of a job. They were called upon to do things that a lot of people wouldn't do.
"Though I'm disappointed with the outcome, I'm not disappointed with the process.
"I still think death is justice for what that guy did but the system said otherwise and I honour that."
Aurora Police Chief Nicholas Metz added: "There will never be closure for these families, for these victims. They will carry the scars. They will carry the pain," the television station reported.
The state of Colorado has executed only on person still the death penalty was reinstated there by the Supreme Court in 1977.
Additional reporting by PA
Reuse content