Jamie Gilt is in hospital in a stable condition after being shot in the back by her four-year-old son on Tuesday - just hours after posting a message on social media saying how "jacked up" the child was to shoot a weapon.
But who is the outspoken gun rights activist, and how did the incident happen?
What happened?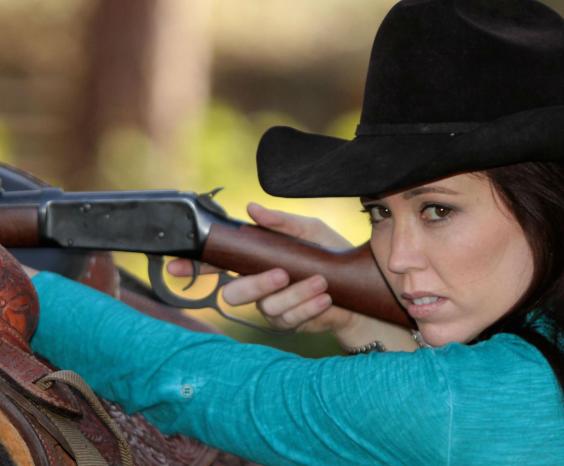 Police said Ms Gilt was driving her truck, which was towing a horse trailer, along State Road 20 in Hollister, Putnam County, in Florida with her four-year-old son in the back of the vehicle. 
The child appears to have got hold of a .45 calibre pistol which was lying on the back seat and fired it accidentally. 
Florida law requires gun owners to ensure they are kept securely.
An investigation into how the child came to be in possession of the handgun is ongoing.
Who is Jamie Gilt?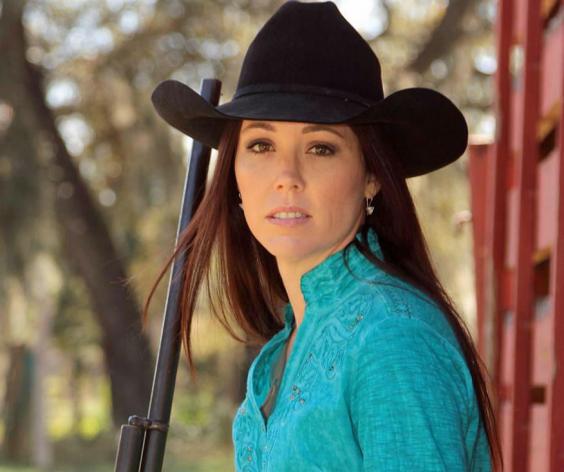 The 31-year-old lives in Jacksonville, Florida and is an outspoken and high-profile pro-gun activist.
Just 24 hours before the incident, she posted a message on social media boasting: ''Even my 4 year old gets jacked up to target shoot with the .22". 
She runs a Facebook page entitled: 'Jamie Gilt for Gun Sense' - but the site has temporarily been taken down. 
She frequently posts on social media about her love of guns and her views on Second Amendment rights, as well as her support for Republican presidential candidate Ted Cruz.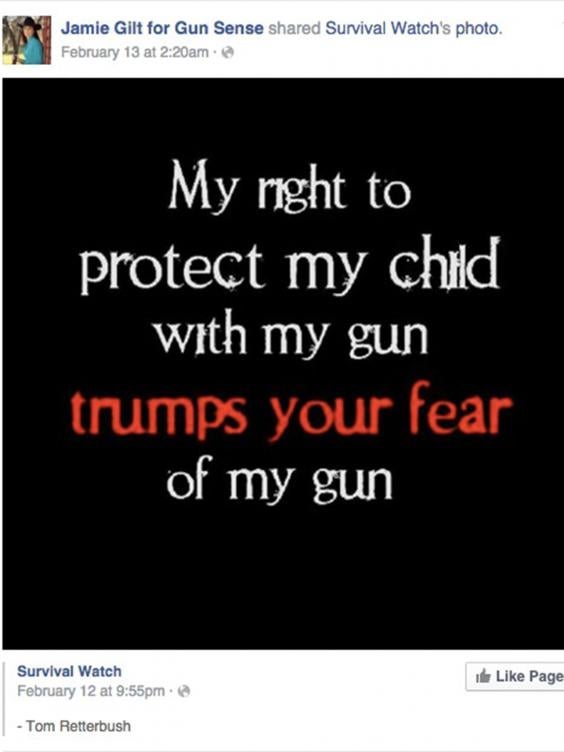 Her profile photo on her personal Facebook page describes the Texas senator as "Patriotically Correct."
She posted an article from Gunowners.org on March 1 entitled, "Ted Cruz is the Presidential Candidate Who has the Longest Record of Fighting for Gun Rights", according to Heavy.com. 
She has also posted a number of comments about how it is better to confront a burglar with a gun than to call the police.
"I can promise though, if someone breaks into my house, or tries to harm me or my family pretty much anywhere, they will be shot and most likely killed," she said in one post.
The famous for and against US gun control
The famous for and against US gun control
1/29 Against: Robert De Niro

Despite the actor being a gun-wielding fast-talker, he told Daily Mail: "There should be more control. It has just gotten out of hand, how easily you can get guns."

2/29 For: Brad Pitt

"America is founded on guns. It;s in out DNA. It's very strange but I feel better having a gun."

Getty Images

3/29 For: Angelina Jolie

"Brad and I are not against having a gun in the house, and we do have one. If anybody comes into my home and tries to hurt my kids, I've no problem shooting them."

AFP/Getty

4/29 For: Johnny Depp

"When I was a kid it was a controlled atmosphere, we weren't shooting at humans - we were shooting at cans and bottles mostly. I will most certainly take my kids out for target practice."

Getty Images

5/29 For: Bruce Willis

"Everyone has a right to bear arms. If you take guns away from legal gun owners, then the only people who have guns are the bad guys."

Getty Images

6/29 For: Clint Eastwood

"I have a very strict gun control policy: if there's a gun around, I want to be in control of it."

Reuters

7/29 For: Whoopi Goldberg

"I'm an NRA member, as you know or probably don't know... I want to know that there's at least some way to prevent folks who are just getting out from mental institutions [from getting guns]."

8/29 For: Vince Vaughn

"Banning guns is like banning forks in an attempt to stop making people fat. Taking away guns, taking away drugs, the booze, it won't rid the world of criminality... I support people having a gun in public full stop, not just in your home."

Getty Images

9/29 For: Donald Trump

"Democrats want to confiscate all guns, which is a dumb idea because only the law-abiding citizens would turn in their guns and the bad guys would be the only ones left armed. The Republicans walk the NRA line and refuse even limited restrictions"

Getty

10/29 Against: Matt Damon

"I actually hate guns. They freak me out."

Rex

11/29 Against: Mark Wahlberg

"Well, I would love it if they could take all the guns away. Unfortunately, you can't do that so you hope that good people in the world have them to protect the people who can't protect themselves."

AP

12/29 Against: Sean Connery

"It is said that a total ban on handguns, including .22s, would take away innocent pleasure from thousands of people. Is that more or less pleasure than watching your child grow up?"

Rex Features

13/29 Against: Arnold Schwarzenegger

"I'm for gun control. I'm a peace-loving guy."

Lionsgate

14/29 Against: Sylvester Stallone

"Until America, door to door, takes every handgun, this is what you're gonna have. It's pathetic. It really is pathetic. It's sad. We're living in the Dark Ages over there."

Getty Images

15/29 Against: Susan Sarandon

"How much more suffering & loss will it take before we better regulate the sale of arms in our country?"

Getty

16/29 Against: Beyonce

Queen B was part of the Demand a Plan campaign against guns after Newton shooting, by appearing in a video alongside a bunch of celebrities.

AP

17/29 Against: Jamie Foxx

A Hollywood gang joined Beyonce in the campaign...

GETTY IMAGES

18/29 Against: Cameron Diaz

Took part in the Demand a Plan campaign.

Getty Images

19/29 Against: Jessica Alba

Took part in the Demand a Plan campaign.

Getty Images

20/29 Against: Jennifer Aniston

Took part in the Demand a Plan campaign.

Jason Merritt | Getty Images

21/29 Against: Jon Hamm

The Mad Men actor also appeared in the video...

22/29 Against: Reese Witherspoon

Took part in the Demand a Plan campaign.

Getty Images

23/29 Against: Ellen DeGeneres

Took part in the Demand a Plan campaign.

Reuters

24/29 Against: Julianne Moore

Took part in the Demand a Plan campaign.

25/29 Against: Selena Gomez

Took part in the Demand a Plan campaign.

GETTY IMAGES

26/29 Against: Peter Dinklage

The Game of Thrones also appeared in the video...

Getty Images

27/29 Against: Zooey Deschanel

alongside the New Girl star.

Getty Images

28/29 Against: Steve Carell

Took part in the Demand a Plan campaign.

Getty Images

29/29 Against: Gwyneth Paltrow

Took part in the Demand a Plan campaign, too.
She also shares professional modelling photographs on her social media accounts.
Ms Gilt works as a distributor for nutrition supplement Advocare. She started at the company in January 2015 and works from her home in Jacksonville.
Ms Gilt is a passionate horse rider and she was on her way to pick up a new pony when the shooting occurred, CBS Jacksonville reported.  
Reuse content