Fanning speculation that he is now close to declaring his intention to run for the Republican presidential nomination in 2016, Jeb Bush has announced plans to release all his emails from when he was Governor of Florida and publish an ebook laying out his vision for the party and the country.
The steps are part of a flurry of activity on the part of Mr Bush that makes clear that he continues to give at least serious thought to jumping into the race for his party's nod to seek the presidency, including huddling with top Republican consultants, talking politics in interviews and making public appearances.
Mr Bush, who was Florida's Governor until 2007, is due to deliver an address this evening to students at the University of South Carolina. In an interview with a Miami television station on Sunday he said he may announce his intentions within a month. "End of this year, early next year, I'll make a decision to really pursue this or to stand down," he said.
A decision by Mr Bush, 61, to compete would set up a battle between him and potential presidential aspirants from the right wing of the party. While he established a strong conservative record as Governor, he has taken a moderate stance on immigration policy and in the 2012 campaign criticised that year's nominee, Mitt Romney, for skewing too far to the right in the primary process.
The key question is whether his stance on immigration and on supporting common education standards for schools, known as "Common Core", anathema to most conservatives, would sabotage his chances of surviving the primaries. Were he to prevail and secure the nomination, however, he could emerge as a powerful nominee and daunting opponent to whomever the Democrats choose.
Mr Bush also faces the challenge of his name. Fatigue with his family remains possibly the strongest argument against his attempting a run. That has surely become only more problematic in recent days as the release of the US Senate report into torture of terror detainees after the attacks on the US in 2001 has served to remind voters of the some of the darker corners of the legacy of his brother, George W Bush, and his Vice‑President, Dick Cheney, who have both defended the CIA's actions.
Another possible danger is his record of recent years as founder of a Florida-based private equity firm, which could open him to the same sort of attacks Mr Romney endured in 2012 from Democrats as being a friend of speculative money and an enemy of workers. He addressed that issue directly on Sunday.
"I think that practical experience is something that might be useful in Washington DC, to be honest with you, where it's all in this bubble, where they have no concept what impact the massive amount of rules and taxes and regulations... has on the entrepreneurial spirit of this country," he told WPLG-TV. "I'm not ashamed. Taking risk and creating jobs is something we ought to have more of."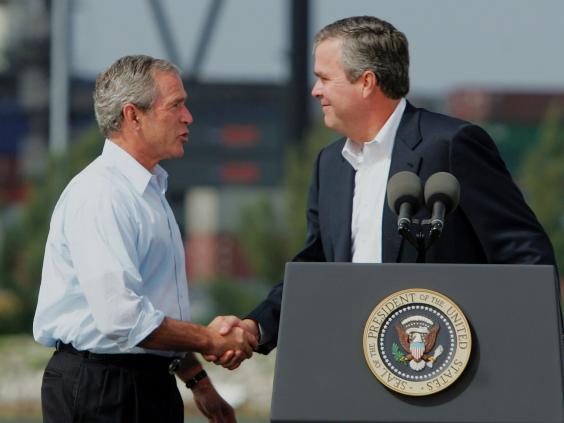 His moves to release the ebook and some 250,000 emails from his years in the Governor's mansion will be taken by some as the surest sign yet that his decision to run is no longer an "if" but a "when". The emails will be assembled on a new website to be unveiled in the new year. The ebook – apparently conceived as part of an effort to portray him as digitally up to speed – would come out in the spring.
In the interview, Mr Bush was notably candid about the rightwards drift Mr Romney got himself into early in 2012 as he battled for months to capture the nomination amidst scepticism from party conservatives. "He got sucked into other people's agendas, and I think it hurt him a little bit," he said, suggesting he would set himself apart by standing up for his beliefs more clearly. "You have to be true to who you are," he said, adding that zigzagging was no longer a tenable strategy. At a time when "everything is digitised, your life is open for 24/7, the idea that you can just kind of say you're for one thing and then change it after you win the primary" is unrealistic.
Reuse content