Exactly what pushed Jeb Bush over the edge, we don't know. Maybe he'd spied the devil letters T-R-U-M-P painted on the roof of the spiffy Doral Country Club as his plane approached Miami Airport a week ago – they are hard to miss – and despaired.
Or did coming home after a long stretch on the road give him new courage? Either way, last week was when he let his new nemesis really have it.
The onslaught against Donald Trump, whose commanding lead in the race for the Republican nomination has stunned Mr Bush, was launched on several fronts. There was an online quiz asking Republican voters if they really wanted a "germophobe" who wouldn't shake hands as a candidate, and a slick video that sought to highlight past Trump positions that paint him more a liberal than a conservative.
The candidate himself took up the cudgel touring a school popular with Cuban families in Miami's Little Havana the next day. "He attacks me every day with barbarities," he declared to reporters in Spanish. "He personalises everything. If you're not totally in agreement with him, you're an idiot, or stupid, or you don't have energy or 'blah blah blah'."
Donald Trump's most controversial quotes
Donald Trump's most controversial quotes
1/14 On Isis:

"Some of the candidates, they went in and didn't know the air conditioner didn't work and sweated like dogs, and they didn't know the room was too big because they didn't have anybody there. How are they going to beat ISIS?"

Getty

2/14 On immigration:

"I will build a great wall — and nobody builds walls better than me, believe me —and I'll build them very inexpensively. I will build a great, great wall on our southern border, and I will make Mexico pay for that wall. Mark my words."

Reuters

3/14 On Free Trade:

"Free trade is terrible. Free trade can be wonderful if you have smart people. But we have stupid people."

PAUL J. RICHARDS | AFP | Getty Images

4/14 On Mexicans:

"When Mexico sends its people, they're not sending their best. They're sending people that have lots of problems. They're bringing drugs. They're bringing crime. They're rapists."

Getty

5/14 On China:

"I just sold an apartment for $15 million to somebody from China. Am I supposed to dislike them?... I love China. The biggest bank in the world is from China. You know where their United States headquarters is located? In this building, in Trump Tower."

Getty Images

6/14 On work:

"If you're interested in 'balancing' work and pleasure, stop trying to balance them. Instead make your work more pleasurable."

AP

7/14 On success:

"What separates the winners from the losers is how a person reacts to each new twist of fate."

8/14 On life:

"Everything in life is luck."

AFP

9/14 On ambition:

"You have to think anyway, so why not think big?"

Getty Images

10/14 On his opponents:

"Bush is totally in favour of Common Core. I don't see how he can possibly get the nomination. He's weak on immigration. He's in favour of Common Core. How the hell can you vote for this guy? You just can't do it."

Reuters

11/14 On Obamacare:

"You have to be hit by a tractor, literally, a tractor, to use it, because the deductibles are so high. It's virtually useless. And remember the $5 billion web site?... I have so many web sites, I have them all over the place. I hire people, they do a web site. It costs me $3."

Getty Images

12/14 On Barack Obama:

"Obama is going to be out playing golf. He might be on one of my courses. I would invite him. I have the best courses in the world. I have one right next to the White House."

PA

13/14 On himself:

"Love him or hate him, Trump is a man who is certain about what he wants and sets out to get it, no holds barred. Women find his power almost as much of a turn-on as his money."

Getty Images

14/14 On America:

"The American Dream is dead. But if I get elected president I will bring it back bigger and better and stronger than ever before and we will make America great again."

GETTY
There are basic political reasons to be assailing Mr Trump. He is getting too far ahead to be doing nothing. A Monmouth University poll showed the business mogul with 30 per cent of Republican support nationally while Mr Bush, who many expected to be the quick frontrunner, had slid still further to just 8 per cent tied with Senator Ted Cruz.
Pledging on Thursday to support whoever emerges next year as the party's nominee, Mr Trump declared himself impervious to all verbal grenades. "Everybody that's attacked me has gone down the tubes," he boasted. The evidence so far is that he's mostly right. Ask Senators Lindsey Graham and Rand Paul how far lashing out at Mr Trump got them. Or former Governor Rick Perry of Texas.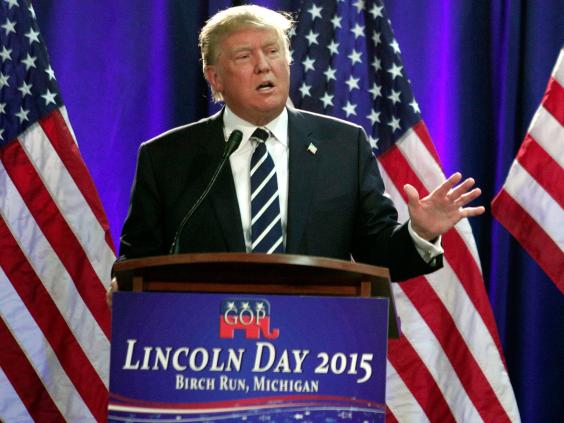 The rancour between Messrs Bush and Trump is mutually traded and is of a different order. The latter may still hold some grudge from the eight years that Mr Bush was Florida's Governor, 1999-2007, and steadfastly stymied his plans to expand – and profit from – gambling in the state, even though he had donated money to him when he was first running for the office.
More likely, Mr Trump knows that for all Mr Bush's problems, he may yet remain the biggest threat to him, by virtue of the support he still enjoys from the party establishment and the huge war chest his campaign and the political action groups have built, more than $120m.
Mostly Mr Trump limits himself to mocking the brother and son of former presidents as low-energy and soporific. He took a fresh tack berating him for speaking Spanish too much in Little Havana and elsewhere on the campaign trail. "When you get right down to it, we are a nation that speaks English," he said. "And I think while we're in this nation, we should be speaking English."
But political and personal are sometimes hard to pull apart. "When he attacks me personally or disparages my family, you're damn right I'm going to fight back," Mr Bush said. The mixture is most toxic when it comes to immigration, the border, Mexicans and, indeed, language choices.
Mr Bush's wife, Columba, is Mexican and the offence he takes is indeed personal and political. He noted that Mr Trump had retweeted someone saying he been "speaking Mexican" on the trail. 
"Those are dog-whistle terms," he lamented, implying Mr Trump was trying to endear himself to bigots.
"These are divisive terms. If we're going to win elections, we need to be much more open and hopeful and optimistic than sending signals to prey on people's angst."
On ABC News, he launched his most sustained attack. "[He is] trying to insult his way to the White House. It's not gonna work. People want an uplifting, hopeful message. People come to this country to pursue their dreams. Sometimes they start without speaking English. But they learn English. And they add vitality to our country.
"To say you can only speak English is kind of ridiculous... This is a diverse country. We should celebrate that diversity and embrace a set of shared values. Mr Trump doesn't believe in those shared values. He wants to tear us down."
The new ballistic Bush is something supporters have been yearning to see. It remains to be seen if it dents the Trump armour or backfires. He may yet go "down the tubes" too for daring to do it.
Reuse content