A pair of licence plates from the car carrying John F Kennedy when he was assassinated and a menu from the last dinner served on the Titanic have sold at auction for $100,000 and $118,750 respectively.
The two items were among a collection up for sale at Dallas-based Heritage Auctions' sale of political and Americana memorabilia.
After the 1963 assassination, the plates were thrown away as the vehicles were taken for improvements and repairs. William Hess, the owner of the company in charge of the refurbishments, recovered the them from the rubbish kept them on his bookshelf.
When he passed away in 2000 he gave them to his daughter, who kept them in a drawer in her kitchen.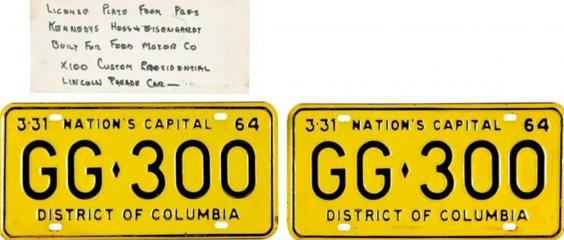 The first-class Titanic menu is the only known copy in existence from the dinner where passengers were served roast duckling, squab, filet mignon and oysters, with Waldorf pudding and peaches in chartreuse jelly for dessert.
A distress telegram that Western Union sent the Titanic's owner failed to sell at the auction. The telegram reads "Sinking fast – come to our assistance".
Both the menu and the license plates were sold to collectors who requested anonymity.
Reuse content