Joe Biden must not be a huge fan of personal space. It seemed that way in a photo taken of the vice president during Tuesday's swearing-in ceremony for new Defence Secretary Ashton Carter.
Mr Biden was photographed whispering sweet nothings into the ear of Mr Carter's wife, Stephanie, standing awkwardly close to her with both hands on her shoulders while the new defence secretary spoke.
Perhaps he was telling her something vital, but this isn't the first time the US second-in-command has been caught in such a situation.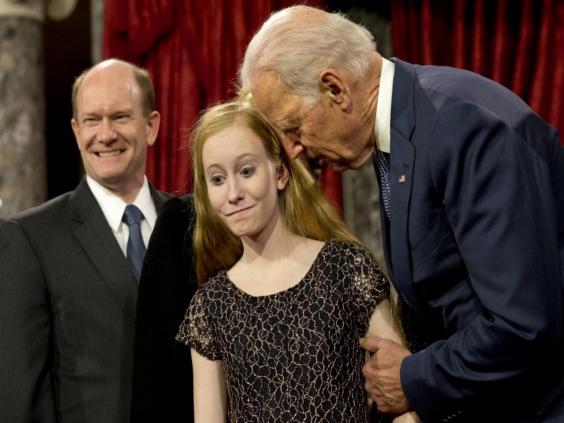 #ThingsLessScaryThanAlSharptonInALabCoat Joe Biden's boney hands on your shoulders. #Creepy pic.twitter.com/156xiGr0JW

hyphen; Daniel Snyder (@danmsnyder) January 7, 2014
Many Twitter users have taken to calling the vice president "Uncle Joe" in a nod to some of the awkward situations he's been in during his run as veep. Not surprisingly, Twitter had a lot of fun with his latest incident.
Joe Biden is a walking HR violation, but he gets a pass because Democrat. pic.twitter.com/mbkduz2Coe

hyphen; RB (@RBPundit) February 17, 2015
Obama: Stop kissing Michelle, Joe. Biden: DON'T TELL ME WHAT TO DO Michelle: Ya, don't tell him what to do.

hyphen; Reverend Scott (@Reverend_Scott) February 16, 2015
…don't be like creepy Joe Biden… #GoodTouchBadTouch #CreepyJoeBiden pic.twitter.com/GhKJOlPE3E

hyphen; Jenn (@JennJacques) February 17, 2015
Follow Payton Guion on Twitter @PaytonGuion.
Reuse content