America's political class has been set chattering by news that Joe Biden secretly met with a senior Democratic politician – apparently to sound out her support for a possible White House run.
A report said the US Vice President met with Massachusetts Senator Elizabeth Warren on Saturday to seek her thoughts on a bid.
CNN said the meeting took place at his official residence at the Naval Observatory in Washington DC and that it was the strongest indication yet that Mr Biden was considering placing himself as an alternative to Hillary Clinton.
In recent weeks, political pundits have been gripped by reports that Mr Biden, 72, is seriously considering another crack at the presidency amid concerns Ms Clinton, the Democratic frontrunner, is losing traction.
Mr Biden, who previously ran in 1988 and 2008, is said to have thought more seriously about a run following an appeal from his dying son Beau Biden, who passed away in May this year.
He has reportedly told confidants he intends to make a decision in the next month. The first Democratic debate is October 13.
A group of friends and supporters have been quietly building a "Draft Biden" to prepare an infrastructure to use if enters to the raise and to start raising money and reports said Mr Biden and his supporters had already spoken to possible donors.
Many are watching to see how Ms Clinton fares in the next few weeks as she continues to try and shake off a controversy over her use of an unofficial server for her emails while she was secretary of state.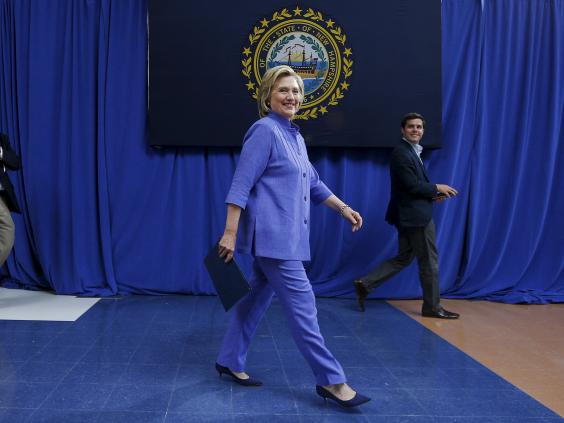 While the FBI has been investigating the security of the server at her home in New York, Ms Clinton has seen poll lead slip against Democratic challenger Senator Bernie Sander, as well as over potential Republican rivals.
Last week, Quinnipiac University released a poll that was damning for her in three important states - Florida, Pennsylvania and Ohio.
In each state survey, at least six out of ten voters said they felt she was not honest and trustworthy. Fewer than four out of ten voters held a favourable view of her.
Ms Warren, a favourite of the liberal wing of the Democratic party and who resisted strong calls to tun herself, has not yet endorsed a candidate. In an interview on Friday, she told WBZ in Boston: "I don't think anyone has been anointed."
Ms Warren and Mr Biden discussed economic policy during a meeting that lasted about two hours. The vice president arrived in Washington shortly before lunchtime, even though his official schedule said he was planning to spend the weekend at his home in Delaware.
Kendra Barkoff, a spokeswoman for Mr Biden, declined to comment on the meeting. But an aide to the Vice President confirmed the meeting to CNN, saying: "The vice president traveled last minute to Washington DC for a private meeting and will be returning to Delaware."
Reuse content