With just a week left until Jon Stewart hands in the keys to The Daily Show, every interview slot is precious.
But this week the Texas Senator and long-shot Republican presidential hopeful, Ted Cruz, pulled out of an appearance at the last minute, because – Senator Cruz apparently claimed – he had to stay in Washington DC that night for a Senate vote.
The same thing happened 10 years ago to another freshman US senator. In November 2005, when Barack Obama was due to make his debut on the programme to plug his memoir, Dreams From My Father, he was waylaid by a vote on a healthcare Bill. But rather than cancel his appearance, the rising star of the Democratic Party spoke to Stewart in New York via a videolink.
Stewart asked Mr Obama whether he was feeling the pressure of high expectations. "I do worry about the hype," the then-Senator admitted. "The only person more overhyped than me is you." Stewart, plainly charmed, cackled, then replied: "That's about the best answer I think I've ever heard."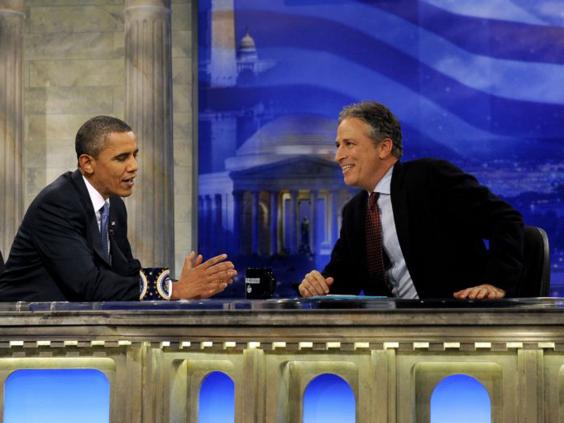 Unlike Senator Cruz, Mr Obama has been making time for Jon Stewart ever since. Not only has he visited The Daily Show seven times – three as President – but  it also emerged this week  that Mr Obama twice summoned Stewart to the Oval Office, in October 2011 and February 2014.
The meetings, listed in the White House visitor logs, were first reported by Politico, which speculated that the President had sought Stewart's support for his budget and foreign policies.
Stewart pooh-poohed that idea in his opening monologue on Wednesday's programme, emphasising the relative banality of the encounters. "We spent five to seven minutes with Obama kind of scolding me not to turn young Americans cynical," he said. "And then I spent five to seven minutes explaining to him I'm actually sceptically idealistic. And then we spent about 45 minutes arguing."
But while the comedian prefers to downplay his political influence, it is clear that the Obama administration values his esteem. Mr Obama personally requested the hour-long meetings, a former White House media liaison told The New York Times, saying senior aides often described Mr Stewart as "Walter Cronkite for the millennial generation".
During his 16-year tenure at The Daily Show, Stewart has carved out a space where comedy and politics co-exist more comfortably than ever before. And as President, Mr Obama has exploited that niche on numerous occasions, to make his case to young Americans whom he believed might otherwise be sceptical or apathetic about politics.
He was the first sitting President to appear on a late-night talk show, as a guest of The Tonight Show with Jay Leno in 2009, and has made similar trips to Letterman, Fallon, Kimmel and Colbert. He agreed to a grilling from Zach Galifianakis on the online faux talk show Between Two Ferns, and was recently interviewed for the comedian Marc Maron's WTF podcast in Maron's Los Angeles garage.
Stewart took up residence behind The Daily Show desk in 1999, during the dog days of the Clinton administration, but he came into his own with the election of George W Bush the following year.
The Daily Show seemed purpose-built for the Bush years, poking holes in the White House's paper-thin foreign policy arguments, and deflating the conservative wind-baggery of Fox News.
When Mr Obama took office, however, many thought the show might lose its bite. The President and the presenter were of the same generation – Mr Obama is 53, Stewart 52 – and appeared to share a similar world view. During a Daily Show interview in August 2007, a few months after Mr Obama launched his presidential bid, Stewart told him he had "a certain inspirational quality".
But though Stewart may be broadly on Mr Obama's side, he has not shied from criticising his administration. When Mr Obama became the first sitting US President to appear on The Daily Show in 2010, for example, Stewart conveyed the disappointment of many of his 2008 supporters. "You ran with such audacity," he said. "Yet legislatively it has felt timid at times."
Unexpected successful people who have admitted to smoking cannabis
Unexpected successful people who have admitted to smoking cannabis
1/14 Barack Obama

"As has been well documented, I smoked pot as a kid, and I view it as a bad habit and a vice, not very different from the cigarettes that I smoked as a young person up through a big chunk of my adult life. I don't think it is more dangerous than alcohol."

Getty

2/14 Bill Maher

"Look, I have never made a secret of the fact that I have tried marijuana... About 50,000 times."

Getty Images

3/14 Boris Johnson

"It was jolly nice. But apparently it is very different these days. Much stronger. I've become very illiberal about it. I don't want my kids to take drugs."

AP

4/14 Bill Clinton

"I experimented with marijuana a time or two."

Reuters

5/14 Jon Stewart

"Do you know how many movies I wrote when I was high?"

Comedy Central

6/14 Harriet Harman

"I did, when I was at university, smoke cannabis once or twice." But she quickly added she had not taken the drug since then. "I have indulged in the odd glass of wine but not cannabis."

PA

7/14 Martha Stewart

"Of course I know how to role a joint."

Getty Images

8/14 Bill Gates

In Stephen Manes' biography about the Microsoft founder, he writes: "As for drugs – well, Gates was certainly not unusual there. Marijuana was the pharmaceutical of choice…"

Chip Somodevilla/Getty Images

9/14 Oprah Winfrey

Asked by Andy Cohen when the last time she'd smoked cannabis was, she answered: "Uh … 1982." "Let's hang out after the show," Cohen joked. "Okay," Winfrey said, laughing. "I hear it's gotten better."

Getty Images

10/14 George W. Bush

"I wouldn't answer the marijuana questions. You know why? Because I don't want some little kid doing what I tried."

Getty

11/14 Sarah Palin

"I can't claim a Bill Clinton and say that I never inhaled."

AP

12/14 David Letterman

"I went through one period when I smoked a surprising, a really breath-taking, amount of grass almost every night."

Getty Images

13/14 Morgan Freeman

"Never give up the ganja."

Getty Images

14/14 Steve Jobs

"The best way I would describe the effect of the marijuana and the hashish is that it would make me relaxed and creative."
A prickly President Obama pointed out his successes, such as passing the Affordable Care Act and his administration's quick and effective response to the financial crisis. But Stewart has since taken the White House to task on issues including drone warfare, care for military veterans, and the botched launch of the Obamacare website, Healthcare.gov.
David Axelrod, a former senior adviser to President Obama and frequent guest of The Daily Show, said the administration took notice of Stewart's views. "I can't say that because Jon Stewart was unhappy policy changed," he said. "But I can say that he had forceful arguments; they were arguments that we knew would be heard and deserved to be answered."
Despite the testiness of their 2010 encounter, the President returned twice more to Stewart's hot seat: first in October 2012, during his second presidential campaign, and again last week, for a valedictory interview ahead of Stewart's exit on Thursday.
"You've been a great gift to the country," Mr Obama told his host, as they concluded their fruitful, friendly 10-year conversation. It's hard to imagine that Senator Cruz feels the same way.
Reuse content