Once more defying a state order that she remain quarantined in her house until any danger of her having Ebola has passed, a nurse in Maine recently returned from West Africa took to her bicycle this morning for a brief ride tailed by police officers who were powerless to arrest her.
Kaci Hickox, who returned from Sierra Leone where she was volunteering with Médecins Sans Frontières (MSF) one week ago, had threatened to sue the authorities in Maine if they did not lift the quarantine order by the end of today, claiming it was unnecessary and a violation of her civil rights.
Ms Hickox, 33, became the first health worker to be detained upon returning to the US under emergency rules put in place by the states of New York and New Jersey.
She reacted furiously when she was placed in an isolation tent at a hospital near Newark Airport for three days. She was later allowed to drive to Maine, where authorities insisted she isolate herself at her home.
President Barack Obama this week made plain his dismay with the state-level quarantine orders, saying that people like Ms Hickox should be treated first as returning heroes. At the same time, the federal government has ordered that US Army soldiers leaving the three West African countries worst affected by the outbreak must themselves be quarantined for 21 days.
See the Ebola outbreak mapped
See the Ebola outbreak mapped
1/7 25 March 2014

This outbreak of the Ebola virus first emerged in the Guéckédou region of Guinea, at a crossroads with both Liberia and Sierra Leone

2/7 31 March

On 31 March the WHO confirmed the outbreak was now international, spreading first into Liberia's northern-most Lofa region

3/7 27 May

The virus spread to Sierra Leone at the end of May - just as agencies were hoping the worst was over

4/7 27 July

In Sierra Leone the virus boomed, and then it spread to Nigeria when the Liberian diplomat Patrick Sawyer flew from Monrovia to Lagos

5/7 9 August

The Nigeria cases sparked fears around the world, and there have now been deaths in Spain and Saudi Arabia involving people who had travelled to West Africa. The numbers of cases continue to rise

6/7 17-20 September

In mid-September, Senegal confirmed its first case linked to the Ebola outbreak, a development the WHO described as a top priority emergency. Numbers of cases continued to grow exponentially in Guinea, Sierra Leone and Liberia, as experts warned they could number one million by January if not contained

7/7 8 October

Two cases of Ebola have now been reported in the US and Europe - the first times the virus has been contracted among health workers outside Africa
"It's a beautiful day for a bike ride," Ms Hickox told reporters outside her rural home. She was accompanied by her boyfriend, Theodore Wilbur.  She continues to insist she has no symptoms so, according to federal guidelines, cannot represent a health threat.
"I'm not willing to stand here and let my civil rights be violated when it's not science-based," the nurse told reporters on Wednesday evening after a similar bicycle ride, extending her hand to one to shake hands.
"You could hug me. You could shake my hand. I would not give you Ebola," she said.
Ms Hickox said that she hoped for a compromise with health officials: "I really hope that we can work things out amicably and continue to negotiate."
Maine Governor Paul LePage said the state was willing to agree to arrangements that would have allowed Ms Hickox to go for walks, runs and bicycle rides while preventing her from going into public places or coming within 3ft of others. But he said those discussions were seemingly unsuccessful.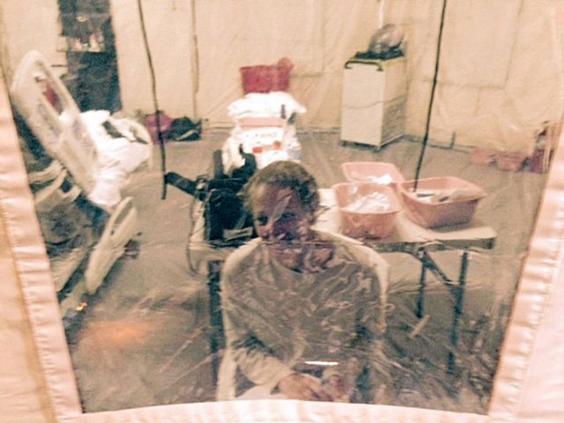 The arguments surrounding Ms Hickox were consuming the United States just as the rest of the world was trying to focus on what more can be done to combat Ebola at source – with the disease killing nearly 5,000 in West Africa. The World Bank said it was releasing another $100m (£62m) to help send health workers to the region. The bank has now given half a billion dollars towards fighting the disease. After visiting all three countries hit hardest by the disease – Sierra Leone, Liberia and Guinea – the US Ambassador to the UN, Samantha Power, said the world was confronting its "worst health crisis ever" and said some countries still had to do more. "We have to dig deeper," she said in Brussels.
It's possible the legal fight between the authorities in Maine and Ms Hickox will not be resolved until her putative incubation period of 21 days is over on 10 November. But most legal experts consider it unlikely that Maine would be able to persuade a judge to authorise any arrest order.Among those criticising the state-level measures – and in particular those put in place by Governor Chris Christie of New Jersey – was a freelance NBC cameraman who caught the disease while on assignment and who is healthy again after treatment in Nebraska.
"She's earned the right to have a sense of her own safety and her own risk factor to others," Ahoka Mukpo told CNN. "My feeling is... Governor Christie is playing politics right now. It seems to me it's an effort to work with public opinion rather than listen to the advice of the experts."