A day after a court clerk was jailed for refusing to issue same sex wedding permits, officials in Kentucky processed a marriage licence for a gay couple.
Less than 24 hours after Kim Davis was sent to a cell by a judge after she continued to refuse to issue licences, other staff in the Rowan County clerk's office began to issue a licence for James Yates and William Smith. The couple - who paid $35 for the permit - had previously been denied in the quest for a marriage license on Friday.
When they stepped outside, they were met by supporters chanting "Love wins, love wins," Reuters said.
Ms Davis closed her office on Thursday while she and her staff appeared before US District Judge David Bunning over her refusal to issue any marriage licenses under an office policy she created after the US Supreme Court in June made gay marriage legal across the United States.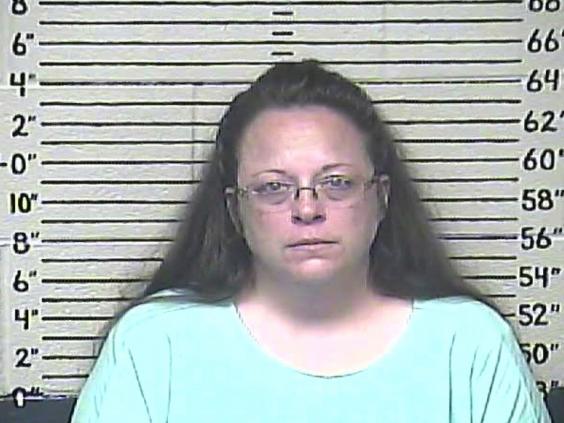 "Personal opinions, including my own, are not relevant to today," Mr Bunning, a federal told Mr Davis on Thursday, according to local media.
"The idea of natural law superseding this court's authority would be a dangerous precedent indeed."
Ms Davis, 49, an apostolic Christian who has claimed her religious beliefs mean she should not have to issue licences to same-sex couples, opted to go to court rather than change the policy.
Groups demonstrating outside the Rowan County Courthouse pic.twitter.com/GEnLsRt3Zt

— Mike Wynn (@MikeWynn_CJ) September 4, 2015
Speaking to reporters Friday morning, Joe Davis, the husband of Rowan Ms Davis, said she was in good spirits after spending the night in jail.
Holding a sign that read Holding a sign that said 'Welcome to Sodom and Gomorrah,' Mr Davis said he took his wife's deputies out to dinner on Thursday night and told them he was proud of them.
He said they are only issuing the licenses because the judge is forcing them to, the Washington Post said.
Reuse content