David Moore and David Ermold, who have been in a relationship for 17 years, attempted to get a marriage licence at the Rowan County Court House this week, which stands right in the heart of the American Bible belt.
The gay couple headed down to the administrative centre in the hope of being able to start their journey to becoming a happily married pair. But soon after arriving, it became apparent that there would be some delays to their plans of tying the knot.
After waiting eight minutes to be seen, which is arguably a scandal in and of itself, the two men were told to get hold of their licence elsewhere.
"You can go to any other county to get your marriage licence… we're just not doing it at this time, not even for other people," they are told by a woman behind the counter, as the couple and their friend catch it on film.

Ermold was apparently prepared for the refusal, having decided to show up with a copy of the recent Supreme Court decision, which ruled that there is a nationwide right to gay marriage. He also presents the assistant with a letter from the Governor of Kentucky's office, which he explains states that "all the county clerks are to issue marriage licences."
Not persuaded by the law or her boss's orders, the assistant's decision appears to be final, stating "We have a right too as a Christian," as the County Clerk and her team stood their ground.
One member of the court's team is heard threatening to call the police if they continue taping, and the camera is soon switched off.
It turns out Rowan County Clerk Kim Davis has been refusing to issue a license to anyone, gay or straight, and is currently facing legal action from at least four other couples
This comes just weeks after the United States Supreme Court ruled that same-sex marriage must be legalised in all 50 US states.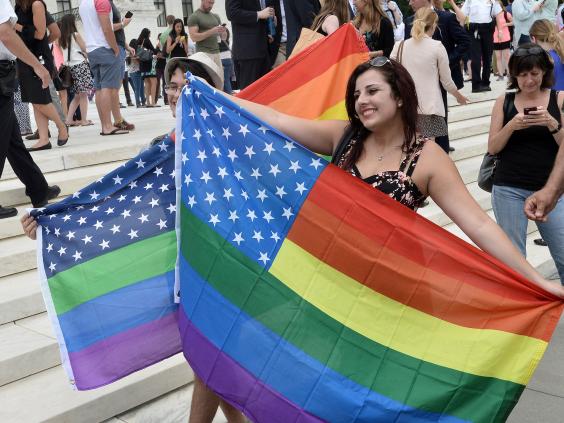 But Davis has defended her decision to refuse same sex marriage licences, telling AP: "It's a deep-rooted conviction; my conscience won't allow me to do that.
"It goes against everything I hold dear, everything sacred in my life."
Both Moore and Ermold however, are frustrated by the discrimination they've experienced.
 "We've been together for 17 years. We feel that it's our right as citizens, according to the Supreme Court, that we should be able to get married."
Reuse content