A court clerk from Rowan County is fast-emerging as a hero of the Christian right after becoming the most visible face in what appears to be the final struggle in the US to oppose same-sex marriage.
Kim Davis, 49, an Apostolic Christian who believes in a literal interpretation of the bible, has claimed she is not required to obey a Supreme Court judgement that refusing gay people the right to marry is unconstitutional.
A federal appeal court said she had no dispensation on account of her personal beliefs, and the country's highest court refused to intervene on her behalf. In short, Ms Davis, who is a Democrat, appears to have very little room for legal manoeuvre.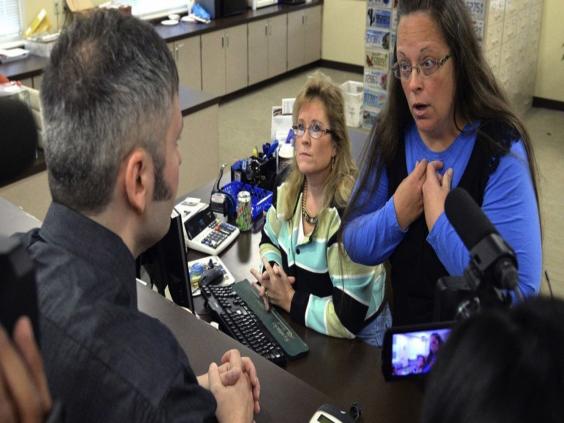 Yet her refusal to acknowledge the legal landslide represented by the June ruling in support of gay marriage, has seen her come a hero for some conservatives.
At one rally organised on behalf of her and other clerks, she wept and she told the crowd: "Just continue to stand firm in what we believe. God is alive and He is on the throne."
Christian supporters had apparently traveled from across the state many arriving on buses – as conservative advocates and lawmakers pledged to back efforts that would shield county clerks who have denied licenses on religious grounds.
Many have questioned why Ms Davis is still being paid if she is is refusing to enforce federal rules. She has refusing to stand down.
Kim Davis needs to resign, and if she won't she should be jailed for contempt of Court. pic.twitter.com/fzPhCp6BAM

— Montel Williams (@Montel_Williams) September 1, 2015
The Washington Post said Ms Davis had served for years as a deputy clerk. She was elected to the more senior post last November, when she took over from mother, who had served in the position for 37 years.
Reports said Ms Davis attends church several times a week, attends a regular bible study class and leads such a group at a local women's jail. Her supporters said she fasted and prayed for several weeks before deciding she would not issue the permits.
Reuse content