Frank Ancona, the so-called "Imperial Wizard" of a Missouri faction of the Ku Klux Klan has been was found shot dead from a single gunshot wound to the head. His wife and stepson have been charged with murder.
Mr Ancona, 51, was reported missing on Friday, at which point a Federal Forest Service employee located his vehicle, but his body was not found until the following day, according to the Park Hills Daily Journal. 
Washington County Sheriff Zach Jacobsen said officials first learned of Mr Ancona's disappearance from a Facebook post, which prompted authorities to launch a search. A family on a fishing outing ultimately discovered Mr Ancona's body on a riverbank in Belgrade, Missouri.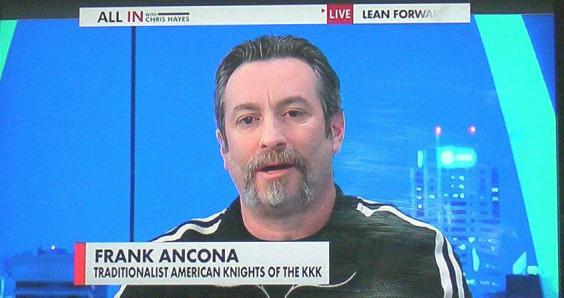 A pile of ashes was also found near Mr Ancona's vehicle, the sheriff said. 
Mr Ancona was a major figure in the Traditionalist American Knights of the Ku Klux Klan group, one of many to use the KKK moniker. According to the group's official website, its mission is to "preserve our white culture and heritage but also be relevant to the happenings going on in our republic today." The title "Imperial Wizard" is given to a national leader within the group. 
The site also features a photo of Mr Ancona in full KKK apparel in front of a burning cross. 
"The time has come to awaken from our hypnotic sleep before we and our children wake up to a hell we can never escape from," reads an excerpt from a statement by Mr Ancona on the website. 
As yet, no one has been charged in the death, Mr Jacobsen said in a statement. Mr Ancona's wife, Malissa Ancona, was taken into custody on Sunday night and police said she was a "person of interest".
On Monday, it was reported that Ms Ancona, 44, and Mr Aconoa's stepson, Paul Edward Jinkerson Jr, 24, had been charged with murder.
Reuse content