A young dog that lost its jaw after being shot repeatedly in the face is due to undergo reconstructive surgery following a huge outpouring of public support.
The nine-month-old collie, nicknamed Lad by rescue centre workers, was found abandoned in Daviess County, Kentucky with several gunshot wounds to his lower jaw.
The wounds were believed to be around six days old and severely infected, and on closer inspection Lad was found to be extremely underweight.
He was immediately transferred for emergency veterinary surgery, and had most of the infected lower jaw removed under general anaesthetic.
Over the past month, Lad has been nursed back to strength by vets working with The Arrow Fund, a charity which provides medical treatment for animals that are victims of torture, abuse or neglect.
Following a huge number of donations from concerned members of the public and with the help of Pilots N Paws, a charity providing transport for pets needing emergency medical care, Lad has now been brought to the University of California, Davis which has a leading teaching and research veterinary centre.
In pictures: Lad - the dog who lost his jaw
In pictures: Lad - the dog who lost his jaw
1/8 The Arrow Fund

Lad is looking out the window again , he loves watching everyone

2/8 The Arrow Fund

Lad just before the surgery, after it was confirmed that he has gunshot wounds - three bullet holes in his mouth area

3/8 The Arrow Fund

Lad due to his injuries has fought for his survival, most of his lower jaw needed to be surgically removed. He visits UC Davis for further evaluation to look into the possibility of reconstructive surgery. He remains in the care of The Arrow Fund, and will return to Louisville, Kentucky after treatment is completed

4/8 The Arrow Fund

Lad came through surgery as Cammi gently wakes him up. The tooth broken from the bullet was taken out. The surgeons are pleased as to how the healing is coming

5/8 The Arrow Fund

Good news: Lad has gained 10 pound weight since his surgery

6/8 The Arrow Fund

Lad is tolerating his feedings well. Each feeding takes about 30 minutes and he is being fed every 5 hours

7/8 The Arrow Fund

Lad gets lots of love, here he is seen with Anita who heads the adoption committee

8/8 The Arrow Fund

Thanks to Arrow Fund friend Krista brought Lad his very own Lambchop. He really loves it and is very curious when it squeaks
Vets at UC Davis said that after an initial examination Lad "appeared to be in good health". They said they were hopeful they would be able to "help improve his quality of life by partially reconstructing his lower jaw, which has only three teeth on one side and two teeth on the other".
Rebecca Eaves, president and founder of The Arrow Fund, accompanied Lad to UC Davis and said: "We want to thank all of you that have worked so hard trying to help us get Lad to UC Davis! The Arrow Fund is grateful for the love and support everyone has shown for Lad and our other babies."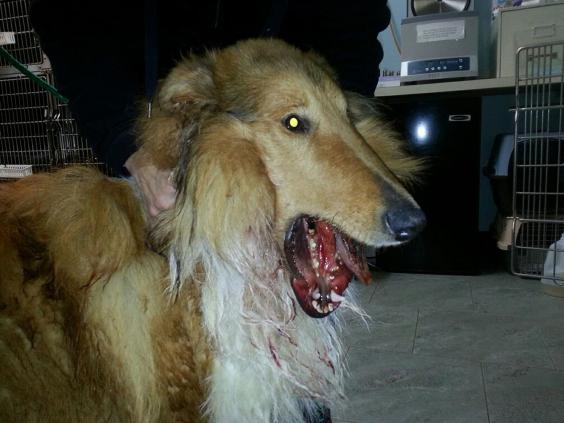 Many of those supporting The Arrow Fund's efforts have expressed anger at the person who could have shot the seemingly otherwise healthy and friendly young dog.
He was found with three distinct bullet wounds to his muzzle, some containing metal fragments and causing extensive damage to his teeth as well as the jaw that was removed.
A month later he is still being fed in part via a tube, which takes more than half an hour a time, though he has also started eating rolled-up balls of dog food by hand.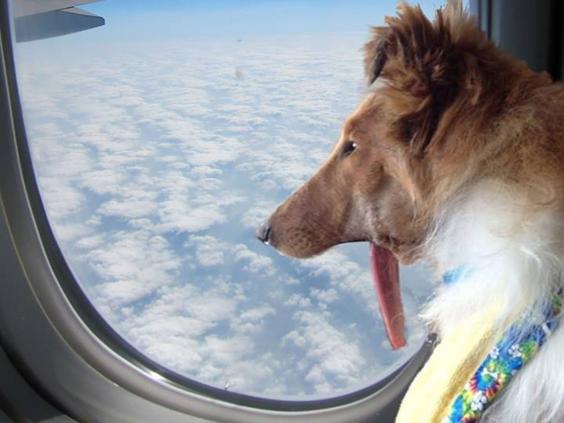 The Daviess County Sheriff's Office said it was investigating the shooting, and appealed for witnesses to come forward or call Crime Stoppers.
Police believe Lad was left on Grandview Road near Maceo on or near 7 February, and that he was transported there in the back of a pick-up truck.
On their official Facebook page, officers said charges were "forthcoming in the case" and that it was being reviewed by the Kentucky state's attorney.
Donations to The Arrow Fund can be made at www.thearrowfund.org