Footage has emerged showing armed police surrounding the cinema where a gunman shot two people dead in Lafayette and shouting for help.
A witness took the footage minutes after the shooting at The Grand 16 theatre in Louisiana.
Around 100 people were 20 minutes into a screening of Amy Schumer film Trainwreck when a middle-aged white man opened fire with a handgun before shooting himself dead.
Footage taken from the cinema's car park showed police gathering at the entrance as the sound of sirens approached at around 7.30pm local time (1.30am BST).
An injured man can be seen being carried out of the lobby by people holding his arms and legs as paramedics arrive.
As more armed police jump out of a van carrying guns, another officer wearing a bullet-proof vest appears from around the side of the building.
Running towards his colleagues, he shouts: "Get the ambulances over here now, let's move."
Seven people were injured and two killed in the rampage.
Lafayette Police Chief Jim Craft said three victims were in a critical condition, including one person who underwent surgery and "was not doing well".
An injured man can be seen being treated on the pavement outside the cinema entrance in the footage as shocked witnesses cry and hug in the car park.
People are heard on the phone in the background reassuring their parents and loved ones they were safe as news of the horror spreads.
The confusion among evacuated cinema-goers is evident as they try to establish what happened and how many people were hurt.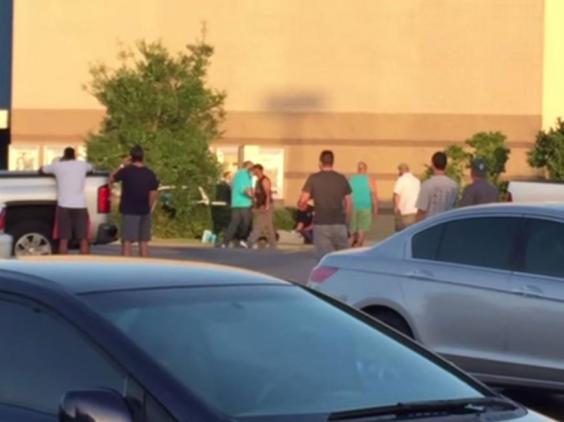 A cinema-goer said she thought the noise of gunshots were firecrackers when they first went off.
"We heard a loud pop we thought was a firecracker," Katie Domingue told the Louisiana Advertiser.
She said she saw "an older white man" standing up and shooting down into the cinema, but not in her direction.
"He wasn't saying anything. I didn't hear anybody screaming either," she added.
Another witness described how she was buying popcorn with her daughter when a group of teenagers ran out of the screen "telling everyone to run for their life".
In pictures: Lafayette shooting
In pictures: Lafayette shooting
1/7 Lafayette shooting

Law enforcement and other emergency personnel respond to the scene of a shooting at the Grand Theatre

AP

2/7 Lafayette shooting

Cinema-goers were evacuated after the shooting

AP

3/7 Lafayette shooting

FBI officials enter a building near the movie theatre where a man opened fire on film goers

4/7 Lafayette shooting

Police at the scene of a mass shooting at a cinema in Lafayette, Louisiana

Lee Celano/Reuters

5/7 Lafayette shooting

Louisiana Governor Bobby Jindal speaks with the media as he provides an update on the deadly shooting at the Grand Theatre in Lafayette

6/7 Lafayette shooting

Bystanders embrace outside the Grand Theatre as emergency personnel respond to the scene of a deadly shooting

7/7 Lafayette shooting

Bystanders look on as emergency personnel respond to the scene of a deadly shooting
Tanya Clark told KATC television she initially thought it was a "little prank" but knew something had happened when more people starting running past.
"Then we saw a lady with blood all over her leg," she added. "I grabbed my child and then we all just ran."
The gunman, described by police as a 58-year-old "lone white male," fired his weapon "numerous times" before killing himself.
Police said they know his identity but are not yet releasing it.
Additional reporting by AP
Reuse content