Hundreds of people are to gather to pay their respects to Lauren Hill - the student who dedicated herself to raising awareness about cancer after she was diagnosed with a terminal form of the disease.
A visitation of the body of the student, who made headlines with her determination to play college basketball despite her diagnosis, will take place ahead of a memorial service on Monday evening. A private funeral service will take place on Wednesday.
"This is an opportunity for people to pay their respects to Lauren and sign the guestbook," a statement from Ohio's Mount Saint Joseph University said of the visitation. "There will be donation envelopes available for those who wish to leave a memorial."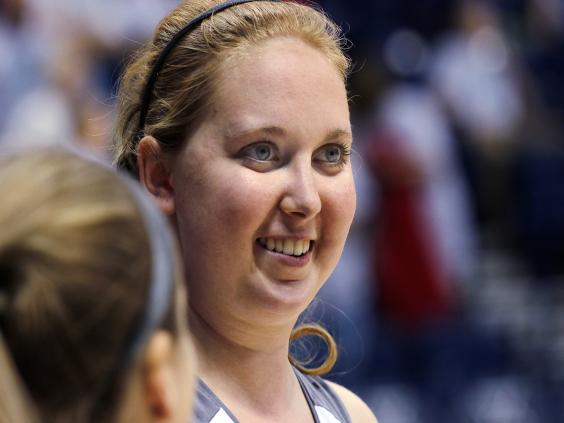 Ms Hill died last week. She had been diagnosed with cancer during her final year of high school but went ahead with her dream of attending university and playing basketball. Her college brought forward its basketball schedule by two weeks to make it easier for her to play.
"It was a dream come true to play on the college court. And it was so thrilling to get there and be able to put my foot down and feel the roar of the crowd and the vibrations of the floor boards and I love it so much," she said.
Ms Hill, who came from Lawrenceburg, Indiana, was diagnosed with Diffuse Intrinsic Pontine Glioma shortly after her 18th birthday. The rare form of brain cancer typically affects young children ages four to nine and there is no current cure.
Memorial service for #LaurenHill tonight at Cintas Center is #LIVEonLOCAL12 and http://t.co/h9MzvclC5e beginning at 7 pic.twitter.com/xEvlW3T8eF

— Local 12/WKRC-TV (@Local12) April 13, 2015
"We are forever grateful to have had Lauren grace our campus with her smile and determined spirit," said Dr Tony Aretz, the president of Mount St Joseph University.
"She has left a powerful legacy. She taught us that every day is a blessing; every moment a gift."
To help meet Ms Hill's goal of raising $2.2m for cancer research, Monday is being commemorated as a Day of Giving in her memory.
The memorial service at the Cintas Centre of Cincinnati's Xavier University will feature several speakers, including Ms Hill's doctor, Dr. Mariko DeWire of Cincinnati Children's Hospital Medical Centre.
Reuse content