The friends of two cinema-goers shot dead in Louisiana have said they are powerless to understand why they died, as police continue to try and search for the killer's motive.
Mayci Breaux, 21, and Jillian Johnson, 33, were 20 minutes into watching Trainwreck in Lafayette when a gunman opened fire.
John Russel Houser fired into the audience at The Grand 16 Theatre in Lafayette 13 times on Thursday night, killing the pair and injuring seven more people.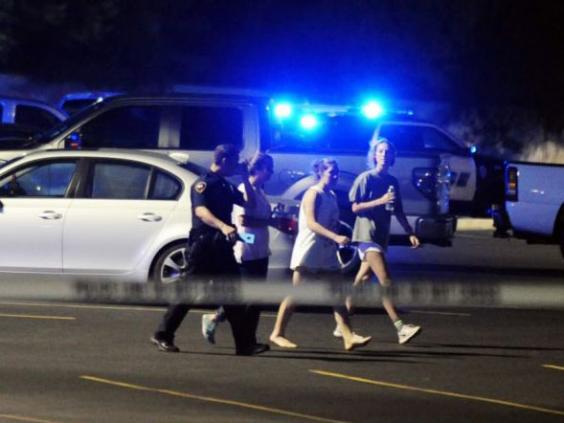 Police said he planned to escape with the crowds and make a getaway in his car but shot himself dead after being cornered by officers.
Colonel Mike Edmonson, from Louisiana State Police, said he had taken "two beautiful lives".
"These two individuals had a vision, had a name, had a future and it wasn't to die as they did horribly in this theatre," he told a news conference outside the cordoned-off cinema today.
Officers said they have not yet established a motive for the attack but described Houser, 59, as a "drifter" with a history of minor criminal offences.
It was unclear whether he meant to target the women or if he was aiming for any individuals or groups in the hundred-strong audience.
Tributes have been pouring out on Twitter for Ms Breaux and Ms Johnson.
"RIP Mayci. You're never forgotten," one friend wrote, while another shared photos of her on a school cheerleading squad.
Wishing I could cheer one more time by your side. RIP Mayci❤️ pic.twitter.com/lscnc78UF1

— Nikki James (@nikkijayy2014) July 24, 2015
People writing on Twitter called her an "innocent person", a "wonderful angel" and "one of the funniest people".
Ms Breaux was believed to be with her boyfriend at the time. He was also shot but survived, according to a woman claiming to be his cousin on social media.
Emotional tributes were also pouring in for Ms Johnson, who lived in Lafayette with her husband.
Local media reported that she was the owner and founder of a boutique called Red Arrow and Parish Ink, a clothes chain, after spending several years as the lead singer of an all-female band called the Figs.
One friend wrote on Facebook: "Jillian, you will be missed. I'm so sorry that this happened to you, you were so young and had a full life to live, you did not deserve this."
Others called her a "sweetheart" and a talented, creative person who had dedicated herself to "making Lafayette a better, more beautiful, more interesting place".
"I can't begin to understand," a friend wrote. "Your light and talent was extinguished way too soon."
Louisiana Governor Bobby Jindal described it as an "awful, awful night" for Louisiana and the US but praised the heroism of a teacher who saved her friend's life by shielding her from a bullet.
One witness said she thought the noise of gunshots were firecrackers when they first went off.
In pictures: Lafayette shooting
In pictures: Lafayette shooting
1/7 Lafayette shooting

Law enforcement and other emergency personnel respond to the scene of a shooting at the Grand Theatre

AP

2/7 Lafayette shooting

Cinema-goers were evacuated after the shooting

AP

3/7 Lafayette shooting

FBI officials enter a building near the movie theatre where a man opened fire on film goers

4/7 Lafayette shooting

Police at the scene of a mass shooting at a cinema in Lafayette, Louisiana

Lee Celano/Reuters

5/7 Lafayette shooting

Louisiana Governor Bobby Jindal speaks with the media as he provides an update on the deadly shooting at the Grand Theatre in Lafayette

6/7 Lafayette shooting

Bystanders embrace outside the Grand Theatre as emergency personnel respond to the scene of a deadly shooting

7/7 Lafayette shooting

Bystanders look on as emergency personnel respond to the scene of a deadly shooting
"We heard a loud pop we thought was a firecracker," Katie Domingue told the Louisiana Advertiser.
She said she saw "an older white man" standing up and shooting down into the cinema, but not in her direction.
"He wasn't saying anything. I didn't hear anybody screaming either," she added.
The Grand 16 theatre remains closed and the owners have started a charitable fund to raise money for victims and their families.
Reuse content