A Seattle man believed he was a secret agent during a bungled and bizarre burglary undertaken while he was allegedly high on LSD.
Police say the suspect David Stolte, 30, identified himself as Jack Bauer - a character from the popular television series 24 - when he was approached by authorities.
Stolte allegedly broke into the apartment of neighbour Derek Doerschel and his fiancé Danielle Green, according to Kiro 7, and left the place in a state of disorder.
The couple say they found a frozen crab in the closet, cat litter in the sink, clothes in the bathtub and their apartment covered in mess.
All of Mr Doerschel's bank cards had been removed from his wallet and stuffed into a chocolate muffin, and the peep hole had been removed from the door.
"There was just weird, crazy stuff everywhere" Mr Doerschel said. "The crab from the freezer was just sitting right here on the blanket on the bike."
Stolte was then spotted shortly after the incident in an alley near to the apartment, according to Kiro.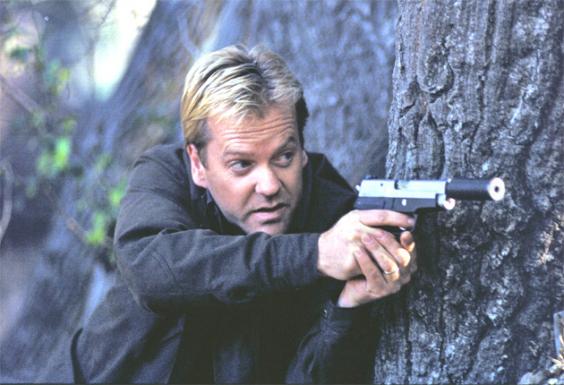 When Mr Doerschel approached him, Stolte reportedly chucked the peephole at him, before telling police who arrived at the scene that he was the counter-terrorism agent Bauer from the popular Fox TV series.
Police said he admitted to having taken the powerful hallucinogenic drug LSD.
Ria Quinton, Stolte's mother, said her son is receiving medication for bipolar disorder and is on a waiting list for therapy.
"It's progressively getting worse," she said, but stressed that while he is "capable of damaging property", he would not hurt anyone else.
Although Stolte has no previous criminal convictions, police have allegedly contacted him before for running around outside naked and climbing on roofs in Seattle centre.
He has been arrested and charged with residential burglary.
Reuse content