A man was sentenced to 30 years in prison earlier this week for attempting to shoot a police officer in Indiana, with video of the event being released following the conviction.
The video, taken from the body camera of an officer with the Evansville Police Department, shows Cornelius Ratliff and another man being stopped for speeding in March 2014. The two officers also alleged that they saw narcotics in the truck.
When they asked Ratliff and the driver to exit the vehicle, Ratliff got out and began to run away from the two officers.
The video shows Ratliff running for a while before falling in someone's front garden. When he got back on his feet, Evansville Police Department state that he pointed a handgun at the police officer. Investigators later found that the gun was loaded.
Ratliff attempted to shoot the pursuing officer, named by police as Wayne Hunt. However, police state that the gun's safety was on and it did not fire.
Ratliff then continued to run, before slipping and falling in a trailer as the police officer catches up with him. He is then asked to drop the gun and lie on his stomach as he is handcuffed.
30-year-old Ratliff, who at the time of the incident was out of prison after serving time in Tennessee for murder, was sentenced to 30 years on Tuesday, having pleaded guilty last month.
"What this video shows is how a routine traffic stop in Evansville, Indiana can go bad in a hurry," said Sergeant Jason Cullum.
"It's hard to wrap your mind around the fact that somebody is pointing a gun at you. I don't care how long you've been a policeman. We don't deal with that every day."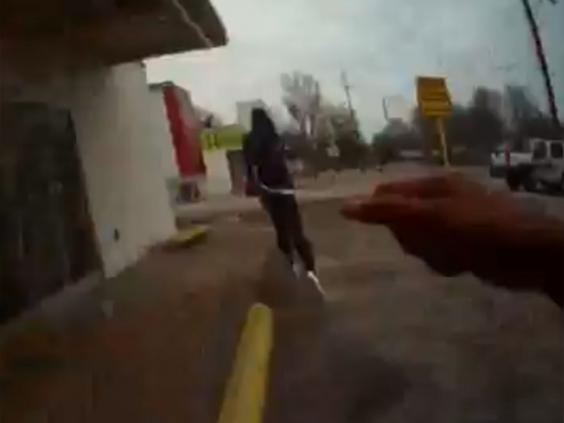 The video is now being used for training purposes: "On a training aspect, it's that reaction that we can talk about with our officers. I don't care how quick you think you are and how much training you have, action is always faster than reaction," Cullum said.
Coincidentally, the Evansville Police Department announced this week that it will be getting 200 brand new body cameras for free after the manufacturer said they would upgrade their current models for no extra cost.
Reuse content