The family of brain-dead, pregnant woman said tonight that she had been removed from life-support in a Fort Worth hospital, just two days after a judge ruled that the hospital was at odds with the law in insisting that it had to keep her alive to protect the life of the baby.
The unhooking of Marlise Munoz, who was believed to be about 20 weeks pregnant, shortly before noon here brings to a close a wrenching episode that saw her bereaved husband pitted against the hospital where she was taken after collapsing in the couple's kitchen from a suspected brain clot in November. It also added fuel to America's often polarised abortion debate.
The John Peter Smith Hospital, which was at the centre of the weeks-long controversy, confirmed that Ms Munoz had been taken off life support, barely 24 hours before a deadline that had been set at the end of last week by a Fort Worth judge. It added that her body had already been released to her husband, Erick Munoz, for burial.
On Friday, State Judge R. H. Wallace ruled at the end of an emotionally charged hearing that because he considered Ms Munoz essentially "deceased" at the time, a state law that forbids hospitals from withholding care from a pregnant woman did not apply in this case and the hospital had to comply with the family's wishes.
Mr Munoz, who attended Friday's hearing in a state of clear emotional distress, had argued from the day that his wife had been put on a ventilator that she had always told him that should tragedy strike she would not want to be kept alive on life support if diagnosed as brain-dead..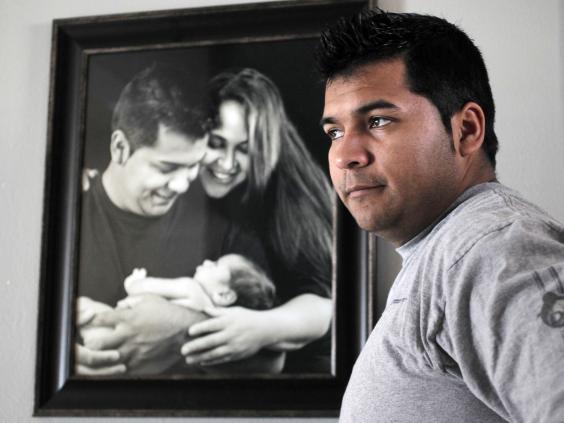 In a statement here, the hospital said it had kept Munoz on life support to follow "the demands of a state statute" but had thereafter been bound to "follow the court order". It added: "The past eight weeks have been difficult for the Munoz family, the caregivers and the entire Tarrant County community, which found itself involved in a sad situation".  It added that from the start the hospital's role "was not to make nor contest law but to follow it".
Ms Munoz, who was 33, collapsed without warning on 26 November and rushed directly to the hospital.  Her and her husband's plight made national headlines in America both because of its poignancy and because it fed directly into the fevered national debate about abortion. Anti-abortion activists cast it as a case where protecting the life of an unborn fetus should have taken first priority over all other considerations. However, lawyers for the Munoz family had insisted that tests had shown the unborn child to be "distinctly abnormal".
Reuse content