A married couple who shot dead two police officers in a Las Vegas pizza restaurant were white supremacists who wanted to "start a revolution", it has emerged.
Jerad Miller, 31, and his wife Amanda  shot the officers, Igor Soldo, 31, and Alyn Beck, 41, who were on a lunch break,  at point blank range.  Witnesses said they then draped a swastika and a "Don't Tread on Me" flag on the bodies.
The flag, featuring a coiled rattlesnake, dates from the American Revolution and has been adopted by supporters of the Tea Party, the right-wing faction of the US Republican Party.
The Millers reportedly told diners in the CiCi's Pizza restaurant: "Tell the police this is the start of a revolution."
They then went across the road to a supermarket, killing shopper Joseph Robert Wilcox before being pinned down by police fire and turning the guns on themselves in an apparent suicide pact.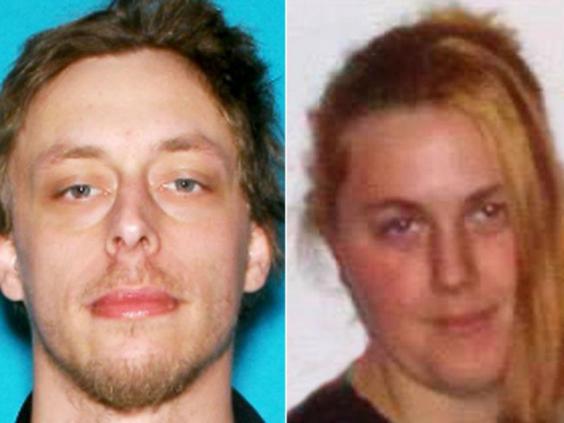 It is believed that Mr Wilcox, who had a licensed concealed weapon, had tried to confront the pair.
In the months before Sunday's shootings, Jerad Miller had posted a series of anti-government, pro-gun rants on the internet, calling for "bloodshed" against the "tyrannical and fascist" state.
The day before his killing spree, he wrote: "The dawn of a new day. May all our coming sacrifices be worth it".
The couple married in 2012 and had moved to Las Vegas from Indiana within the last year. Miller spent his days dressing as characters The Joker and Peter Pan to work as a street performer in downtown Las Vegas. His wife dressed as The Joker's girlfriend Harley Quinn.
Las Vegas police said on Monday that the Millers subscribed to an ideology that was along the lines of "militia and white supremacists."
Assistant Sheriff Kevin McMahill insisted that the shootings on Sunday morning were an "isolated act."
Las Vegas mayor Carolyn Goodman said: "This was a cowardly, evil and sick act which appears to be repeating itself across the country as people express themselves with bullets. There are some sick people in this country."
Reuse content