One of Mexico's most notorious drug lords was shot and killed on Sunday morning, despite the Government announcing he was dead four years ago.
The head of the criminal investigation unit for the federal Attorney General's Office confirmed that Nazario Moreno Gonzalez, the leader of the Knights Templar Cartel, was killed in an early-morning shooutout with troops.
Nicknamed  El Mas Loco or 'The Craziest One', Moreno was thought to have died following a two-day gunbattle with federal police in December 2010 in his home state of Michoacan, but no body was found at the time.
The 43-year-old, who would have turned 44 on Saturday, had been tracked by the Mexican military before they confronted him in the remote town of Timbuscatio.
Officials said the troops fired in response to "aggression" as they tried to make an arrest.
Alejandro Rubido, security spokesman for President Enrique Pena Nieto's administration, said that despite the December 2010 announcement that Moreno had been killed, national government officials taking over Michoacan, where the drug lord's La Familia cartel was based, heard reports in January that he was alive.
"Anonymous tips indicated that Nazario Moreno was not only living, but continued operating at the head of a criminal group conducting extortion, kidnapping and other crimes," Rubido said, adding that at the time of his first reported death, he had committed multiple murders.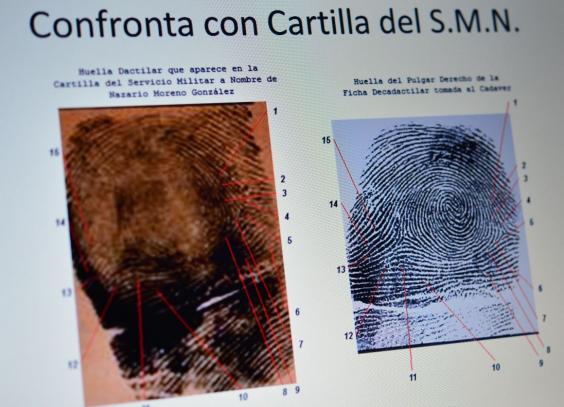 In 2010, the government of then-President Felipe Calderon officially declared that Moreno was dead and there was proof, but some residents of Michoacan had reported seeing Moreno since then.
La Familia was the first target of Calderon's assault on Mexican drug trafficking, and he touted Moreno's death and his dismantling of the cartel as a victory.
However, after Moreno's supposed 2010 death, La Familia Michoacana grew stronger and became the more vicious and powerful Knights Templar, and became a major trafficker of methamphetamine to the US.
Calderon was not immediately available for comment.
The hunt spiked last year as anti-Moreno vigilantes took up arms against the Knights Templar.
"This is a victory," said Hipolito Mora, one of the leaders of the groups whose rise caused Pena Nieto's administration to act. "He did a lot of damage to the people of Michoacan."
Moreno's killing follows the capture of Mexico's most powerful drug lord, Joaquin "El Chapo" Guzman, who surrendered when marines raided his condo in the Pacific resort city of Mazatlan last month.
Additional reporting by AP
See the excessive lifestyle of Mexican drug lord 'El Chino Anthrax'
Mexican druglord boasts lavish lifestyle on Instagram

Mexican druglord boasts lavish lifestyle on Instagram

1/7 Jose Rodrigo Arechiga Gamboa, also known as 'El Chino Anthrax', was arrested at Amsterdam's Schiphol airport from Mexico City

INSTAGRAM

2/7 El Chino was arrested on charges of drug trafficking by Dutch authorities on 3 January

INSTAGRAM

3/7 The 33-year old reportedly boasted about his luxurious lifestyle on Instagram

INSTAGRAM

4/7 Gamboa is seen driving expensive cars, partying in Vegas while drinking champagne

INSTAGRAM

5/7 "I'm wearing Yves Saint Laurent and drinking Moet Chandon"

INSTAGRAM

6/7 El Chino shared his love Louis Vuitton on Instagram

INSTAGRAM

7/7 El Chino partied in Vegas, Monaco, Barcelona and Cannes

INSTAGRAM

 
Reuse content