Tens of thousands of people marched through Mexico City's main square yesterday to demand the return of 43 missing male students - and the protest ended with masked protesters and police clashing while the busy Plaza de la Constitución was emptying.
Many marchers carried "mourning" flags with Mexico's red and green national colors substituted with black stripes to pay tribute to the young men who vanished from a rural college after a raid by police on 26 September.
The day is usually known for marking the civil war movement called "Revolucion Mexicana" however the anger and frustration of the nation over the regular disappearances of young people overshadowed the annual event.
"The entire country is outraged," said stay-at-home mother Nora Jaime.
"It is not just them. There are thousands of disappeared, thousands of clandestine graves, thousands of mothers who don't know where their children are."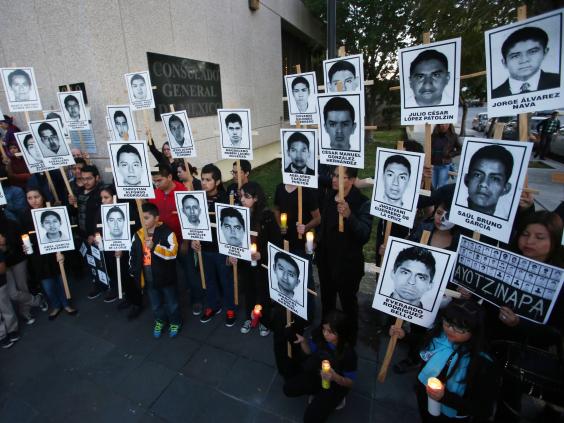 The march in Mexico City was reported as being largely peaceful with demonstrators shouting masked participants down with chants of "no violence!" and "off with the masks!"
Families of the missing students stood on a platform in front of the National Palace holding posters of their relatives' faces and, amid chants for President Enrique Pena Nieto to step down, they repeated that they do not believe the government's explanation that the youths were killed by drug gangs.
"We're not tired," said one man speaking from the platform. "On the contrary, we are mad with this Mexican government and its entire structure, because it has not done anything but deceive the families."
When protesters decided to go home and the square was emptying, a small group of masked demonstrators were involved in a scuffle with police and threw rocks and sticks while officers in riot gear used fire extinguishers and force to push them out of the square.
At least two photojournalists - including one from The Associated Press - were injured by police, who confiscated two cameras and lenses from the photographer.
Earlier in the day, about 200 young protesters, some with their faces covered by masks or bandannas, clashed with police as they tried to block a main road to the international airport.
Protesters hurled rocks, fireworks and gasoline bombs at the police, and at least one was hit. Some passengers had to walk to the terminal, but flights were not interrupted and the motorways were reopened.
Maria Antonieta Lugo was part of a group of mothers who joined the march "because we have children of the same age" as the missing students, who ranged from their teens to their 20s. "This could happen to our children as well," she said.
Maria Teresa Perez held up a poster with a picture of her son, Jesus Horta Perez, 45, who was kidnapped by armed men from a shop in a Mexico City suburb in 2009 and has never been heard from again.
"They are shouting about 43, but they should be counting in the thousands, because apart from these 43, there are 33,000 disappeared," Perez said.
Mexico officially lists 22,322 people as having gone missing since the start of the country's drug war in 2006 and the case of the 43 missing students has stirred up questions about the mass graves of others.
The students, who attended a rural teachers college known as Ayotzinapa, disappeared after they were suspected to have planned to go to the Guerrero city of Iguala to hijack buses.
Iguala police intercepted them on the mayor's orders and turned them over to the criminal group Guerreros Unidos, a gang with close ties to the mayor, prosecutors have said.
Prosecutors say there is evidence the gang members killed the students and incinerated their bodies.
It is that link between a local government and drug gang that disgusts many of the protesters that had attended the march to place pressure on the authorities.
"I think the reason people are here today is not just Ayotzinapa," said one protester, Alejandro Gonzalez, who studied industrial design in Pachuca.
"I think that today, more than ever ... people are realizing the political structures are rotten, useless."
Reuse content