Chaos erupted on the streets of Ferguson, Missouri again last night as police unexpectedly fired tear gas into a crowd of demonstrators, including children and members of the media, almost two hours before the start of an official curfew.
The renewed violence began as a private autopsy report was released showing that Michael Brown, the unarmed black teenager killed by a white police officer in the St Louis suburb last weekend, had been shot six times – twice in the head.
The fresh dissidence has led to Jay Nixon, the Governor of the state of Missouri, ordering the deployment of National Guard troops to "protect life and property", he said in a statement this morning.
The military will, he says, will "maintain peace and order" by closing streets and thoroughfares, if it must, after the events that have unfolded have "continued to create conditions of distress and hazard to the safety, welfare and property of the citizens of the community beyond the capacities of local jurisdiction".
In pictures: Michael Brown shooting nationwide protests
In pictures: Michael Brown shooting nationwide protests
1/10 Ferguson, Missouri

Protesters ride on top of a car as they gather on West Florissant Avenue in Ferguson, Missouri

2/10 Ferguson, Missouri

A protester holds the banner as he joins the protest on West Florissant Avenue in Ferguson, Missouri

3/10 Ferguson, Missouri

Missouri Governor Jay Nixon ordered state police to patrol a St Louis suburb, sidelining local police who had clashed with protesters after an unarmed black teenager was killed by an officer

4/10 Ferguson, Missouri

People demonstrate in front of a burned down Quik Trip gas station on West Florissant Avenue in Ferguson, Missouri

5/10 New York

Thousands of people peacefully gathered in Manhattan's Times Square and Union Square, invoking the rallying cries "hands up, don't shoot" and "I can't breathe," alluding to the deaths of Michael Brown in Ferguson

6/10 New York

People protest in front of police officers in New York's Times Square

7/10 New York

Protesters march in New York City's Union Square. Vigils are being held across the country for people organizers say died at the hands of police brutality

8/10 Portland, Oregon

People take turns speaking in Pioneer Courthouse Square in Portland, Oregon during a vigil for Michael Brown

9/10 Los Angeles, California

A protester holds a sign that reads 'Black Lives Matter' as she joins hundreds of demonstrators who gathered in Leimert Park in South Central Los Angeles, California

10/10 Omaha, Nebraska

With his hands raised above his head, University of Nebraska criminal justice senior Aron Sanders, of Omaha, Nebraska, kneels in front of the Nebraska State Capitol building, as he and more than 30 others students gathered for a vigil
In the midst of what appeared to be a peaceful protest last night, the St Louis County Police Department tweeted reports that Molotov cocktails were being thrown at officers, and that shots had been fired in the area. Police launched smoke canisters and tear gas into the crowds, which sent hundreds fleeing, with many reportedly covering their faces to escape the gas.
Earlier yesterday, it seemed tensions might finally have been quelled in Ferguson, where police and protesters have clashed almost nightly since Mr Brown's death on 9 August. Captain Ron Johnson of the Missouri State Highway Patrol, the black officer who has become the public face of the law enforcement response, received a standing ovation when he addressed the Brown family and other community members on Sunday at the town's Greater Grace Church.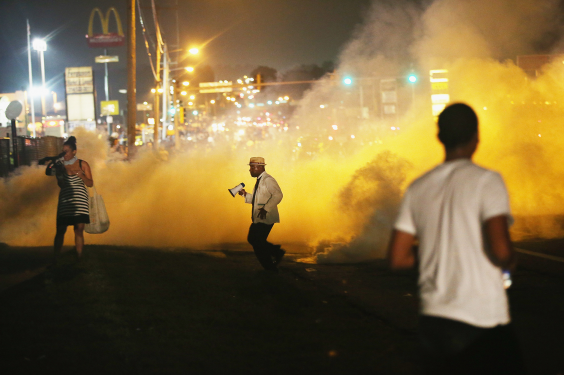 Capt. Johnson reminded the crowd that he, too, was from Ferguson, and that he had much in common with many families there, including a son whom he said wears baggy trousers and sports tattoos. "We all ought to be thanking the Browns for Michael, because Michael's going to make it better for our sons, so they can be better black men," he said.
Missouri Governor Jay Nixon last week asked the Highway Patrol to take over responsibility for security in Ferguson, after four nights in which local police had met largely peaceful protests with riot gear, tear gas and rubber bullets. Speaking to ABC News on Sunday, Mr Nixon said he had been "thunderstruck" by the police response. "The over-militarisation… The guns pointed at kids in the street. All of that I think instead of ratcheting down, brought emotion up," he said.
Video: One man shot, as protesters defy curfew
Yet while the arrival of Capt. Johnson and his officers brought about a brief calm, by Friday night public anger flared again after police issued a statement saying Mr Brown had been a suspect in a robbery at a local convenience store. Ferguson police chief Tom Jackson later admitted that Darren Wilson, the officer who shot Mr Brown, was not aware he was a suspect at the time.
The authorities also released CCTV footage of the robbery, leading to accusations that they were trying to smear the victim. On Saturday Mr Nixon declared a state of emergency and ordered the nightly curfew from midnight to 5am; the Governor also criticised the release of the video, saying it "appeared to cast aspersions on a young man that was gunned down in the street."
The details of Mr Brown's shooting are still disputed: police said he reached for Wilson's gun during an altercation inside a police car; witnesses insisted Mr Brown had his hands up when he was shot. A preliminary private autopsy was conducted on Sunday at the Brown family's request by Dr Michael Baden, the former chief medical examiner for the City of New York.
Anthony Gray, a lawyer representing the family, said the trajectory of one of the two bullets that struck Mr Brown in the head was particularly noteworthy. "To have a shot that's at a 90-degree angle from the top of his skull to the bottom of his chin, almost vertical, that sounds like an officer standing over him," Gray said.
On Sunday US Attorney General Eric Holder announced that the Justice Department would also conduct its own autopsy on Mr Brown's body due to "the extraordinary circumstances involved in this case". President Barack Obama has directed the FBI to investigate Mr Brown's death; 40 FBI agents reportedly went door-to-door at the weekend to collect information on the shooting.
Reuse content