After weeks of riots and protests in Ferguson, Missouri, the father of Michael Brown has pleaded for a "day of silence" as his family prepares for the teenager's funeral.
Brown, the unarmed black teenager who was shot and killed by a white police officer, will be buried on Monday.
"All I want is peace while my son is being laid to rest," Michael Brown Senior told a crowd of hundreds of people at a rally in St Louis on Sunday.
Ahead of the funeral, which will take place at a St Louis Baptist church, Brown's father said: "Can you please, please take a day of silence so we can lay our son to rest? Please. It's all I ask."
In pictures: Michael Brown shooting nationwide protests
In pictures: Michael Brown shooting nationwide protests
1/10 Ferguson, Missouri

Protesters ride on top of a car as they gather on West Florissant Avenue in Ferguson, Missouri

2/10 Ferguson, Missouri

A protester holds the banner as he joins the protest on West Florissant Avenue in Ferguson, Missouri

3/10 Ferguson, Missouri

Missouri Governor Jay Nixon ordered state police to patrol a St Louis suburb, sidelining local police who had clashed with protesters after an unarmed black teenager was killed by an officer

4/10 Ferguson, Missouri

People demonstrate in front of a burned down Quik Trip gas station on West Florissant Avenue in Ferguson, Missouri

5/10 New York

Thousands of people peacefully gathered in Manhattan's Times Square and Union Square, invoking the rallying cries "hands up, don't shoot" and "I can't breathe," alluding to the deaths of Michael Brown in Ferguson

6/10 New York

People protest in front of police officers in New York's Times Square

7/10 New York

Protesters march in New York City's Union Square. Vigils are being held across the country for people organizers say died at the hands of police brutality

8/10 Portland, Oregon

People take turns speaking in Pioneer Courthouse Square in Portland, Oregon during a vigil for Michael Brown

9/10 Los Angeles, California

A protester holds a sign that reads 'Black Lives Matter' as she joins hundreds of demonstrators who gathered in Leimert Park in South Central Los Angeles, California

10/10 Omaha, Nebraska

With his hands raised above his head, University of Nebraska criminal justice senior Aron Sanders, of Omaha, Nebraska, kneels in front of the Nebraska State Capitol building, as he and more than 30 others students gathered for a vigil
Protesters calling for the arrest of Darren Wilson, the officer who shot Brown six times, have been met by lines of armed police night after night since the teenager was killed.
Images of burnt out shop fronts caused by rioting, of police aggression and their firing rubber bullets, of tear gas filling the streets of Ferguson and of those pouring milk on their faces in order to stem its painful affects, have been seen circulating for weeks as the crisis on the streets has carried on since Brown's death.
But the rally held on Sunday, called the Peace Fest 2014, was symbolic of the more organised and peaceful protest that are now being held in Ferguson.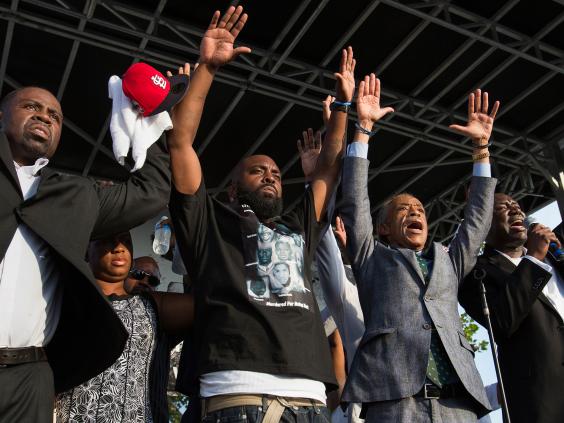 Reverend Al Sharpton, who is expected to speak at the service on Monday, said the day of the funeral is not for people's "rage" but is "about the legacy and memory of [Brown's] son".
He said: "We don't want anything tomorrow to happen that might defile the name of Michael Brown."
Video: Ferguson residents demand that Michael Brown shooting is not 'swept under the rug'
The parents of Trayvon Martin, the unarmed African American teenager who was shot dead by a neighbourhood watch organiser in Florida in 2012, also spoke at the rally.
"Michael Brown had a right to live," Martin's mother Sybrina Fulton, said. "He had a right to see another birthday. He had a right just like anyone else to walk down the street," she said, while Martin's father Tracey said: "We're going to stand tall with you all."
Brown's funeral will take place on in St Louis on Monday at 10 am local time.
Reuse content