The words "Season's Greetings" are spelled out in lights over the street beside the local police headquarters in Ferguson, Missouri. But there was little in the way of holiday cheer on the ground below on Saturday night, as police faced off with protesters in a pattern that has become routine since the fatal shooting in August of an unarmed black teenager by a white Ferguson police officer.
Local residents are still bracing themselves for the potential fallout from the decision of a grand jury over whether to charge the officer, Darren Wilson, 28, who killed 18-year-old Michael Brown on 9 August. Officer Wilson's supporters characterised the shooting as an act of self-defence, while witnesses insisted Mr Brown had his hands raised in surrender when the fatal shots were fired. The incident ignited weeks of unrest on the streets of this St Louis suburb, as demonstrators clashed with police in riot gear, who deployed military-style vehicles, fired tear gas and made dozens of arrests.
The grand jury is expected to reconvene on Monday, though, as the Thanksgiving holiday on Thursday approaches, it was still not clear precisely when it would reach its verdict. Deliberating behind closed doors, the panel – made up of six white men, three white women, two black women and one black man – has the option to indict Officer Wilson on charges ranging from second-degree involuntary manslaughter to murder. Officer Wilson is reportedly preparing to resign from the Ferguson police force, yet most protesters believe he will not be charged over Mr Brown's death.
As the demonstrations ramped up again in recent days, both of Mr Brown's parents appealed for calm ahead of the grand jury decision. Michael Brown Sr released a video last week, urging protesters to respond peacefully, regardless of the outcome. "Hurting others and destroying others is not the answer," he said. "No matter what the grand jury decides, I do not want my son's death to be in vain. I want it to lead to incredible change, positive change, change that makes the St Louis region better for everyone."
In pictures: Michael Brown shooting nationwide protests
In pictures: Michael Brown shooting nationwide protests
1/10 Ferguson, Missouri

Protesters ride on top of a car as they gather on West Florissant Avenue in Ferguson, Missouri

2/10 Ferguson, Missouri

A protester holds the banner as he joins the protest on West Florissant Avenue in Ferguson, Missouri

3/10 Ferguson, Missouri

Missouri Governor Jay Nixon ordered state police to patrol a St Louis suburb, sidelining local police who had clashed with protesters after an unarmed black teenager was killed by an officer

4/10 Ferguson, Missouri

People demonstrate in front of a burned down Quik Trip gas station on West Florissant Avenue in Ferguson, Missouri

5/10 New York

Thousands of people peacefully gathered in Manhattan's Times Square and Union Square, invoking the rallying cries "hands up, don't shoot" and "I can't breathe," alluding to the deaths of Michael Brown in Ferguson

6/10 New York

People protest in front of police officers in New York's Times Square

7/10 New York

Protesters march in New York City's Union Square. Vigils are being held across the country for people organizers say died at the hands of police brutality

8/10 Portland, Oregon

People take turns speaking in Pioneer Courthouse Square in Portland, Oregon during a vigil for Michael Brown

9/10 Los Angeles, California

A protester holds a sign that reads 'Black Lives Matter' as she joins hundreds of demonstrators who gathered in Leimert Park in South Central Los Angeles, California

10/10 Omaha, Nebraska

With his hands raised above his head, University of Nebraska criminal justice senior Aron Sanders, of Omaha, Nebraska, kneels in front of the Nebraska State Capitol building, as he and more than 30 others students gathered for a vigil
He was joined in his plea by the outgoing US Attorney General, Eric Holder, who asked police as well as protesters to temper their reactions to the grand jury verdict, and by President Barack Obama, who said in a television interview on Friday that demonstrators must not use the decision as "an excuse for violence". On Saturday evening, Mr Brown's mother, Lesley McSpadden, joined supporters close to the spot on Canfield Drive where her son was killed, telling them, "I just want you all to be careful. Don't agitate them, don't let them agitate you all. I don't want nobody getting hurt."
The small crowd then moved on to Ferguson's police headquarters on South Florissant Road, where they blocked traffic and chanted slogans, including "Hands Up, Don't Shoot!", a maxim regularly adopted by protesters in the months since Mr Brown's death. They were joined by several Anonymous activists wearing Guy Fawkes masks, as well as a now-familiar collection of journalists, videographers and observers from the human rights organisation Amnesty International.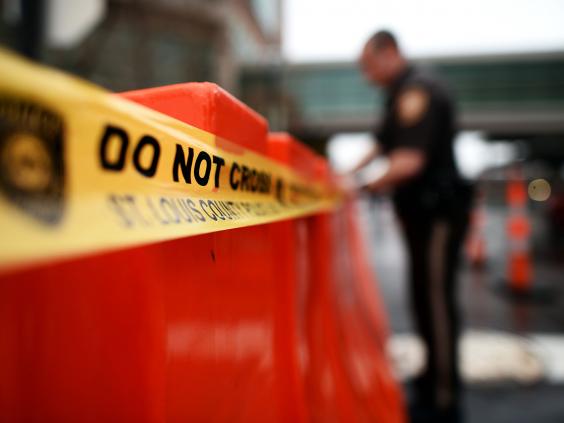 State and county police in patrol uniforms persuaded the crowd to move to the pavement, until a small group of officers in riot gear emerged from the station, which appeared to incite some demonstrators to step back into the road. At least two people were arrested, including a journalist for a Washington DC-based website, before the crowd finally dispersed in the early hours yesterday. Both were later charged with unlawful assembly.
It remains unclear whether the feared protests following the grand jury announcement will erupt with quite the same ferocity as those that took place in the immediate aftermath of the shooting in August. Though many are expected to turn out, others may be put off by the weather, an unwillingness to miss work or the Thanksgiving holiday, and by a more measured law enforcement response.
Jay Nixon, the Govenor of Missouri, last week declared a state of emergency in readiness for the grand jury's decision, and promised to call in the state's National Guard should there be any unrest. The FBI has reportedly sent 100 agents to Ferguson to bolster the local police forces. One Ferguson school district closed its schools today and tomorrow, extending the Thanksgiving holiday to ensure that its students are at home should violence break out.
Barricades were set up over the weekend at the Buzz Westfall Justice Center in nearby Clayton, where the grand jury is conducting its deliberations, and at a large shopping centre on West Florissant Avenue in Ferguson, close to Canfield Drive, where the police established a temporary command centre during the protests in August.
On Friday, two St Louis men, believed to belong to the radical New Black Panther Party, were arrested in an FBI sting and charged with federal firearms offences. According to Reuters, the men were suspected of buying explosives, which they allegedly intended to detonate during protests after the grand jury verdict is announced.
However, state officials say they have met with protest leaders and agreed upon a set of basic "rules of engagement" for demonstrations, which they hope will defuse tensions as and when the time comes. Missouri's public safety director, Daniel Isom, told reporters on Friday that police officers would not be "aggressive" if the protesters also remained non-violent. "Police tactics will not change based on the words protesters use," Mr Isom said.
Reuse content