A member of the grand jury that declined to charge Ferguson police officer Darren Wilson in the fatal shooting of Michael Brown has demanded to be allowed to speak publicly about the case. The juror, known only as "Grand Juror Doe", filed a lawsuit asking a federal court to exempt him or her from the lifetime ban on grand juries discussing their deliberations.
The suit alleges prosecutor Robert McCulloch, who oversaw the case, mischaracterised the proceedings when he said all the jurors agreed with the decision not to indict Officer Wilson. Brown was shot at least six times during an altercation in Ferguson, Missouri on 9 August, despite being unarmed. Mr McCulloch said the panel had found insufficient evidence to bring charges.
The shooting triggered demonstrations in cities across the US, and a national conversation about the relationship between law enforcement and the African-American community.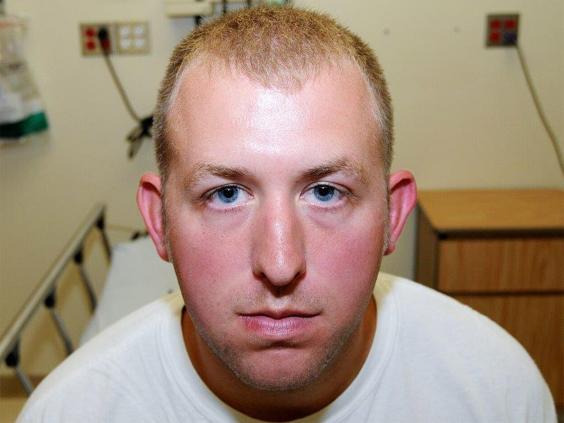 The complaint, filed by the Missouri branch of the American Civil Liberties Union (ACLU), asks the court to grant an injunction permitting the juror to speak out. "In plaintiff's view, the current information available about the grand jurors' views is not entirely accurate," the lawsuit says.
Mr McCulloch, the St Louis county prosecutor, is named as the defendant as he would be responsible for charging a grand juror who spoke without a court's permission. The suit alleges he presented evidence in a "muddled" and "untimely" fashion. Missouri governor Jay Nixon was criticised before the grand jury decision for not appointing a special prosecutor to oversee the case in place of Mr McCulloch, whose father, a police officer, was shot dead on duty.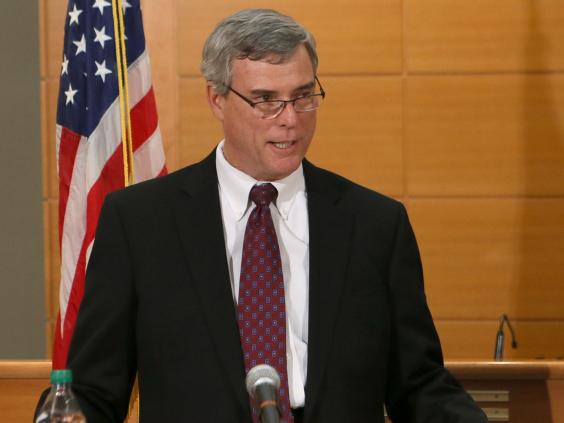 The grand jury, which was made up of nine white and three black people, needed nine of its 12 votes in order to charge Mr Wilson with a crime. The process was abnormal in both its duration and the depth of evidence presented: the jurors met on 25 days over three months, and heard more than 70 hours of testimony from some 60 witnesses. After the panel made its decision, Mr McCulloch published much of the evidence it had seen.
Grand Juror Doe's lawyers said the gag order ought to be lifted given the case's uniquely high profile. The juror is eager to "contribute to the current public dialogue concerning race relations", the suit said.
"Right now there are only 12 people who can't talk about the evidence," ACLU lawyer Tony Rothert said. "The people who know the most... are sworn to secrecy. What (the grand juror) wants is to be able to be part of the conversation."
Unrest in Ferguson over Michael Brown shooting
Unrest in Ferguson over Michael Brown shooting
1/24 Unrest in Ferguson

A woman, who declined to give her name, joins several hundred others in Oakland, Calif. during a protest against the shooting of Michael Brown, an unarmed black 18-year old by a white police officer in Ferguson, Mo

AP Photo/Noah Berger

2/24 Unrest in Ferguson

Local resident, 9-year-old Ciara Hampton places roses along West Florissant Street as residents called for peaceful demonstrations in Ferguson, Missouri

AP Photo/Atlanta Journal-Constitution, Curtis Compton

3/24 Unrest in Ferguson

Two protesters sit with their faces covered during a peaceful protest takes place on a street in Ferguson, Missouri. Police lowered their profile and refrained from using tear gas, to allow a more orderly night of protests in this St Louis suburb, 10 days after the police shooting of an unarmed black teenager

Michael B. Thomas/AFP/Getty Images

4/24 Unrest in Ferguson

Demonstrators protest the killing of teenager Michael Brown in Ferguson, Missouri

Getty Images North America

5/24 Unrest in Ferguson

Police arrest a demonstrator protesting the killing of teenager Michael Brown in Ferguson, Missouri

Photo by Scott Olson/Getty Images

6/24 Unrest in Ferguson

People join hands during a protest in Ferguson

AP Photo/Charlie Riedel

7/24 Unrest in Ferguson

Masked protesters pose in the 'Hands up, don't shoot' position: a paraphrase of the alleged last words of Michael Brown before he was shot and killed by a police officer

Getty Images

8/24 Unrest in Ferguson

Demonstrators attend a protest on West Florissant Avenue in Ferguson, Missouri. Police fired tear gas in another night of unrest

AFP/Getty Images

9/24 Unrest in Ferguson

Police fired tear gas in another night of unrest in a Missouri town where a white police officer shot and killed an unarmed black teenager, just hours after President Barack Obama called for calm

AFP/Getty

10/24 Unrest in Ferguson

Police officers tell protesters to move away in another night of protests over the death of teenager Michael Brown

AFP/Getty

11/24 Unrest in Ferguson

Demonstrators attend a protest on West Florissant Avenue in Ferguson, Missouri. Police fired tear gas in another night of unrest

AFP/Getty

12/24 Unrest in Ferguson

A demonstrator is held by a police officer as he reacts to tear gas thrown to disperse the riots in Ferguson

AFP/Getty

13/24 Unrest in Ferguson

Demonstrators gesture during a protest on West Florissant Avenue in Ferguson, Missouri

AFP/Getty

14/24 Unrest in Ferguson

Law enforcement officers stand guard during a protest on West Florissant Avenue in Ferguson

AFP/Getty

15/24 Unrest in Ferguson

Police officers tell protesters to move away in another night of protests over the death of teenager Michael Brown

AFP/Getty

16/24 Unrest in Ferguson

Demonstrators hold up roses while protesting the fatal police shooting of Michael Brown in Ferguson, Missouri

Joe Raedle/Getty Images

17/24 Unrest in Ferguson

Police officers setup to push protesters to disperse during a protest by using tear gas on West Florissant Road in Ferguson, Missouri. Riot police hurled tear gas and marched on rioters in the St Louis suburb of Ferguson, wracked by race riots since police shot dead an unarmed black teenager

AFP/Getty Images

18/24 Unrest in Ferguson

A woman has her face doused with water after being tear gassed by police as she was protesting Michael Brown's death in Ferguson, Missouri

Getty Images

19/24 Unrest in Ferguson

Police sit on an armoured vehicle as they hold a line against demonstrators who continue to protest over the shooting of Michael Brown in Ferguson, Missouri

PA

20/24 Unrest in Ferguson

A man protesting Michael Brown's murder walks away from tear gas released by police in Ferguson, Missouri

Getty Images

21/24 Unrest in Ferguson

People take refuge from tear gas during riots in Ferguson, Missouri, over the death of Michael Brown in Ferguson, Missouri

Joshua Lott

22/24 Unrest in Ferguson

Police officers stand guard during riots in Ferguson, the St Louis suburb wracked by race riots since police shot dead an unarmed black teenager on 9 August

AFP/Getty Images

23/24 Unrest in Ferguson

A woman has her face doused with water after being tear gassed by police as she was protesting Michael Brown's murder August 17, 2014 in Ferguson, Missouri

Getty Images

24/24 Unrest in Ferguson

Demonstrators protesting the death of Michael Brown walk past tear gas released by police in Ferguson

Getty Images
Reuse content