Michelle Obama kicked off South By Southwest Music 2016 on Tuesday by gathering a star-studded panel to discuss diversity, activism and to explain why she won't be running for president.
"I'm going to continue to work with our young people all over the world. Not as president. I will not run for president," The First Lady told Queen Latifah on Tuesday. "One of the reasons why, because I've got these two young people at home. And being the daughters of the president, just think of that? They've handled it with grace and with poise."
"And also there are so many ways to impact the world," she added. "You don't have to be the president of the United States to do wonderful, marvelous things."
"Music is so powerful. Nothing can stop it. Music saved my life." - @Diane_Warren at @FLOTUS #SXSW Keynote

— SXSW (@sxsw) March 16, 2016
Obama and Latifah were joined by Missy Elliot, Sophia Bush and Diane Warren for the discussion that highlighted the lack of opportunities for the 62 million girls across the globe who aren't enrolled in school.
"When I was younger, it was always the doubters," Obama said. "Growing up as a black girl in the South Side of Chicago, where the expectations were limited, there were always people around telling me what I couldn't do. Always telling me how far I should dream. My reaction to that was to prove the doubters wrong."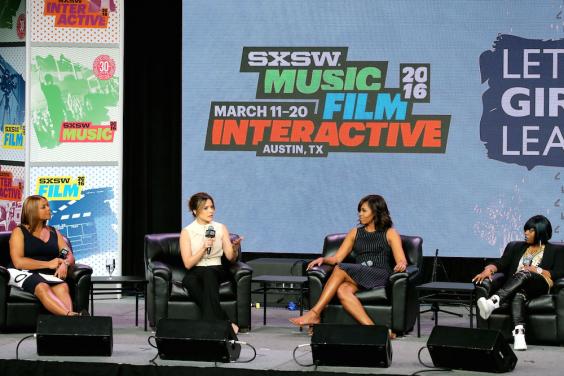 Obama also called on men to step up and help inspire change.
"When you have a seat at the table and you have access to power, the question you can ask yourselves: Is there diversity around the table?" she said. "If you're a man at the table and there are only men at the table, you should ask yourself: How can I do better?"
Reuse content