A Canadian truck driver has died and dozens have been injured after a pile-up of about 150 vehicles including a trailer transporting formic acid and another one carrying fireworks on a major US road.
A three-mile area around the crash in southern Michigan, about ten miles east of Kalamazoo, was evacuated out of caution because formic acid is a hazardous material which can irritate eyes and skin, state police said.
Michigan State Police spokesman Lt. Rick Pazder said fireworks exploded at the scene as the trucks caught on fire.
Twenty-three people required hospital treatment, the BBC has reported.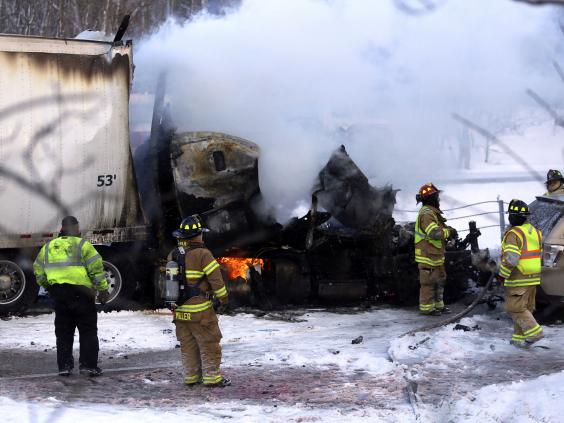 It was the most severe incident so far in three days of bitter cold and snow that have gripped the Midwest and the East Coast as a mass of Arctic air moves into the United States causing snowflakes as far south as Florida.
The evacuation order was later lifted after the formic acid had burned off, Mr Pazder told Reuters.
Icy conditions and low visibility are believed to have contributed to the crash.
Interstate 94 - a major highway that connects the Great Lakes with the mountainous areas in the center of the country - was shut down in both directions.
Additional reporting by Reuters
Reuse content