The mother of two bisexual teenagers has been praised for her response when their family home was defaced with anti-gay grafitti.
Erin DeLong's daughters Miranda and Emily are both bisexual. Late one night, Miranda came home from work to find the doors to their garage vandalised with the words "I'm gay" scrawled across it.
But the family refused to be intimidated and have instead hit back with a defiant message.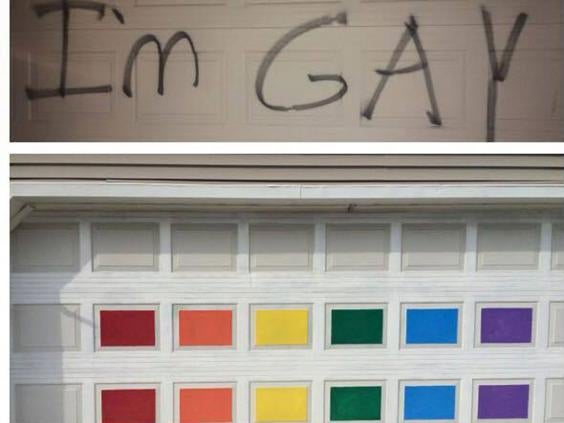 After removing the original graffiti, the family repainted the door in rainbow colours.
She said: "Our kids are our everything, and to see them hurt is worse than being hurt ourselves.
"We decided that some announcements deserve more than gray spray paint. We made it rainbow so we could include all sexualities, we have many LGBT friends that visit our house and we wanted them to all feel accepted. It was a way to support them all."
After being posted online, Erin has been praised for supporting her daughters.
She wrote on Facebook: "We are absolutely overwhelmed by the support everyone has shown! Thank you everyone! It's easy to be a good parent when you have great kids, and ours are the best."
Reuse content