Jillian McCabe had been researching how to kill her 6-year-old autistic son — and get away with it — before she took him to Oregon's Yaquina Bay Bridge, told him she was "sorry" and pushed him over the side, prosecutors said.
Lincoln County District Attorney Michelle Branam said this week that the investigation uncovered online search terms for "stabbing, drowning and dropping from a 133-foot fall."
McCabe also searched "hearing voices and hallucinations," "insanity defense" and looked up Andrea Yates, who drowned her five children in 2001 and was found not guilty by reason of insanity, according to court documents.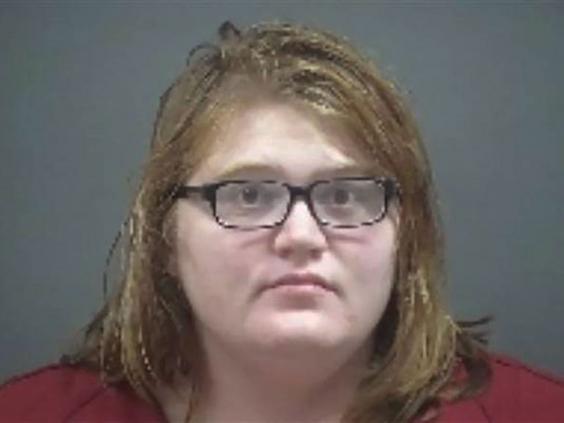 Then, she told police, she wrote a letter to her husband.
"You said I was an obligation and London was a burden. I want to give you a gift of taking the two away," she wrote. "The voices said that you need this, you need a new fresh start and I can give it to you. You will be sad for a while, but in the end you will be better off.
"You will be free!"
McCabe, 36, from Newport, pleaded guilty and was sentenced Monday to life in prison.
"Everyone hopes this can be explained by way of mental illness so we don't have to leave open the possibility that a mother could plan to so horrifically murder their child," Branam, the prosecutor, said in a statement. "But it appears from the evidence we have in this case that this was exactly what happened."
McCabe will not be eligible for parole for 25 years.
An attorney for McCabe could not immediately be reached for comment.
One November night in 2014, family members had said, McCabe snapped.
Prosecutors said McCabe parked her car at the end of the bridge in Newport, about 130 miles from Portland, took her son's hand and led him to the center.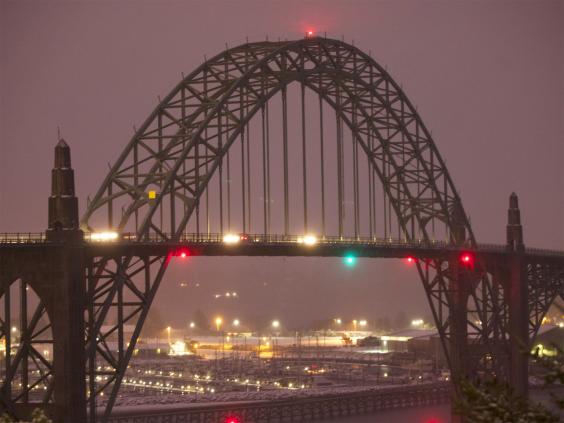 A police officer said at the time he saw a woman matching her description carrying a boy and thought it was strange because the child was "too big to be carried," according to court documents.
"Jillian reports that she lifted London to throw him over but changed her mind, put him down, turned and walked back to the car," according to the prosecutor's statement. "Instead of returning to the car, she lifted him again and pushed him over the bridge.
"She said she did not look back but heard the splash."
Then, almost immediately, McCabe dialed 911.
"I just threw my son over the Yaquina Bay Bridge," she told the dispatcher, according to court documents.
After an hours-long search in two boats and a helicopter, authorities found the boy's body floating in the bay.
Branam, the prosecutor, said it wasn't the fall that killed him.
"He suffered broken bones from the impact of the fall and ultimately drowned," she said.
Branam added: "She talks with detectives for hours and explains that she understands that she will going to prison. She says  now her husband, Matt McCabe, will be free of her and London. She said Matt thought of her as a burden and London as an obligation, but now he will be free."
Following London's death, family members had spoken out about McCabe's struggles.
Some said she had been having a hard time caring for her autistic son and sick husband. Some said she had tried to raise money for them online. Some said she had talked about "pulling a 'Thelma and Louise.'"
At one point, a family member set up a crowdfunding campaign on YouCaring.com, asking for $50,000 to help McCabe care for her autistic son, London, and her husband, Matt, who had been diagnosed with multiple sclerosis.
"If you are a praying person, pray for us," McCabe wrote online. "I love my husband and he has taken care of myself and my son for years and years and now it's time for me to take the helm. I am scared and I am reaching out."
World news in pictures
World news in pictures
1/30 23 September 2016

Campaigners pose on a 'United To Stop Trump' cardboard wall in front of the Brandenburg Gate to urge Americans living abroad to register and vote in Berlin, Germany

REUTERS

2/30 23 September 2016

A man rests on his cart after unloading plastic jugs near a shop at a main market in Colombo, Sri Lanka

REUTERS

3/30 23 September 2016

Staff inspect the presentation before the Swiss Cheese Awards competition in Le Sentier, Switzerland. One hundred and fourty-two experts have to choose the best out of 777 cheeses from 353 producers competing in 28 categories

REUTERS

4/30 23 September 2016

Israeli settler bride Yael Levi (C) is surrounded by friends and relatives during her wedding ceremony at the plaza outside the Cave of the Patriarchs also known as the Ibrahimi Mosque, which is a holy shrine for Jews and Muslims, in the heart of the divided city of Hebron in the southern West Bank

AFP/Getty Images

5/30 22 September 2016

A South Korean army special forces soldier breaks bottles with his hand during the Naktong River Battle re-enactment in Waegwan, South Korea. South Korean Defense Ministry reenacted one of the important battles as part of commemoration events for the 66th anniversary of the Korean War

AP

6/30 22 September 2016

Women wait on a street in Pyongyang, North Korea

AFP/Getty Images

7/30 22 September 2016

A general view shows buildings destroyed during Saudi-led air strikes in the rebel-held Yemeni port city of Hodeida the previous day. Saudi-led coalition air strikes have killed 20 civilians in a rebel-held port city in Yemen, a government official said in a rare admission of a possible "error" by the alliance. The strikes came as Riyadh faces mounting international scrutiny over civilian casualties in its 18-month campaign against rebels in Yemen

AFP/Getty Images

8/30 22 September 2016

An Indian woman carries her belongings as she wades through flood waters following heavy rain in the low-lying area of Quthbullapur on the outskirts of Hyderabad. Rains that have caused heavy flooding around Hyderabad are expected to continue in the coming days, Indian meteorological officials said

AFP/Getty Images

9/30 21 September 2016

A protester, center, is taken into custody by Charlotte-Mecklenburg police officers in Charlotte. Authorities in Charlotte tried to quell public anger after a police officer shot a black man, but a dusk prayer vigil turned into a second night of violence, with police firing tear gas at angry protesters and a man being critically wounded by gunfire. North Carolina's governor declared a state of emergency in the city

AP

10/30 21 September 2016

A view of Sainte Marie neighborhood while a lightning strikes in the sea during an evening thunderstorm in the Haitian Capital, Port-au-Prince

AFP/Getty Images

11/30 21 September 2016

A student from the University of the Witwatersrand (Wits) is detained by South African police forces following clashes during a protest against the university fee increase in Johannesburg, South Africa

AFP/Getty Images

12/30 21 September 2016

A villager mourns outside his house after a landslide in Garut. The death toll from a series of landslides and flash floods in Indonesia climbed to 19, including several children found by rescuers scouring for survivors

AFP/Getty Images

13/30 21 September 2016

Somali women shout slogans during a demonstration against the maritime border dispute with Kenya on the rights for exploration and collecting revenue from oil discoveries in Mogadishu, Somalia

REUTERS

14/30 21 September 2016

A man carries an injured girl after airstrikes on the rebel held al-Qaterji neighbourhood of Aleppo, Syria

REUTERS

15/30 20 September 2016

A protester stands with his left arm extended and fist clenched in front of a line of police officers in Charlotte. Authorities used tear gas to disperse protesters in an overnight demonstration that broke out after Keith Lamont Scott was fatally shot by an officer at an apartment complex

AP

16/30 20 September 2016

An Israeli soldier kicks a Palestinian man as troops try to arrest him in the flashpoint city of Hebron, in the Israeli occupied West Bank. The man was named by family members, who witnessed his arrest, as Mohammed al-Kawasmi, 30, whom they said suffers from psychological troubles

AFP/Getty Images

17/30 20 September 2016

View of ash spewed by the Turrialba volcano in Cartago, 35 Km east of San Jose. The Costa Rican authorities suspended operations at the country's main airport after the nearby Turrialba volcano erupted, sending a thick ash cloud into the sky

AFP/Getty Images

18/30 20 September 2016

Models parade on a catwalk in Yellow River Stone Forest for iconic French fashion designer Pierre Cardin in Baiyin, Gansu province, Northeastern China. 120 outfits were presented for the 2017 Spring-Summer new collection 38 years after he first launched a collection in China

AFP/Getty Images

19/30 20 September 2016

Aid is seen strewn across the floor in the town of Orum al-Kubra on the western outskirts of the northern Syrian city of Aleppo, the morning after a convoy delivering aid was hit by a deadly air strike. The UN said at least 18 trucks in the 31-vehicle convoy were destroyed en route to deliver humanitarian assistance to the hard-to-reach town

Getty

20/30 20 September 2016

Pedestrians holding umbrellas struggle against strong wind and heavy rains caused by Typhoon Malakas in Nagoya, central Japan

REUTERS

21/30 20 September 2016

Birds sit in their cages during a bird-singing contest in Thailand's southern province of Narathiwat. Over one thousand birds from Thailand, Malaysia and Singapore take part in the annual contest

AFP/Getty Images

22/30 20 September 2016

A man takes out a quail from a net after catching it on a beach in Khan Younis, in the southern Gaza Strip

REUTERS

23/30 19 September 2016

A veterinary from Saving the Survivors and RHINO911 crew treat a Rhino that was wounded during dehorning by poachers during an operation of RHINO911 Non Governmental Organisation at the Pilanesberg National Park in the North West province, South Africa

AFP/Getty Images

24/30 19 September 2016

People onboard fishing boats heading out to sea in order to catch crabs, in Xianrendao in China's northeastern Liaoning province

AFP/Getty Images

25/30 19 September 2016

Women and children queue to enter one of the Unicef nutrition clinics in Muna informal settlement, which now houses more than 16,000 IDPs (internaly displaced people) in the outskirts of Maiduguri the capital of Borno State, northeastern Nigeria. Aid agencies have long warned about the risk of food shortages in northeast Nigeria because of the conflict, which has killed at least 20,000 since 2009 and left more than 2.6 million homeless

AFP/Getty Images

26/30 19 September 2016

A Yemeni artist sprays graffiti on a wall in the capital Sanaa criticising the limitations on the freedom of press in Yemen

AFP/Getty Images

27/30 19 September 2016

People run away from waves as they watch tidal bore in Hangzhou, Zhejiang Province, China

REUTERS

28/30 19 September 2016

Demonstrators gather in front of a burning car during an opposition rally in Kinshasa. Police fired tear gas at scores of opposition supporters rallying in Kinshasa to demand that DR Congo's long-serving President Joseph Kabila step down this year. Kabila, who has ruled DR Congo since 2001, is banned under the constitution from running again -- but he has given no sign of intending to give up his job in December

AFP/Getty Images

29/30 18 September 2016

New York Mayor Bill de Blasio (R) and New York Governor Andrew Cuomo (C) stand in front of a mangled dumpster while touring the site of an explosion that occurred the night before in the Chelsea neighborhood of New York City. An explosion in a construction dumpster that injured 29 people is being labeled an "intentional act". A second device, a pressure cooker, was found four blocks away that an early investigation found was likely also a bomb

Getty Images North America

30/30 18 September 2016

Participants hold a rainbow flag during an annual LGBT (Lesbian, Gay, Bisexual and Transgender) pride parade in Belgrade, Serbia

REUTERS
McCabe also posted videos on YouTube.
One seemed to show her husband in a hospital bed as her son played with the controls used to move it up and down.
Another showed the boy sitting in a hammock. When McCabe asked whether he was happy, he didn't respond. Then when she told him to say "help" if he wanted her to rock the hammock, he said: "Help."
"At first blush, the case appears to be a tragic story of a mentally ill mother who snapped," Branam, the prosecutor, said in a statement. She added that McCabe was "very calculated in her planning of this homicide."
London had been diagnosed with autism in March 2011 and some two years later in 2013, Matt McCabe was diagnosed with a tumor and lesion on his brain stem, prosecutors said.
The next year, prosecutors said, Jillian McCabe threatened to attempt suicide at least twice and was voluntarily admitted to mental hospitals. She was evaluated and released both times.
"When it suits her, she can fabricate the symptoms," Branam said in a statement, according to NBC News. "When she hears that she may be restricted from something she may want, she turns off the symptoms."
Prior to her son's death, McCabe had searched on Google "mother who stabs child," "drowning own child" and "threw child off bridge," according to court documents.
In one letter, McCabe talked about how she planned to do it.
"I study the bridges as I drive over them," she wrote. "I know where I would push London off."
"Tomorrow I will do it," she added. "I will get London up and take him to the bridge and I will throw him in the water. Then these damn voices will stop. I will go away — everyone will hate me, but I am hated anyway."
Matt McCabe, who filed for divorce after his son's death, told reporters he has not found closure.
"I can't say enough about this boy," he said Tuesday, according to the Associated Press. "He was my pride and joy. He was the center of my attention; his loss leaves a black hole in the center of my life.
"If you know an autistic individual, he needs love, too. Maybe more than you and I."
© Washington Post
Reuse content