The mother of an eight year-old-boy who was strangled while trying to protect his sister from being raped has spoken out about her young son, who she and her local community have hailed a "hero."
Her words came after a teenager was charged with the murder and strangulation of Martin Cobb. He has not been charged with any further crimes in respect of Martin's sister.
"As soon as he could talk, I told [him] he's the man of the house," his mother told reporters of her son.
"That's what he did. He's a hero."
She added the second grade student, who had open-heart surgery at 3 months old, was "a mama's boy" who didn't talk much to other people. He was small for his age, but his tiny stature masked a fighting spirit, she said.
Ms Spruill told reporters she was sitting in the front garden of her home in Richmond, Virginia, when she saw a 16-year-old neighbour walking towards her, holding her blood-covered daughter in his arms. He was weeping and had his t-shirt draped across his back, she said.

The teenager, who is African American, told her a white man had attacked her daughter. The girl also initially blamed a white man, and said he had raped her – a story the police believe her attacker intimidated his victim into repeating.
The teenager, whose name has been withheld by police because of his age, had a brief court appearance on Monday. A juvenile court judge ordered him to remain in custody and set another hearing for 20 May.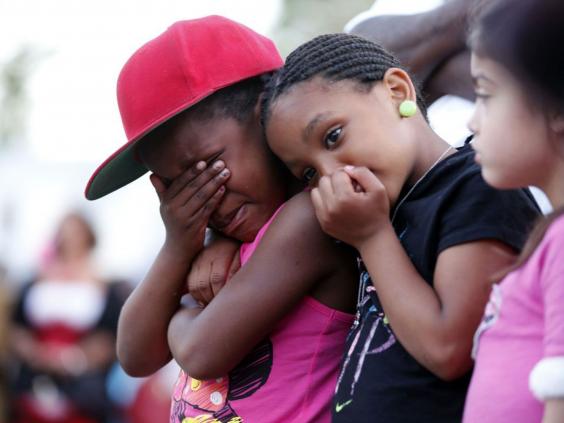 Displayed a few feet from where Martin's mother met who she believed attacked her son and daughter was a memorial card, with the message: "A Real Hero Lived, Fought and Died Here." The wooden sign was draped with the boy's parka, surrounded by stuffed animals and toys.
Neighbor Andrew Patillo, said the boy looked more like he was 4 or 5 years old.
"He had a big heart to be that small," Patillo said.
The mother said she did not know the teenager accused of attacking her children. His family was relatively new to the neighborhood, she said.
She then rose from the concrete steps to get ready to go view her son's body and shared a final thought: "He's right here in my heart and super strong."
Additional reporting by Associated Press
Reuse content