As far as the police are concerned, there is little left to investigate in the murder four weeks ago of one of their own in the wealthy town of Windermere just outside Orlando. He died at the hands of two desperate teenage runaways, who in a suicide pact then successively turned their single handgun on themselves. Only one part of the puzzle is unsolved: which of the two, the American boy or his English girlfriend, shot and killed the officer?
That is the narrative so far of the Homicide Division of the Orange County Sheriff's department. For them motive is almost beside the point; no one survived to be tried. Yet this tragedy, like any other, demands explanation for those most touched by it, the families of the fallen policeman, Robert German, and of the teenagers, Brandon Goode and Alexandria Hollinghurst.
Fully fathoming events will perhaps elude them and everyone in this town of trim lawns and gracious homes adorned with blue ribbons in tribute to the fallen officer.
The tale can said to have opened in late 2012, when Alexandria, known as Alex – who moved to America from Oldham six years ago with her parents, Tom and Jane Hollinghurst – first met Brandon Goode, one year her senior. They fell into an adolescent relationship that in some ways took a familiar path: mutual obsession and accelerating alienation from everyone else around them, especially from each set of parents.
How it ended actually doesn't surprise Corporal Duwana Pelton, the supervising detective at the Sheriff's Office. "Unfortunately this is not an uncommon thing," she explained in an exclusive interview with The Independent. In 14 years on the force she has had "several cases where young people have taken their lives" when they think they are in a corner, she conceded. "It is hard to rationalise. But kids nowadays, they can't see past the moment." What sets this one apart: they took Mr German with them.
The last act began two days before, on the Thursday, when police were called to the home of Alex's mother in Davenport, a nearby community on the edge of Walt Disney World. She reported her daughter missing. Alex, 17, in fact returned to the house while the police officers were still there. Then the next day a similar call came from Brandon's mother saying much the same thing. Her son was gone. And by then Alex had vanished again also.
The teenagers' final letters to their parents as well as love notes exchanged between them in the weeks and days before, released by police after their deaths, offer a window on to the their states of mind. The love letters spoke of dreams for a future with one another far away. Brandon, who was 18, wrote in one that they should abscond to Clearwater on the Gulf of Mexico.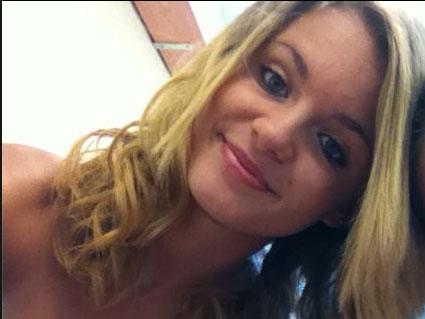 "Then we steal a boat and sail down to Panama which is a 4-6 day sail," he wrote. "We could live on the beach just me and you forever in our small little cosy house."
But farewell letters to their families written just before they fled revealed their shared anger and desperation. To her mother Alex wrote: "If I had stayed another minute I would have painted the walls and stained the carpets with my blood, so you could clean it up," she said. "You are a waste of space, ignorant, and a rotten [expletive]. I wish I were never born." In his, Brandon wrote explicitly of suicide. "Please don't be sad, this is what I want now, I get to die peacefully with the woman I love, the woman of my dreams, my fiancée (Yes we were engaged!)."
With both teenagers missing, a general alert went out and later on that Friday they were spotted by an officer in nearby Kissimmee in Brandon's SUV. The police officer tried to talk them out of the car but Brandon jammed down the accelerator and sped away. They were gone before the police could pursue them.
The next person to see them was Officer German. It was 4am on Saturday and he found the pair sitting by the road leading from Orlando into Windermere. It should have been almost routine to bring them in to the station. But at some point he must have sensed danger and he called for back-up. They came within five minutes, but it was already too late. They found him on the road bleeding. They manoeuvred their vehicles to protect him and themselves from any more gun fire but then they heard a pop in the bushes about half a block away. A few second later, a second pop.
In a few early interviews with the press, the family of Alex voiced the belief that Brandon must have killed her. Perhaps it made the loss a tiny bit easier, moderating grief with anger. To them Brandon had always been an evil influence. In 2012, he had been charged with aggravated battery after threatening his mother in her home with an axe. This February he and Alex were pulled over on the highway by police who found marijuana and other drugs paraphernalia in their car. They were both arrested but charges against her were dropped.
Today, however, the police are in no doubt that Alex put the gun to her own head and pulled the trigger either just before or just after Brandon did the same. "That has been determined," said Cpl Pelton, "based on the doctor's findings at autopsy and the positions of the bodies when they were initially located. It all went together to come to that conclusion."  A spokesperson for the Medical Examiner's Office confirmed the same finding.
That they were prepared to die seems clear but, beyond that, guesswork replaces detective work. Had they hoped to provoke Officer German into firing on them and when he instead fell did they then feel compelled to commit the acts of suicide themselves? Or did the horror of seeing him fall drive them to it?
Cpl Pelton has her own theory. It has to do with the pact she believes they had made to each other to be together forever, come what may. And in their minds death would not part them. It would bind them for eternity.
"These two were determined not to be separated and at some point in their contact with Officer German they came to realise that there was a possibility that they were going to be separated because there was an active warrant out on Brandon. He would have been taken into custody and she would have been returned to her family," she said. "I think it was at that point [as they heard the back-up officers arriving] that the decision was made."
And so, Corp Pelton is left today with the final question that seems at once urgent and redundant. Who killed Officer German? It will not be easy to answer, she conceded. "We are making an effort to try and determine this based on blood evidence and so forth but we are not sure that our results are going to give us anything. We may never know."
Reuse content