The New York City Council is expected to vote on Thursday to rename two street blocks in Brooklyn after two police officers who were shot dead while sitting in their patrol car by a man who earlier had ranted in social media postings about alleged abuse by police forces around the country of African Americans.
Renaming one-block stretches of two streets in the borough Detective Wenjian Liu Way and Detective Rafael Ramos Way is a "small step we can take as a city to continue the healing," commented Councilman Mark Treyger, who represents the Brooklyn district of Gravesend where Mr Liu lived.
The two men were killed execution-style the week before Christmas by a Baltimore man identified as Ismaaiyl Abdula Brinsley, 28. He fled the scene and was later found dead from a self-inflicted gun wound in a nearby underground train entrance.
Their deaths stunned New York, a city that had at the time seen successive nights of protests over a grand jury decision not to indict a police officer involved in the choke-hold death of Eric Garner of State Island. The tragedy spurred a go-slow over the holidays by rank-and-file officers angered by what they perceived as a failure by Mayor Bill de Blasio sufficiently to defend them against criticism of racial profiling.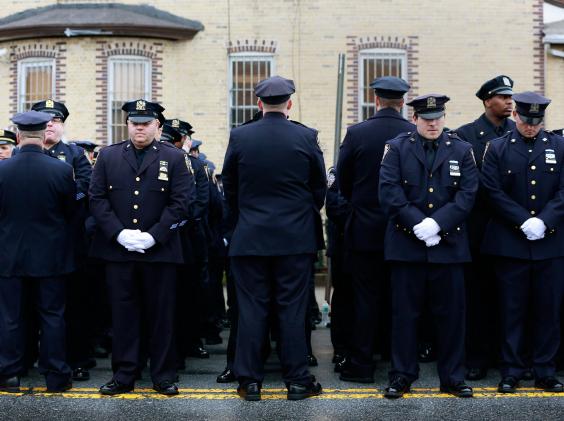 "They will be missed for ever," Mr Treyger said after first approval for the name changes was passed by unanimous vote in committee earlier this week. The blocks in question were selected by family members of the two slain officers.
"It's been only a few weeks since we lost these two heroes, but already we're hearing their names less in the headlines," said Councilman Mark Levine, chair of the Parks Committee.
"So we have to do everything we can to keep their memories alive so that not just present day New Yorkers but New Yorkers for many years and many generations to come will understand that there were two heroes who walked the streets to protect us and lost their lives in the line of duty."
Reuse content