Bill de Blasio, near his first anniversary as New York City Mayor, was rushing today to repair a rift with his own police department after uniformed officers turned their backs towards him during a visit to a hospital where two police officers had been declared dead shortly after being shot in their squad car.
The killing of the two officers in Brooklyn on Saturday by a lone gunman who had earlier posted messages on social media citing recent cases of unarmed black men being killed by white officers has brought widespread criticism of Mr De Blasio, who came to office promising reform of the NYPD and in a speech had expressed sympathy for the movement to end police abuse of black citizens.
The killing of the two officers, identified as Rafael Ramos and Wenjian Liu, has significantly worsened tensions on the city's streets which had already been running high in the wake of grand jury decisions not to press charges against officers responsible for killing Michael Brown and Eric Garner last summer in Ferguson, Missouri, and Staten Island, New York.
Yesterday, New York's Police Commissioner, William Bratton, lamented the newly darkened atmosphere.  "Who would've ever thought that we would be back where we were 40 some-odd years ago?" he asked on NBC. Asked when the streets were last so jumpy, he said: "When I first came into policing, my first 10 years were around this type of tension."
Mr Bratton agreed Mr De Blasio had lost the confidence of some of his officers but expressed regret at the disrespect of the hospital back-turning gesture, led by the NYPD union president Patrick Lynch. "I was at the hospital when that event occurred," he said. "I don't think it was appropriate, but it's reflective of the anger of some of them."
"The blood of two executed police officers is on the hands of Mayor De Blasio. May God bless their families and may they rest in peace," the Sergeants Benevolent Association tweeted at the weekend.
The blood of 2 executed police officers is on the hands of Mayor de Blasio. May God bless their families and may they rest in peace.

— SBA (@SBANYPD) December 21, 2014
Defenders of the Mayor insist his attempts to curb the aggressive policing tactics of the NYPD, including its "stop-and-frisk" policy, was meant to lower tensions. But his standing with the police was damaged further with his Staten Island speech after the grand jury rulings when he noted that his wife is black and said he had spoken to his mixed-race son about how to behave if challenged by the police.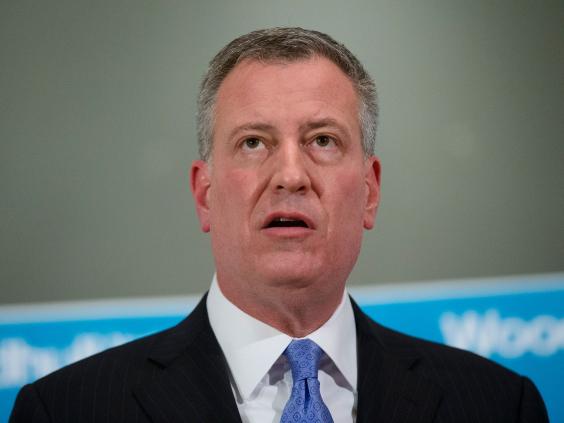 Meanwhile, in Milwaukee, Wisconsin prosecutors said last night that a former police officer who killed a black man in a park in April would not be charged because he had acted in self-defence.
A makeshift memorial of flowers, cards, hand-written messages and flickering candles continued to grow last night at the site of Saturday's killing in Brooklyn. "I came to pay my respects. We need to let the police know how much this community needs them, especially right now," observed Jessica Dunn, 34, a local who laid a bouquet of roses at the site. "I came to show respect."
The shooter was quickly identified as 28-year-old Ismaaiyl Brinsley. After shooting through the windows of the squad car and fatally wounding both the officers, he fled the scene but was later found dead from a self-inflicted gunshot wound in a nearby underground station. 
The NYPD Chief of Detectives, Robert Boyce, said that Brinsley, who was black, had a long criminal record. He had been arrested at least 19 times in Ohio and Georgia and spent two years in prison for gun possession. He said even his own mother had been afraid of him. He also left behind a long record on online rants expressing "self-despair and anger at himself and where his life was", said Mr Boyce.
Among outstanding questions yesterday about Brinsley was whether he had directly participated in recent protests against police mistreatment of blacks organised over recent days and weeks in cities across the country. Earlier on Saturday, he had shot and wounded his ex-girlfriend, Shaneka Thompson, at her home in Baltimore. He then took a bus from Baltimore to New York.
He meanwhile used Ms Thompson's phone to post a message on Instagram, a popular photo-sharing app, declaring "They take one of ours, let's take two of theirs". He then referred to the Brown and Garner cases. Moments before opening fire in Brooklyn he walked up to people on the pavement, told them to follow him on Instagram and declared, "Watch what I'm going to do".
Republicans have been on the front line of the assaults on Mr De Blasio. The former New York governor George Pataki said via Twitter the shootings were "a predictable outcome of divisive anti-cop rhetoric". The former New York Mayor Rudy Giuliani also blamed President Barack Obama.  "We've had four months of propaganda, starting with the President, that everybody should hate the police," he told CBS.
Reuse content