A convicted murderer on the run from a high-security prison made a painting of the children of the prison staff member accused of helping him escape, a New York District Attorney has said.
Speaking to CNN, District Attorney Andrew Wylie said that at one point before the escape, escaped prisoner Richard Matt made a painting of prison tailor shop worker Joyce Mitchell's children, which he gave to her as a present.
Wylie said that Mitchell gave Matt's painting to her husband as a wedding anniversary present.
As reported by CNY Central, Matt is a talented artist, and kept in touch with former prisonmates by sending them some of his paintings of notable figures such as Angelina Jolie and Oprah Winfrey.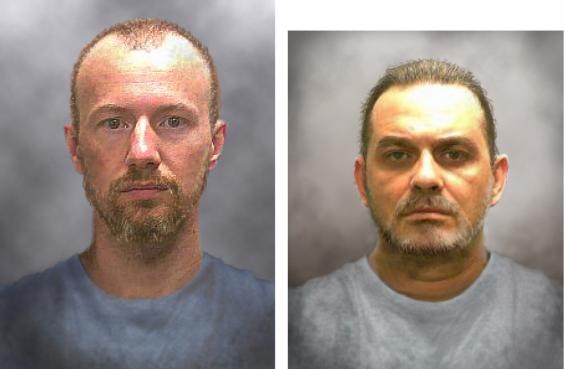 Joyce Mitchell, 51, was a tailor shop instructor at Clinton Correctional Facility in Dannemora, New York. Matt is a convicted murder, serving 25 years to life for his 1997 kidnap, torture and dismemberment of 76-year-old William Rickerson.
Together with fellow convict David Sweat, he escaped the high-security prison on 5 June. A large-scale manhunt is underway to find the criminals, and Joyce Mitchell is accused of helping the men escape, by providing them with hacksaw blades, chisels, and other tools. 
America's most elusive fugitives
America's most elusive fugitives
1/10 Assata Shakur

Assata Shakur, 67, a former member of the Black Panthers, escaped from jail and has been living in Cuba since 1984

FBI

2/10 DB Cooper

DB Cooper, the media epithet of the person hijacked a Boeing 727 on route to Seattle, Washington, on November 24, 1971, extorted $200,000 in ransom and parachuted out. He has never been identified or traced.

FBI

3/10 George Wright

George Wright was convicted for murder in 1962 and escaped from prison in 1970. In 2011, he was detained in Portugal, where he has citizenship and where he had been living for years under a different name. Portugal has refused to extradite him.

Getty Images

4/10 Leo Burt

Leo Burt was charged with a 1970 bomb attack at the University of Wisconsin–Madison which killed a physics researcher. Burt fled and has never been traced. There have been many reported sightings in Canada

FBI

5/10 Larry Chism

Larry Chism was arrested for armed robbery in 1978 but escaped from jail. He has been on the run since then.

FBI

6/10 Donald Eugene Webb

Donald Eugene Webb is accused of the murder of a police officer in Pennsylvania December 1980. He disappeared and officials do not know whether he is alive or dead

FBI

7/10 William Bradford Bishop

William Bradford Bishop, a former US Foreign Service officer, fled after allegedly killing his family in North Carolina in 1976. Over the years he has been linked to both France and Thailand.

FBI

8/10 Dennis Lilly

Dennis "Slick" Lilly, convicted of robbery, stole a prison guard's uniform and escape from Missouri State Penitentiary in 1986. Last year it was reported that his remains had been discovered in the back garden of his wife

FBI

9/10 Robert Fisher

Robert Fisher, 53, fled after allegedly killing his wife and their two children in Scottsdale, Arizona on April 10, 2001. He has never been traced.

FBI

10/10 Victor Gerena

New Yorker Víctor Gerena was convicted of the 1983 $7m White Eagle armed robbery. He is the person to have been listed the longest time on the most wanted list. It is believed he is in Cuba.

FBI
She has pleaded not guilty to two charges, one felony charge of promoting prison contraband, and a misdemeanour charge of criminal facilitation. She could face up to eight years in prison if she is found guilty.
Mitchell has been investigated in the past for having an inappropriate relationship with Matt. Wylie said that corrections officials moved Matt out of the tailor shop in 2013 to keep the two separated.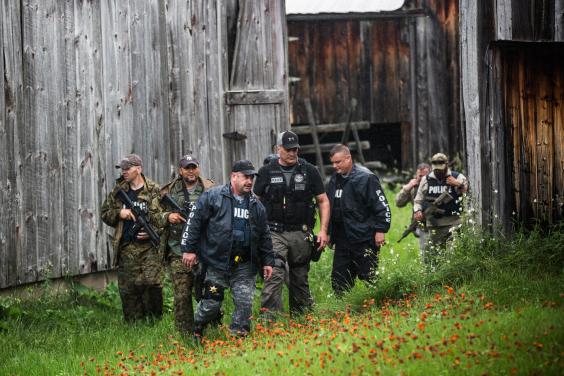 Mitchell's husband, Lyle, also worked in the prison's tailor shop. Wylie said that he had no idea about the prisoner's escape plan, and was not aware of his wife's relationship with the inmates.
The search for the escaped pair has entered its 14th day, and has involved 600 law enforcement officers from local, state, and federal levels. The officers have combed around 16 square miles of land near the prison in their search.
New York State Police Major Charles Guess has told a press conference that police have developed more than 1,400 leads.
Reuse content