The hunt for escaped inmate David Sweat continues in full force as dogs and hundreds of officers scour a dense wooded area 30 miles from the maximum-security prison in upstate New York.
The three-week man hunt continues after Sweat's fellow prison breaker, Richard Matt, was shot dead on Friday by officers when they say he failed to comply with commands near a cabin in the woods where a shot had been fired earlier that day. A 20-guage shot gun was found on Matt when he was discovered, although he did not fire at officers, it is reported.  
The second escapee, Sweat, has not been sighted since his flight from the prison in Dannemora, although evidence found a week ago suggests that he had stayed with Matt in a cabin off-set from the road.
CBS News correspondent Anna Werner reported that Sweat is said to be in a contained area of about a half-mile. Sources tell CBS News there is a tight perimeter of officers stationed every 25 yards.
Joseph D'Amico, a New York state police superintendent, said in a news conference on Friday that he had no information that Sweat was not with or near Matt so a heavy search of the area would continue.
The pair escaped from the Clinton Correctional Facility together on 6 June. Governor of New York, Andrew Cuomo called them both "dangerous, dangerous men."
Police have blocked off roads while officers hunt for Sweat in an area around Titusville Mountain State Forest in Malone spanning 22 square miles.
D'Amico said on Friday that "Of course our preference would always be to capture them alive".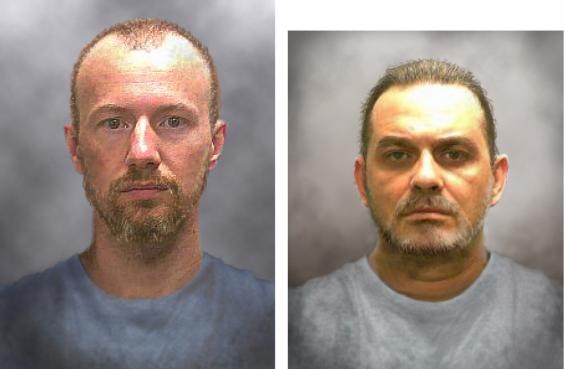 Matt and Sweat used power tools to escape from prison, sawing through a steel cell wall and several steel steam pipes. They also knocked a hole through a 2-foot-thick brick wall and crawled through pipes to escape from a manhole beyound the prison.
Sweat, 35, was serving a sentence of life without parole for the killing a sheriff's deputy in Broome County in 2002. Matt, 49, was serving 25 years to life for the killing and dismembering of his former boss.
They were added to the U.S. Marshals Service's 15 Most Wanted fugitives list two weeks after fleeing prison.
Two prison workers have been charged in connection with Sweat and Matt's escape.
Additonal reporting by Associated Press
Reuse content