Residents in New York City and other areas urged to bunk up inside their homes and avoid going outside have been left scratching their heads after a potentially "life-threatening" blizzard failed to make an appearance.
Forecasters originally said Winter Storm Juno could bring up to 3ft (1m) of snow and punishing hurricane-force winds. But early today, they downgraded most of those numbers, saying New England would fare the worst, but even then not as bad as expected.
Employees and students were housebound, 6,500 flights at airports along the East Coast have been cancelled and New York banned cars from roads and halted subway trains.
A state of emergency was declared by governors in New York, New Jersey, Connecticut, Rhode Island, Massachusetts and New Hampshire as the snow blast threatened to affect up to 60 million people in nearly a dozen states.
New York City Mayor Bill de Blasio warned the city it was facing "one of the largest snowstorms in the history of this city".
It's 4 p.m. If you haven't already started your commute home, please do so now. You'll be safer and it'll keep the roads clear for plows.

; Bill de Blasio (@BilldeBlasio) January 26, 2015
The National Weather Service had warned of "life-threatening blizzard" conditions and "crippling snowfall amounts" of up to 30 inches (76 cm) of snow on parts of the region. It said wind gusts could reach up to 55 mph (80 kph) around New York City.
The heaviest snowfall was recorded in parts of Connecticut and Massachusetts, while New York City's Central Park saw just six inches (15 cm).
"When you hear the word "crippling" and you look out your window this morning, it is not there," said John Davitt, a meterologist on New York's NY1 news channel.
Shops were in short supply of shovels, snowblowers, food supplies and other basics as residents prepared for a few days indoors.
"Please stay home," New Jersey Governor Chris Christie had told residents earlier, ordering all but the most essential government workers to stay at home from Monday afternoon until Wednesday at the earliest.
New York Governor Andrew Cuomo banned travel from 11pm (4am GMT) for all but emergency vehicles on roads in 13 counties, including the 6,000 miles' worth in New York City, suburban Westchester and Long Island.
He cautioned residents against contravening the driving ban, telling them: "If you are in your car and you are on any road, town, village, city, it doesn't matter, after 11 o'clock, you will technically be committing a crime.
"It could be a matter of life and death so caution is required."
He said anyone who violated the ban would be handed a $300 (£198) fine.
US winter weather
US winter weather
1/30 USA

A plow is driven through Times Square in New York City

2/30 USA

Men shovel a pedestrian walkway in Times Square, New York

3/30 USA

A man stands on skis in Times Square in New York City

4/30 USA

A person crosses a snow-covered street in the Upper West Side neighborhood of New York

5/30 USA

A view looking up 7th Avenue in Times Square in falling snow near dusk in New York

6/30 USA

Pedestrians make their way through heavy snow in midtown Manhattan in New York

7/30 USA

A man covers his face during a large winter storm in New York

8/30 USA

A pedestrian passes through Johnstown Central Park, in Johnstown, Pennsylvania

9/30 USA

A man strolls on a walking path at Liberty State Park, with the Statue of Liberty in the distance in Jersey City

10/30 USA

A man dressed as the Statue of Liberty waits for tourists during a snow storm in New York

11/30 USA

People cross a street during a snow storm in New York

12/30 USA

Few people walk on a deserted street in New York's Times Square during a snow storm

13/30 USA

New York Governor Andrew Cuomo has banned travel for all but emergency vehicles on roads in 13 counties, including New York City

Getty Images

14/30 USA

A group take a more light-hearted approach to the blizzard on a deserted street in New York's Times Square

AFP

15/30 USA

A plow makes its way during heavy snow in the financial district of Manhattan in New York City

Getty Images

16/30 USA

A man and a women use umbrellas to shield themselves from the snow as they walk through the Ector County Cemetery in Odessa, Texas

17/30 USA

A coating of ice covers trees, buildings and utility wires after a winter storm in Blacksburg

18/30 USA

A light snow falls on Capitol Hill in Washington

19/30 USA

Suzanne Kuehl shovels snow from her driveway in Colorado Springs

20/30 USA

A man walks along a snow covered road in Bridgeton

21/30 USA

A plane is de-iced during a light snow at LaGuardia Airport in New York

22/30 USA

Crews load road salt into trucks in Chelsea, Massachusetts ahead of a major winter storm forecasted for the northeastern United States

23/30 USA

A snow shoveler crosses a street during a winter snowstorm in Cambridge, Massachusetts

24/30 USA

A woman crosses a road during a winter snowstorm in Somerville, Massachusetts

25/30 USA

A man takes a picture of ducks and geese at a lake in Brooklyn's Prospect Park following an evening storm in New York City

26/30 USA

A woman builds a snowman during a winter snowstorm in Cambridge, Massachusetts

27/30 USA

Snow covers the hulls of sailboats on a dock at the MIT Sailing Pavilion along the Charles River during a winter snowstorm in Cambridge, Massachusetts

28/30 USA

A woman walks past a bicycle covered in snow during a winter snowstorm in Cambridge, Massachusetts

29/30 USA

The US east coast is hit by massive snow storms

30/30 USA

Snow covers the grounds at Saratoga Casino and Raceway in Saratoga Springs
Many Easterners stuck indoors turned to social media to give voice to their frustration, adopting storm-related hashtags as #blizzardof2015, #Snowmageddon2015 and #Snowpocalypse.
Whatever happened to being HAPPY AS HELL that we don't have #snow. I am happy we didn't have #Snowmageddon2015 #prayingworks

; Pete Kamenakis (@pkamenakis) January 27, 2015
A meteorologist, the only job that you can mess up most of the time and not get fired,...wrong again!!❄️ #Snowmageddon2015 #blizzardof2015

; Tim Santiago IFBB (@TimSantiagoPro) January 27, 2015
#blizzardof2015 #Snowmageddon2015 Doesn't look like much on the UES. pic.twitter.com/zhhJiMgUpM

; Andrew Overholser (@ao7705) January 27, 2015
.@NOAASatellites eyes developing US Nor'easter. Blizzard conditions expected http://t.co/PAvGkE2im1 #Snowmageddon2015 pic.twitter.com/QBf6AgAvKx

; NASA (@NASA) January 26, 2015
Stock exchanges including Intercontinental Exchange Inc's New York Stock Exchange unit, Nasdaq OMX Group, and BATS Global Markets said they expected their exchanges to stay open for normal operating hours on Tuesday.
The last time severe weather led to the closing of the stock markets was in October 2012 when Superstorm Sandy hit the East with flooding, punishing winds and widespread power outages.
The latest storm posed a fresh challenge to De Blasio, under fire from police who criticized his support of public protests about white police violence against black men. De Blasio was heavily criticised for keeping schools open in the last major storm.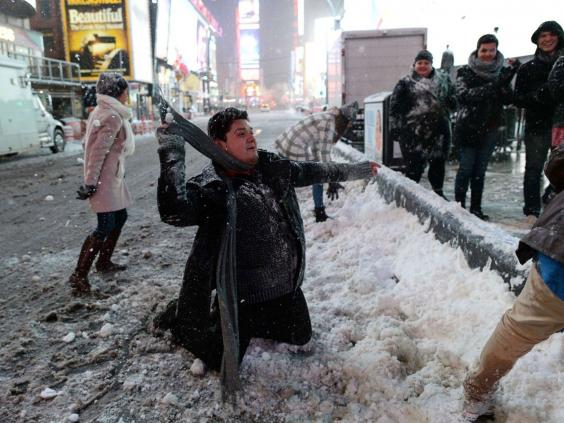 Vacationers and business travelers faced headaches as airlines cancelled around 3,000 US flights, with Boston and New York airports most heavily affected, according to flight-tracking service FlightAware.
New York authorities said "virtually all" flights at LaGuardia Airport on Tuesday would be cancelled and cancellations at John F Kennedy International Airport would be "significant."
Amtrak suspended rail service on Tuesday between New York and Boston, and into New York state, Vermont, Massachusetts and Maine.
The biggest snowfall on record in New York City came during the storm of February 2006, dropping 26.9 inches (68 cm), according to the city's Office of Emergency Management.
Additional reporting by Reuters