Western residents of New York State are reeling after another two feet of snow fell, placing further strain on the state's already buckling resources as the death toll rose to 10 this morning.
The United States has seen a year's snow fall in three days in the New York county area with temperatures dipping below freezing in all 50 states – including Hawaii.
It is believed that at least ten people have lost their lives as a result of the unseasonably cold weather, with care homes evacuated in the Buffalo area and the National Football League moving a scheduled game from the local stadium to Detroit.
The latest snowfall adds to an estimated five feet already on the ground and meteorologists warned that western residents of New York could expect another 30 inches in the coming hours, with snow and below freezing temperatures expected to continue until midday Friday, according to the National Weather Service. It is believed the freezing weather is the result of a sharp southward dip in the jet stream that has pulled cold air down from the Artic. The phenomenon, known as a "polar vortex", has been enhanced in Buffalo – one of the worst affected areas – by the "lake effect", as warm air off nearby Lake Erie has reacted with the drastically cooler air to produce huge snowfalls.
"This is western New York; we're used to it," Jack Fasanella, an Erie County resident, told The New York Times. "But this is the worst I've ever seen. Even worse than the blizzard of '77."
In pictures: New York snowstorm
In pictures: New York snowstorm
1/22 New York

Drew Ahmed makes his way through nearly five feet of snow in the Lakeview neighborhood of Buffalo

2/22 New York

Snow drifts reaching the roof of the roof of the Eden Heights Assisted Living Facility in West Seneca, where members of the New York Air National Guard from the 107th Airlift Wing based in Niagara Falls, New York are assisting in snow removal efforts

3/22 New York

A New York Air National Guard Airman from the 107th Airlift Wing based in Niagara Falls, New York assisting in snow removal efforts from the roof of the Eden Heights Assisted Living Facility in West Seneca

4/22 New York

Homes are covered in snow in West Seneca

5/22 New York

Cars are covered in snow in Orchard Park

6/22 New York

Ralph Wilson Stadium in Orchard Park is buried in snow

7/22 New York

A frontend loader piles snow after dump trucks dropped loads of snow at the Central Terminal in Buffalo

8/22 New York

An abandon car marked by orange cones is buried under snow as a snowplow passes by in Buffalo

9/22 New York

Samantha Freeman shovels snow off the sidewalk in Public Sqaure in Watertown

10/22 New York

A man blows snow from his sidewalk in Buffalo

11/22 New York

Snow covers a street at daybreak in south Buffalo

12/22 New York

Storm clouds and snow blows off Lake Erie in Buffalo

Reuters

13/22 New York

A dog looks at the snow that was blown in the back door of the home of Chrissy Hazard in Cheektowaga. A ferocious lake-effect storm that trapped people on highways and in homes under up to 6 feet of snow continued to bear down on the Buffalo area

14/22 New York

Vehicles litter the highway in West Seneca

Reuters

15/22 New York

A band of storm clouds moves across Lake Erie and into Buffalo. Parts of New York measured the season's first big snowfall in feet, rather than inches, as 3 feet of lake-effect snow blanketed the Buffalo area and forced the closure of a 132-mile stretch of the state Thruway

16/22 New York

Lake-effect snow storm with freezing temperatures affected travel, like this plane that negotiated its way through the snow at Buffalo Greater International Airport

17/22 New York

Heavy snow covers the street in Buffalo

AP

18/22 New York

Heavy snow covers the street in Buffalo

19/22 New York

Firefighters from West End Hose Company in Depew, help a stuck motorist on Transit Road

20/22 New York

Omer Odovsc walks in front of his tractor trailer that got stuck on the 219 off ramp leading to Rt. 391 in Boston

21/22 New York

Steven Gros shovels snow from outside his home in Orchard Park

22/22 New York

A home is covered in snow in a neighborhood just south of Buffalo, New York

EPA
The 1977 blizzard killed 23 people in western New York and five more in the north of the state. National forecasters recorded daily peak wind gusts of 46 to 69 mph and up to eight feet of snowfall over a three day period at the end of January.
States of emergency have been declared in 10 counties as rescue crews mobilise across the nation to provide much needed help to trapped residents.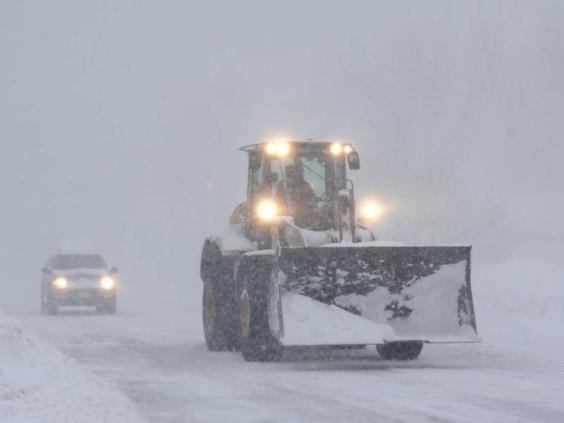 Erie County Deputy Executive Richard Tobe warned that roof collapses posed a threat, especially at mobile home parks. Nearly 180 elderly residents were evacuated from a care home earlier in the week, after careers noticed the ceiling bulging from the weight of snow.
"With this heavy snow load now, there are buildings that are in danger," Mr Tobe said.
Reuse content