Venezuela's president has assumed what his critics claimed were authoritarian powers after the parliament voted to give him the right to confront "imperialist aggression" by decree.
A week after the US labelled Venezuela a threat to national security and issued sanctions against seven officials, the Venezuelan parliament voted to grant President Nicholas Maduro decree powers for dealing with issues resulting from Washington's actions. The authority will last throughout 2015.
"They want to stick their hands into Venezuela's wealth, just as they have done in other countries," ruling party legislator Tania Diaz said, presenting the "anti-imperialist" Enabling Law to parliament on Sunday, Reuters reported.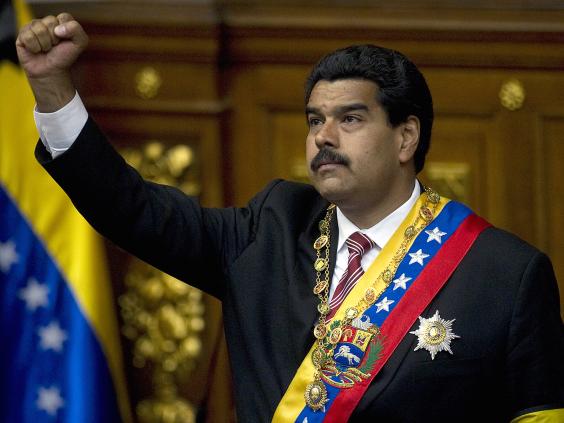 The relationship between the US and Venezuela, which has been testy for many years despite Caracas's role as the fourth largest provider of crude oil, has worsened in recent weeks as Mr Maduro has struggled with opposition protests and a faltering economy.
Last week, President Barack Obama – himself using decree powers – designated Venezuela a threat to Washington's national security, a move that raised the eyebrows of several observers. In turn, Mr Maduro, who had previously ordered the US to reduce the size of its embassy and claimed the US was trying to topple his government, denounced what he said was "US imperialism".
The power sought by Mr Maduro and granted by parliament gives him authority to defend Venezuela's "integrity…[and] sovereignty, in the face of any circumstances that could arise with this imperialist aggression". It is the second time Mr Maduro has sought such authority; the first time, in 2013, was to deal with corruption.
As a result of the emergency measures, he will not require the approval of the national assembly for dealing with issues, though it was unclear who would determine how all-encompassing the remit would be
"Political, social and economic circumstances created by foreign governments with the complicity of some sectors of the national bourgeoisie evidence the necessity to legislate in a flexible manner to provide the Bolivarian Republic of Venezuela and its people with judicial defenses against the pernicious effects of meddling in Venezuelan state affairs," says the document prepared by Mr Maduro, according to the Wall Street Journal.
Mr Maduro's opponents have denounced the move. In a series of speeches, opposition legislations on Sunday said Mr Maduro was seizing on the latest spat with Washington to cement his authority and crack down on dissent.
#NoAlDecretoImperial #PuebloPresenteOrdenePresidente pic.twitter.com/EKfOETvHe1

— Winston Vallenilla (@vwinstonv) March 16, 2015
"Corrupt ones, your trips to Disney World are over," tweeted opposition leader Henrique Capriles, referring to the US visa ban on seven Venezuelan officials. "The Venezuelan people are not stupid. This measure is against you, not against Venezuela."
Mr Maduro, a 52-year-old former union activist and foreign minister who won election to replace President Hugo Chavez following his 2013, has seen his approval ratings plunge as the economy has suffered as a result of low global crude oil prices.
His supporters point out that the US had supported elements involved in a 2002 coup that briefly unseated Mr Chavez.
Mark Weisbrot, a regional expert with the Washington-based Centre for Economic and Policy Research, said the decision by the US to impose sanctions on Venezuela underscored the power of those elements opposed to better relations with the current government.
"They represent a victory for a political faction that wants to prevent the normalisation of diplomatic relations with Venezuela," he said.
"Although the loudest public voice of this faction consists of the far right in Congress – legislators like Marco Rubio in the Senate - they have important allies within the administration, including the State Department and Pentagon."
Reuse content