At the risk of setting off a political explosion in Washington, US President Barack Obama has insisted he will press ahead with executive action on immigration policy reform, despite the noisy objections of congressional Republicans.
Speaking during a trip to Burma yesterday, President Obama said reform of the US immigration system was "way overdue", and that he intends to announce his plans before the year is out.
"There has been ample opportunity for Congress to pass a bipartisan immigration bill that would strengthen our borders, improve the legal immigration system and lift millions of people out of the shadows," Mr Obama said. "I said that if in fact Congress failed to act, I would use all the lawful authority I possess to try to make the system work better... and that's going to happen before the end of the year."
The Republicans, who will claim control of both houses of Congress following this month's US midterm elections, have so far thwarted any efforts by Democrats to overhaul the immigration system, and GOP leaders have warned Mr Obama of dire consequences should he act unilaterally without seeking congressional approval.
On Thursday, however, the New York Times reported that the President could unveil the new measures as early as next week, thus protecting some five million undocumented immigrants from the threat of deportation. The executive action is expected to permit the parents of children who are US citizens to obtain documents allowing them to stay in the US.
In pictures: Midterms 2014
In pictures: Midterms 2014
1/14 Red Oak, Iowa

Voters get an 'I VOTED TODAY' sticker after casting their ballots in Red Oak, Iowa

Getty Images

2/14 Washington, DC

A pollling station in Washington, DC. Most signs point toward President Barack Obama's party suffering crippling election setbacks.

3/14 Jamestown

Local resident Marybeth Davenport casts her ballot at a polling place at the Jamestown Town Hall

4/14 Red Oak, Iowa

Voters fill in their ballots at the Red Oak Fire Department in Red Oak, Iowa

Getty Images

5/14 Michelle Nunn

Democratic U.S. Senate candidate Michelle Nunn hugs phone bank volunteers on the eve of the mid-term election at her campaign headquarters in Atlanta, Georgia. Nunn is in a tight race against Republican opponent David Perdue.

6/14 Get Out the Vote Rally

Democrats hold a "Get Out the Vote Rally" for US Senator Mark Warner, Democrat of Virginia, who is up for reelection, and other Democratic candidates, at Old Town Alexandria Market Square in Alexandria, Virginia, on the night before midterm elections.

SAUL LOEB/AFP/Getty Images

7/14 Kids Vote

A father helps his son vote in a special "Kids Vote" while Kentucky voters cast their votes at Northside Elementary School in Midway, Kentucky. The "Kids Vote" is designed to encourage children to exercise their right to vote when they reach legal voting age.

8/14 Searsmont, Maine

A handmade sign stuck in a snowbank on a rural road urges citizens to vote in Searsmont, Maine

AP

9/14 Madbury, New Hampshire

Voters cast their ballots at Madbury Town Hall in Madbury, New Hampshire. There is a tight race for a U.S Senate seat between incumbent U.S. Senator Jeanne Shaheen and former Massachusetts U.S. Senator Scott Brown.

10/14 Albany, New York

Voters fill out their ballots in a gym on election day in Albany, New York

AP

11/14 Clay Aiken

Clay Aiken, Democratic candidate for U.S. Congress in North Carolina's Second District, jokes with members of the media as he waits in line to vote

12/14 Louisville, Kentucky

Voters cast their ballots in the midterm elections at Bellarmine University in Louisville, Kentucky.

13/14 Mitch McConnell

Senate Minority Leader U.S. Sen. Mitch McConnell holds his ballot after placing his vote at Bellarmine University in Louisville, Kentucky.

14/14 Alexandria, Virginia

A dog waits for its owner to vote at the polling station in the Lyles-Crouch Traditional Academy in Alexandria, Virginia
It would also protect undocumented immigrants who arrived in the US as children, and direct immigration agents to focus their deportation efforts on convicted criminals. Citing unnamed White House officials, the Times suggested Mr Obama's plan would also expand visa opportunities for skilled workers such as those in the technology industry.
In 2012, Mr Obama used executive action to offer a reprieve from deportation to a narrow group of undocumented immigrants who would otherwise have been shielded by the so-called DREAM Act, which had stalled in Congress: those under 30 with no criminal record, who had come to the US before the age of 16 and been in the country for at least five years, and who had a high-school diploma or had served in the US military.
After the midterms, Mr Obama told congressional leaders he was prepared to turn to executive action once more. The incoming Senate majority leader, Republican Mitch McConnell, said that such action would be akin to "waving a red flag in front of a bull."
Speaking to reporters on Thursday, the Republican Speaker of the House of Representatives, John Boehner, said his party would "fight the President tooth and nail if he continues down this path."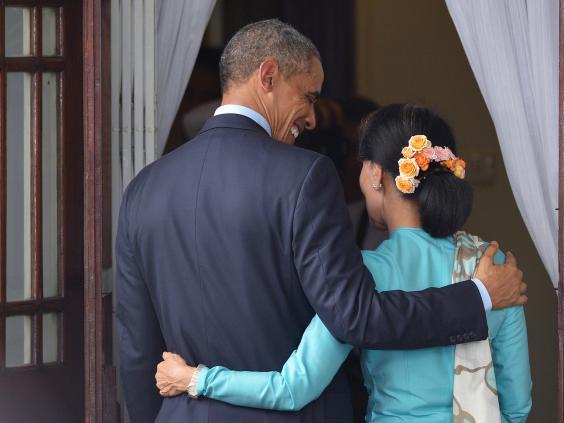 House Republicans are reportedly considering several strategies to block the President's plan, including drawing up a bill to drastically reduce funding to immigration agencies. Mr Obama, who will return from his week-long trip to Asia tomorrow, said the easiest way for Congress to nullify his executive action would be to pass its own immigration legislation. "I would advise that if in fact they want to take a different approach... that they spend some time passing a bill," he said.
The President also said the prospective conflict over immigration policy should not preclude cooperation between the White House and Republican congressional leaders on other matters during the remaining two years of his term. "The one thing that I think is going to be important to have a successful partnership over the next couple of years is not making disagreements on a single issue suddenly a deal-breaker on every issue," he said. "Democracy can never work that way."