A black woman who died in police custody may have been improperly medicated by authorities in Cleveland, Ohio.
Ralkina Jones, 37, was found unresponsive in her jail cell on 26 July just two days after being arrested following a domestic dispute involving her ex-husband.
Cleveland Heights Police Department officials released Ms Jones' prisoner medication log and main jail log on Wednesday — they also acknowledged that they may have improperly medicated the woman, NBC News first reported.
She was given medications twice over the course of 24 hours, however the main jail log suggests that her medication was dispensed three separate times.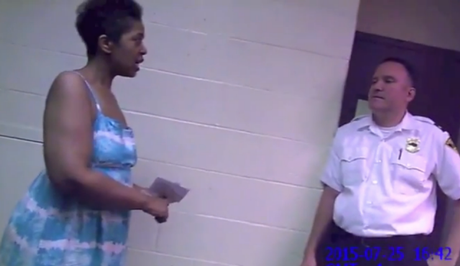 "Her medications are listed on her prisoner medication log as: atenolol (blood pressure), gabapentin (anti-epileptic), escitalopram (anti-anxiety), sumatripitan (migraine), oxycodone (pain), and zolpidem (sedative)," the news outlet reported.
Elizabeth Rothenberg, assistant law director for the City of Cleveland Heights, released the following statement regarding the new details in the case:
"We note that the Medical Log Sheet reflects fewer medications dispensed to Ms Jones than documented in the Jail Log. This matter is under investigation along with the Cuyahoga County Medical Examiner's investigation of the cause of Ms Jones' death."
Just hours before she was found unresponsive in her cell, she told officers she was worried about her health, listing five medical conditions she was being treated for: "I'm not asking any exceptions to any rules but what I will tell you is — I don't want to die in your cell."
Renee Ashford, the woman's sister, previously told Cleveland.com that the police department has been silent throughout the investigation process, as her family desperately awaits answers.
"One thing I could say about my sister is she would want us to find out why? You can't just tell me one minute I see my sister and the next day, she dead."
Ralkina Jones hours before her police custody death: 'I don't want to die in your jail cell'
37-year-old Ralkina Jones found dead in police custody
Reuse content