A young man who once attended the University of Mississippi has admitted that he placed a noose around a statue of the historic college's first black student - a move designed to intimidate African Americans.
Austin Edenfield, a former student and fraternity member, pleaded guilty when he appeared before a federal judge in the city of Oxford. He faces up to a year in prison and a fine of $100,000 when he is sentenced in July, though prosecutors have recommended he only serve probation.
The 21-year-old Georgia resident waived his right for a formal indictment and instead pleaded guilty when he appeared on Thursday morning. The Associated Press said the charge to which he pleaded guilty said that he and others use the threat of force to intimidate African-American students and employees at the university.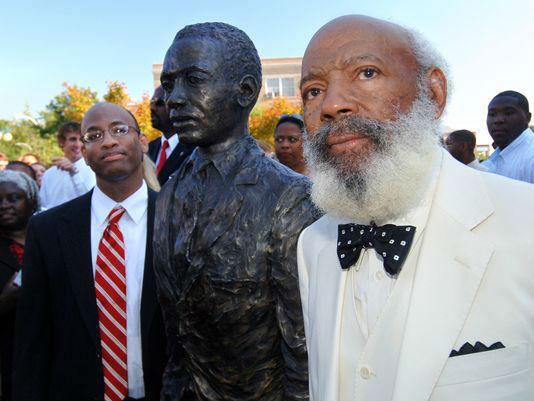 Edenfield placed the noose and former Georgia state flag with a Confederate battle emblem on the university's statue of James Meredith. He integrated the university in 1962 amid rioting that was suppressed by federal troops.
Edenfield's action took place as activists across the US, and particularly in the South, were seeking to remove the Confederate flag - which many consider to be racist - from colleges and government officers 
Prosecutors said another former student, Graeme Harris, hatched the plan to place the noose and flag on the statue after a night of drinking with Edenfield and a third student in the Sigma Phil Epsilon fraternity house on campus.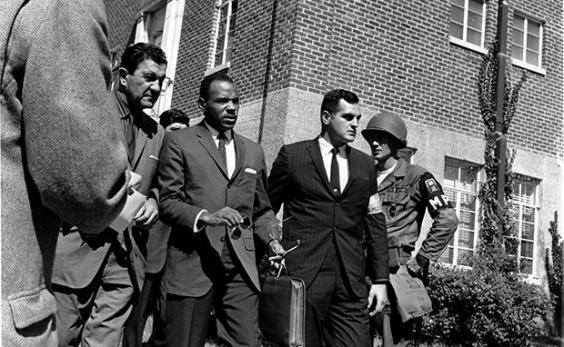 They said Edenfield actually tied the noose on Mr Meredith's statue after Harris could not do it.
Harris pleaded guilty in June to a misdemeanor charge of threatening force to intimidate African-American students and employees at the university after prosecutors agreed to drop a stiffer charge. 
His lawyer argued Harris did not deserve prison, saying he had written a letter of apology to Mr Meredith after falling under the influence of racist traditions at the fraternity.
Harris, who is also from Georgia, was sentenced to six months in prison, followed by 12 months supervised release. He is currently held at a minimum-security federal prison in Butner, North Carolina, and is scheduled to be released July 1. The third man has not been charged.
Reuse content