Weight Watchers' has reaped the gains from talk show host and icon Oprah Winfrey claiming she lost 26 pounds thanks to its healthy eating program - even though she was still eating bread every day.
The share price of the weight loss company jumped 18% on Tuesday after the new advert aired.
The talk show queen tweeted the advert, saying "Eat bread. lose weight. Whaaatttt? #ComeJoinMe
Eat bread. Lose weight. Whaaatttt? #ComeJoinMe https://t.co/jUgpk9ToXY https://t.co/xtnB53EwSf

— Oprah Winfrey (@Oprah) January 26, 2016
This is not the first time that the company has received a boost from the billionaire. She became a board member in October last year and bought 10% of the stock.
Weight Watchers has struggled with $2 billion in debt and the share price saw almost three quarters of its value wiped in 2015.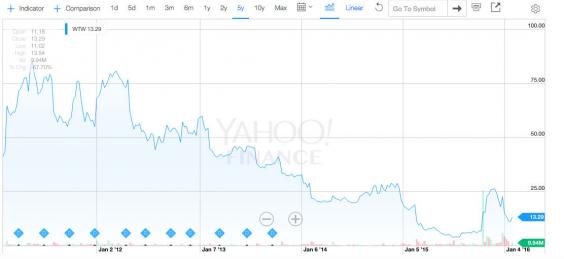 The company was also the target of a Channel 4 documentary in the UK in 2013 which exposed that employees were flogging its own-branded products with high levels of commission.
However, the after Ms Winfrey announced the partnership last October, share prices jumped up more than 100%.
Stock prices spiked again later that month when Ms Winfrey said on the Ellen DeGeneres show that she had lost 15 pounds via the point-calculating program.
Reuse content